Summit Entertainment Removes Twilight Director Catherine Hardwicke From Franchise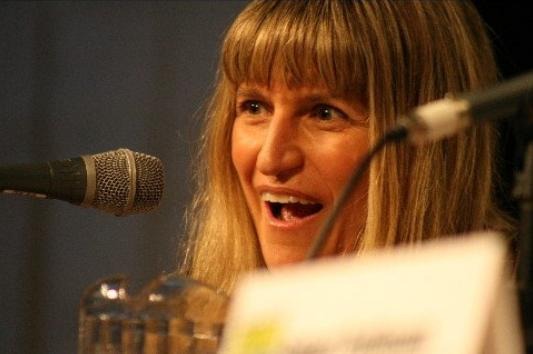 Nikki Finke over at DeadlineHollywoodDaily is reporting that Twilight director Catherine Hardwicke has been removed from the Twilight franchise. Finke's contacts report that Hardwicke was "difficult" and "irrational" during the making of the film. One contact also explains that "Summit didn't like her. They're saying the [director of photography] Elliot Davis is the one responsible for the film's sumptuous visual look, that the editor Nancy Richardson had to save the film in post-production, and Summit thought Hardwicke's [CAA] agent Beth Swofford was alternately ineffectual and hysterical." This is inauspicious news for Hardwicke, as the whole crew is currently on their European press tour. Undoubtedly, there will be some painfully awkward Q&A sessions beginning tomorrow, as I'm sure this will be the first question on journalists' minds.
After Hardwicke's Twilight hit theaters and made almost $70 million in its first weekend (more than Quantum of Solace!), many were quick to point out that Hardwicke had set a new box office record for a female director in Hollywood, previously held by Mimi Leder's Deep Impact ($41 million way back in 1998). Financial success and a throng of devoted fans made Hardwicke a de facto role model for young women who hoped to one day themselves make it behind the lens of a camera. In interviews, Hardwicke related:
It's so cool...What I hope it means is — that almost every time I talk to the fans there are some [women] who want to be directors and want to be writers — this will encourage people to say, 'Hey man, if she can do it, I can do it.'
I thought Twilight was very poorly made. The script was weak, the actors weren't well directed, and the movie looked cheap, overall. Despite all this, I'm still a fan of Ms. Hardwicke, and admire the doors she has, and will continue to break down in Hollywood. With Hardwicke now off the franchise, Finke predicts that the situation "could blow up into a scandal for Summit if it chooses a male director over Hardwicke." I'm not sure about that, but the timing of this announcement certainly seems like a public shaming that doesn't seem worthy of the person that just delivered Summit Entertainment of their biggest box office successes of the year.
Update: Summit Entertainment just released the following press release on Sunday night at 5:40pm:
SUMMIT BEGINS SEARCH FOR NEW MOON DIRECTOR
Los Angeles, CA, December 7, 2008 – Summit Entertainment and director Catherine Hardwicke jointly announced today that the filmmaker will not be directing the next installment in the newly minted TWILIGHT film franchise. Summit's targeted end of 2009 or early 2010 release of the film, NEW MOON, does not work with Ms. Hardwicke's required prep time to bring her vision of the film to the big screen. Thus as has been done before with many successful film franchises, the studio will employ a new director for NEW MOON.
"I am sorry that due to timing I will not have the opportunity to direct NEW MOON," said Hardwicke. "Directing TWILIGHT has been one of the great experiences of my life, and I am grateful to the fans for their passionate support of the film. I wish everyone at Summit the best with the sequel– it is a great story."
"Catherine did an incredible job in helping us to launch the TWILIGHT franchise and we thank her for all of her efforts and we very much hope to work with her on future Summit projects," said Erik Feig, Summit's President of Production. "We as a studio have a mandate to bring the next installment in the franchise to the big screen in a timely fashion so that fans can get more of Edward, Bella and all of the characters that Stephenie Meyer has created. We are able to pursue an aggressive time frame as we have the luxury of only adapting the novels into screenplays as opposed to having to create a storyline from scratch."