2009 Sundance Midnight, Frontier And Spectrum Line-Up
This post contains the final announced films of the 2009 Sundance Film Festival line-up. In this posting you can read about the films selected in the Midnight, Frontier and Spectrum categories, complete with photos. Enjoy.
PARK CITY AT MIDNIGHT
Park City at Midnight offers eight films that are likely to amuse, surprise, or shock the bleary-eyed viewer and offer a lively last stop in the nightly film-going circuit. The films screening in Park City at Midnight this year are:
Black Dynamite / USA (Director: Scott Sanders; Screenwriters: Michael Jai White, Scott Sanders, and Byron Minns)—When 'The Man' murders his brother, pumps heroin into local orphanages, and floods the ghetto with adulterated malt liquor, 1970s African-American action legend Black Dynamite is the one hero willing to take him on. Cast: Michael Jai White, Tommy Davidson, Salli Richardson-Whitfield, Byron Minns, James McManus. World PremiereThe Carter / USA (Director: Adam Bhala Lough)—An in-depth, intimate look at the artist Dwayne "Lil' Wayne" Carter Jr, proclaimed by many as the "greatest rapper alive" Cast: Lil' Wayne, Brian Williams, Cortez Bryant. World Premiere
Død Snø (Dead Snow) / Norway (Director: Tommy Wirkola; Screenwriters: Tommy Wirkola and Stig Frode Henriksen)—A group of teenagers had all they needed for a successful ski vacation; cabin, skis, snowmobile, toboggan, copious amounts of beer and a fertile mix of the sexes. Certainly, none of them anticipated not returning home alive! However, the Nazi-zombie battalion haunting the mountains had
other plans. Cast: Vegard Hoel, Stig Frode Henriksen, Charlotte Frogner, Jenny Skavlan, Jeppe Beck Laursen. North American Premiere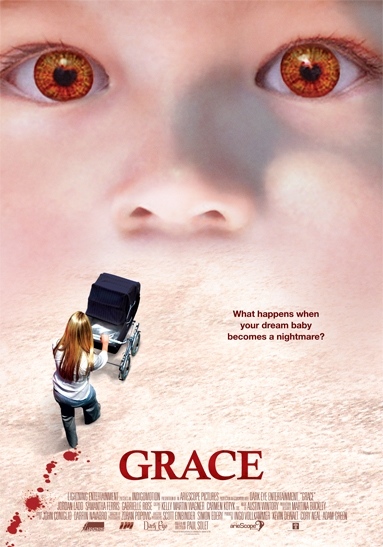 Grace / USA (Director and Screenwriter: Paul Solet)—After losing her unborn child, Madeline Matheson insists on carrying the baby to term. Following the delivery, the child miraculously returns to life, but when the baby develops a desperate appetite for human blood, Madeline is faced with a mother's ultimate decision. Cast: Jordan Ladd, Samantha Ferris, Gabrielle Rose, Malcom Stewart, Stephen Park, Serge Houde. World Premiere
The Killing Room / USA (Director: Jonathan Liebesman; Screenwriters: Gus Krieger and Ann Peacock)—Four individuals sign up for a psychological research study only to discover that they are now subjects of a brutal, classified government program. Cast: Chloe Sevigny, Peter Stormare, Clea DuVall, Timothy Hutton, Nick Cannon. World Premiere
Mystery Team / USA (Director: Dan Eckman; Screenwriters: Dominic Dierkes, Donald Glover, and DC Pierson)—A group of kid detectives called The Mystery Team struggle to solve a double murder to prove they can be real detectives before they graduate from high school. Cast: Dominic Dierkes, D.C. Pierson, Donald Glover, Aubrey Plaza, Glenn Kalison. World Premiere
Spring Breakdown / USA (Director: Ryan Shiraki; Screenwriters: Ryan Shiraki and Rachel Dratch)— Three thirtysomething friends attempt to break the monotony of their uninspired lives by vacationing at a popular spring break getaway for college students. Cast: Rachel Dratch, Amy Poehler, Parker Posey, Will Arnett, Rachel Hamilton. World Premiere
More After the jump.
White Lightnin' / UK (Director: Dominic Murphy; Screenwriters: Shane Smith and Eddy Moretti)—The outrageous cult story of Jesco White, the dancing outlaw. Cast: Ed Hogg, Carrie Fisher, Muse Watson, Wallace Merck, Clay Steakley. World PremiereSPECTRUM
A tribute to the abundance of compelling new voices and the creative spirit in independent filmmaking, the Spectrum program presents out-of-competition dramatic and documentary films from some of the most promising filmmakers in the world today. Dramatic films screening in Spectrum are:
Against the Current / USA (Director and Screenwriter: Peter Callahan)—Facing the anniversary of his pregnant wife's tragic death, thirty-five-year old Paul Thompson enlists the help of two friends to help him swim the length of the Hudson River. Cast: Joseph Fiennes, Justin Kirk, Elizabeth Reaser, Mary Tyler Moore, Michelle Trachtenberg. World PremiereThe Anarchist's Wife (La Mujer del Anarquista) / Germany/Spain (Directors: Marie Noelle and Peter Sehr; Screenwriters: Marie Noelle and Ray Loriga)—During the Spanish Civil War an idealistic young lawyer combating Franco's Fascist troops is separated from his wife and children. Cast: Maria Valverde, Juan Diego Botto, Nina Hoss, Ivana Baquero, Jean-Marc Barr. North American PremiereBarking Water / USA (Director and Screenwriter: Sterlin Harjo)—Irene and Frankie have had a tumultuous relationship for forty years. As Frankie lies on his deathbed, Irene comes back to him one last time to break him from the hospital and take him home. Cast: Richard Ray Whitman, Casey Camp- Horenik. World Premiere
Children of Invention / USA (Director and Screenwriter: Tze Chun)—Two young children are left to fend for themselves when their mother is arrested for unwittingly taking part in an illegal pyramid scheme. Cast: Cindy Cheung, Michael Chen, Crystal Chiu. World Premiere
Everything Strange and New / USA (Director and Screenwriter: Frazer Bradshaw)—Trapped by a life he never intended, a man struggles to navigate family, sexuality and drug addiction. Cast: Jerry McDaniel, Beth Lisick, Rigo Chacon Jr., Luis Saguar. World Premiere
Helen / Canada/Germany (Director and Screenwriter: Sandra Nettelbeck)—A successful psychiatrist fights her own clinical depression. Cast: Ashley Judd, Goran Visnijic. World Premiere
The Immaculate Conception of Little Dizzle / USA (Director and Screenwriter: David Russo)—After losing his high-paying job, Dory takes a gig as a night janitor in order to pay rent. Alone late at night inside a market research firm, he discovers something worse than his new job cleaning toilets – a conniving corporate executive has made him the subject of a bizarre experiment. Cast: Marshall Allman, Vince Vieluf, Natasha Lyonne, Tania Raymonde, Tygh Runyan. World Premiere
Johnny Mad Dog / France (Director: Jean-Stéphane Sauvaire; Screenwriters: Jean-Stéphane Sauvaire and Jacques Fieschi)—A fifteen-year-old kid-soldier fighting in Africa is armed to the hilt and inhabited by the mad dog he dreams of becoming. Cast: Christophe Minie, Daisy Victoria Vandy. North American PremiereLa Mission / USA (Director and Screenwriter: Peter Bratt)—A traditional, Latino father in San Francisco's Mission District struggles to come to terms with his teenage son's homosexuality. Cast: Benjamin Bratt, Erika Alexander, Jeremy Ray Valdez, Talisa Soto Bratt, Jesse Borrego. World Premiere
Lymelife / USA. (Director: Derick Martini; Screenwriters: Derick Martini and Steven Martini)—Set in the 1970s, a unique take on the dangers of the American dream seen through the innocent eyes of a fifteen- year-old boy. Cast: Alec Baldwin, Kieran Culkin, Timothy Hutton, Cynthia Nixon, Emma Roberts. U.S. PremiereThe Missing Person / USA (Director and Screenwriter: Noah Buschel)—Private detective John Rosow is hired to tail a man on a train from Chicago to Los Angeles. En route, Rosow uncovers that the man's identity is one of the thousands presumed dead after the 9/11 terrorist attacks on the World Trade Center. Cast: Michael Shannon, Amy Ryan, Frank Wood. World Premiere
Once More with Feeling / USA (Director: Jeff Lipsky; Screenwriter: Gina O'Brien)—A comedy about a psychiatrist who undergoes a midlife crisis and pursues his long-lost ambition of becoming a singer through karaoke. Cast: Drea de Matteo, Linda Fiorentino, Chazz Palminteri, Susan Miser, Lauren Bittner. World Premiere
The Only Good Indian / USA (Director: Kevin Willmott; Screenwriter: Tom Carmody)—Set in early 1900s Kansas, a teenage Native American boy is taken from his family and forced to attend an Indian 'training' school to assimilate into White society. Cast: Wes Studi, Winter Fox Frank, J. Kenneth Campbell. World PremierePomegranates and Myrrh (Al Mor wa al Rumman) / Palestinian Territories (Director and Screenwriter: Najwa Najjar)—The wife of a Palestinian prisoner searches for freedom. Cast: Ali Suliman, Yasmine Al Massri, Ashraf Farah, Hiam Abbass. North American PremiereThe Vicious Kind / USA (Director and Screenwriter: Lee Toland Krieger)—Suffering insomnia and testy by nature, Caleb Sinclaire reluctantly picks up his brother Peter at college and brings him and his new girlfriend Emma home to his estranged father's house for Thanksgiving. Cast: Brittany Snow, Adam Scott, J.K. Simmons, Alex Frost. World Premiere
World's Greatest Dad / USA (Director and Screenwriter: Bobcat Goldthwait)—A comedy about a high school poetry teacher who learns that the things you want most may not be the things that make you happy. Cast: Robin Williams, Daryl Sabara, Alexie Gilmore, Tom Kenny, Geoffrey Pierson. World Premiere
The films screening in Spectrum: Documentary Spotlight are:
It Might Get Loud / USA (Director: Davis Guggenheim)—The history of the electric guitar from the point of view of three legendary rock musicians. Cast: The Edge, Jimmy Page, Jack White. U.S. Premiere
No Impact Man / USA (Directors: Laura Gabbert and Justin Schein)—The documentary follows the Beavan family as they abandon their high consumption Fifth Avenue lifestyle in an attempt to make a no- net environmental impact for the course of one year. Cast: Michelle Conlin, Colin Beavan. World Premiere
Passing Strange / USA (Director: Spike Lee; Lyrics: Stew; Music: Stew and Heidi Rodewald)—A musical documentary about the international exploits of a young man from Los Angeles who leaves home to find himself and 'the real'. A theatrical stage production of the original Tony-Award winning book by Stew. Cast: De'Adre Aziza, Daniel Breaker, Eisa Davis, Colman Domingo, Stew. World Premiere
Tyson / USA (Director: James Toback)—An intimate look at the complex life of former heavyweight
champ Mike Tyson. Cast: Mike Tyson. North American Premiere
Why We Laugh: Black Comedians on Black Comedy / USA (Director: Robert Townsend)—Using rare archival clips along with provocative interviews with many of today's leading comedians and social critics, Why We Laugh celebrates the incredible cultural influence and social impact black comedy has wielded over the past 400 years. Cast: Chris Rock, Bill Cosby, Keenan Ivory Wayans, Steve Harvey, Dick Gregory. World Premiere
Wounded Knee / USA (Director: Stanley Nelson; Screenwriter: Marcia Smith)—In 1973, American Indian groups took over the town of Wounded Knee, South Dakota to draw attention the 1890 massacre. Though the federal government failed to keep many of the promises that ended the siege, the event succeeded in bringing to the world's attention the desperate conditions of Indian reservation life. World Premiere
The Yes Men Fix the World / France/ USA (Directors: Andy Bichlbaum, Mike Bonanno and Kurt Engfehr)—A pair of notorious troublemakers sneak into corporate events disguised as captains of industry, then use their momentary authority to expose the biggest criminals on the planet. Cast: Andy Bichlbaum, Mike Bonanno. World Premiere
FRONTIER
The Festival's Frontier section explores the experimental world of filmmaking. Utilizing new directions in filmmaking and innovative aesthetic approaches, work in the Frontier category challenges and provokes audiences.
Lunch Break/Exit / USA (Director: Sharon Lockhart)—Lunch Break and Exit yield from Lockhart's timely new film and photographic series about the bleak state of U.S. labor. In Lunch Break, a single tracking shot through a long corridor where workers take their lunch hour at the massive shipyard, Bath Iron Works in Maine, reveals how 42 workers spend their lunch break. In Exit, the frame constantly fills with teaming workers each day as they head for home after a long day's work.O'er the Land / USA (Director: Deborah Stratman)—A meditation on our national psyche and the milieu of elevated threat, 'O'er the Land' addresses gun culture, national identity, wilderness, consumption, patriotism and the possibility of personal transcendence.Stay the Same Never Change / USA (Director and Screenwriter: Laurel Nakadate)—A mix of visual fact and narrative fiction starring a group of amateur actors in Kansas City. Whether it's a family man looking for beauty or a young woman obsessed with polar bears and Oprah, the characters in this humorous film reveal quiet lives full of sadness and desire. Cast: Dirk Cowan, Julie Potratz, Emily Boullear, Cyan Meeks, Tate Buck. World PremiereWhere is Where? / (Director: Eija Liisa-Ahtila)—Where is Where? is an experimental, four channel film based on an incident which happened during the struggle for independence in Algeria. As a reaction to the acts of violence committed by the French, two young Algerian boys murder their friend, a French boy of the same age. The film starts from the present day when the Death enters the house of a poet who is attempting to write about the incident. World PremiereArtist Spotlight: The Works of Maria Marshall / USA (Director: Maria Marshall)—Maria Marshall's disturbing and gorgeously composed video projections provoke the psychological dimensions of cinema. Often violent and always visually charming, Marshall often uses her two sons in the main roles of her films. Her work tackles fundamental subjects of motherhood, socialization and life experience and takes us back to the world of childhood as a pretext in order to evoke the anxiety of adults.You Won't Miss Me / USA (Director: Ry Russo-Young)—A portrait of a modern day rebel, Shelly Brown, a twenty-three year-old alienated urban misfit recently released from a psychiatric hospital. Cast: Stella Schnabel, Rene Ricard. World Premiere
For the 2009 Sundance Film Festival, 118 feature-length films were selected including 88 world premieres, 18 North American premieres, and 4 U.S. premieres representing 21 countries with 42 first- time filmmakers, including 28 in competition. These films were selected from 3,661 feature- length film submissions composed of 1,905 U.S. and 1,756 international feature-length films.