How One Guy's Flickr Photo Wound Up In The Iron Man Movie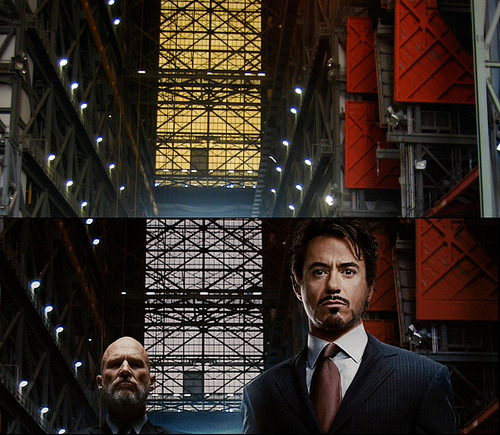 Of all the amateur photographers out there, who among us hasn't dreamed of seeing our photos plastered onscreen during the runtime of a multi-million dollar studio tentpole release/major comic book franchise film? I know this fantasy is what keeps me snapping away at random friends, family, and strangers with my Nikon D50 everyday...
Anyway, it turns out one lucky person on Flickr actually had this dream come true. On the right here, you can see a photo taken of the Vehicle Assembly Building in Cape Canaveral by Flickr user Adactio (real name Jeremy Keith). According to Keith, he was contacted with a strange message to use the photo in an upcoming feature film. "I thought it was an odd picture to be asking about," Keith said. "Let's face it; it's not a very good photo. It's blurry and washed out. I guess it's somewhat unusual in that it was shot inside the Vehicle Assembly Building at Cape Canaveral. Usually members of the public aren't allowed inside."
He didn't take the woman seriously at all, but she kept at it until finally she revealed to him that the photo was going to be used in the movie Iron Man, starring Robert Downey Jr. Eventually, Keith signed away release rights to the photo. And then...
Iron Man was released a few weeks later. I never got 'round to seeing it in the cinema; I'm not a big fan of the whole cinema-going experience. But some time later I was travelling across the Atlantic yet again and one of the in-flight movie options was Iron Man. I fired it up, wondering if my picture had made it into the final cut and even if it had, whether I'd be able to spot it.
Three minutes into the movie, there was my photo. It fills the screen. The camera lingers over it while performing its best Ken Burns effect. Not only was Robert Downey Jnr. photoshopped onto the picture, Jeff Bridges was on there too! The Dude!! ...On my picture!!!
My Flickr pictures have been used in some pretty strange places but this must surely be the strangest ...and the coolest.
Check out Keith's website for the whole story (via Neatorama). This story is proof that wherever you live (Keith is from England), in America, you can still have insanely awesome things happen to you without even trying. Not that I'm bitter or anything...