Box Office Tracking: Four Christmases Eyes $38.5M 5-Day; And Twilight Beats Bolt Again?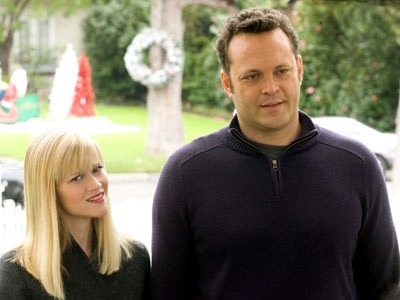 The general consensus is that, although Four Christmases (Warner Bros) is a flawed movie (I'm being kind), but it is going to open. It is very well cast with Oscar winner Reese Witherspoon pulling Females Under 25, Vince Vaughn pumping up appeal with Males Under 25 and Oscar winners like Robert Duvall, Sissy Spacek and Mary Steenburgen luring in the 25 Plus crowd.
The truth is that there is always room for a Christmas comedy at Thanksgiving. The high water mark was 2000's How the Grinch Stole Christmas, which opened with $55M on its way to $260M domestic, but there is a proven track record for Christmas-themed films opening for Thanksgiving or the few weeks before.
ALL-TIME Top 10 BEST OPENINGS FOR CHRISTMAS-THEMED FILMS RELEASED FOR THANKSGIVING
1. 2003 – Elf – $31.3M opening ($173.3M cume)
2. 2002 – Santa Clause 2 – $29M opening ($139.2M cume)
3. 2004 – The Polar Express – $23.2M opening ($179.1M cume)
4. 2004 – Christmas with the Kranks – $21.57M opening ($73.8M cume)
5. 2006 – Santa Clause 3: The Escape Clause – $19.5M opening ($84.5M cume)
6. 1994 – The Santa Clause – $19.3M opening ($144.8M cume)
7. 2007 – Fred Claus – $18.5M opening ($72M cume)
8. 2007 – This Christmas – $17.9M opening ($49.1M cume)
9. 1988 – Scrooged – $13M opening ($60.3M cume)
10. 2003 – Bad Santa – $12.2M opening ($60M cume)
The quality of these films has never really been a factor, and that's good for Four Christmases because as of Tuesday it is only receiving a 22% Fresh rating on Rotten Tomatoes. But, there is something else going on here. The idea of multiple Christmases because of divorces and remarriages is a reality for so many parents and kids that the plotline of this movie almost seems reassuring. We feel better about ourselves when we see a version of our lives onscreen, and this movie fits the bill for a huge chunk of the movie-going public.
Tracking for Four Christmases really surged over the weekend, and I'm told that the Monday numbers point to a possible weekend win. I am penciling in a potential $38.5M for this Seth Gordon-directed comedy.
Summit's box office sensation Twilight is in for an enormous percentage tumble, but it should still hold well-enough to finish #2 over the 5 days. I have seen the movie, and I actually think it has a chance of expanding beyond its teen girl fan base. Director Catherine Hardwicke has knocked this one out-of-the-park, Kristen Stewart is very solid, and once you get past Robert Pattinson's annoying James Dean-affectedness, he is a solid choice for Edward Cullen.
After $69.6M in its opening weekend, Twilight could be down 72% to $18.9M for the upcoming Friday-Saturday-Sunday traditional frame. Still, I anticipate a respectable $30.7M for the 5-day, which would push the vampire love saga's domestic gross to $110M by Monday morning.
After a very tepid start, the well-reviewed Bolt from Walt Disney Animation Studios has a real chance of finishing at third, matching in 5 days what it delivered on opening weekend. I am predicting about $27.1M, which would be great news for Pixar's John Lasseter, who is the executive producer of Bolt and the new guiding force behind Disney Animation.
All of those teen and tween girls who flooded multiplexes for Twilight last weekend will make room for this talking dog family movie, featuring the voice of Hannah Montana herself, Miley Cyrus. If my number is right, Bolt will have a very respectable 10-day cume of about $60M or so.
Transporter 3 (Lionsgate) will go head-to-head with Quantum of Solace (Sony) for the purely male audience over the holiday. Last year's Thanksgiving action pic was Hitman, starring Timothy Olyphant and now Quantum of Solace Bond girl Olga Kurylenko, and it managed about $20M over the 5-day.
Jason Statham returns to the role that put him on the map. 2002's The Transporter opened with $9.1M followed by a $16.5M start for Transporter 2 in 2005. Industry tracking points to a $16.9M 3-day opening for Transporter 3, making it the all-time 3rd-best opening of Statham's career.
ALL-TIME TOP 5 3-DAY OPENINGS FOR JASON STATHAM
1. The Italian Job – $19.4M
2. The One – $19.11M
3. Transporter 3 – $16.9M (predicted)
4. Transporter 2 – $16.5M
5. Death Race – $12.6M
For 5 days, Transporter 3 has a shot at a 3rd-place finish and a possible $26.8M. That would represent a 34% improvement over the performance of Hitman last Thanksgiving.
Baz Luhrmann's Australia (Fox) is receiving wildly-mixed reviews, but they lean to the positive with 58% Fresh on Rotten Tomatoes as of Tuesday. The eclectic Luhrmann's last film was the Oscar nominated Moulin Rouge! ($57.3M cume) back in 2001, so his core fans are ready to rush out and see this Gone With the Wind-style epic right away, but it remains to be seen if Australia will be in this year's Oscar chase.
Females 25 Plus will be the core demo for this yarn from Down Under, but working against it are the checkered recent box office histories of its two stars Hugh Jackman and Nicole Kidman.
Jackman has only had one non-X-Men, non-animated film open with more than $20M (Van Helsing with $51.7M), and his last two films were notable bombs The Fountain ($3.7M opening – $10.1M cume) and Deception ($2.3M opening – $4.5M cume). Meanwhile, Kidman is box office poison with recent infamous disasters like Birth ($5M cume), Bewitched ($63.3M cume), Fur: An Imaginary Portrait of Diane Arbus ($223,000 cume), The Invasion ($15M cume) and the very expensive The Golden Compass ($70.1M cume).
There is decent heat on Australia, according to the current tracking. In fact, there is even a chance for a major upside surprise, and it all may be thanks to Oprah Winfrey, who did an hour with Luhrmann, Jackman and Kidman recently. Here is what "The Big O" said about Australia:
"Our hearts are all swelling because, my God, it's just the film we needed to see. I have not been this excited about a movie since I don't know when. It's the best movie I've seen in a long, long, long, long time. It is epic, it is magic, it is a spectacle and the scenery is so gorgeous you can barely stand it. AUSTRALIA is going to make you jump on a plane and go Down Under."
– Oprah Winfrey
This woman has got major pull with exactly the demo that this movie needs. Oprah's endorsement counts for a lot. I think this one will top $20M for 5 days, finish at #5. In fact, my final number is $24M, which would bode well for Fox making back its investment and for awards season.
FINAL PREDICTIONS FOR THE 5-DAY THANKSGIVING WEEKEND
1. NEW – Four Christmases (Warner Bros) – $38.5M
2. Twilight (Summit) – $30.7M
3. Bolt (Disney) – $28M
4. NEW – Transporter 3 (Lionsgate) – $26.8M
5. NEW – Australia (Fox) – $24M
6. Quantum of Solace (Sony) – $21.5M
7. Madagascar: Escape 2 Africa (Dreamworks/Paramount) – $18.6M
8. Role Models (Universal) – $8.5M
9. High School Musical 3: Senior Year (Disney) – $3.4M
10. Changeling (Universal) – $2.9M
11. The Boy in the Striped Pajamas (Miramax) – $2.4M
12. Zack & Miri Make a Porno (Weinstein) – $2.3M