This Week In DVD: Hancock, Fred Claus, 24: Redemption, And More
We may receive a commission on purchases made from links.
This Week in DVD is a column that compiles all the latest info regarding new DVD releases, sales, and exclusive deals from stores including Target, Best Buy, Circuit City, and Fry's.Please don't take the commentary on the movies and TV shows too seriously, as they're meant not to be reviews but rather previews that include the general thoughts and ramblings of a twice-committed DVD addict. The categories represent solely the author's intentions towards the DVDs at hand, and are in no way meant to be a reflection on what he thinks other people should rent or buy. So if he ends up putting a movie you like in the "Skip it" section without having seen it, please keep in mind that the time you could spend leaving a spiteful but ultimately futile comment could instead be used for more pleasant things in life. Like buying DVDs.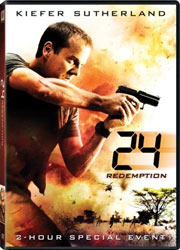 24: REDEMPTION
After all of the speculation and build-up surrounding news of a 24 movie, it was hard to be anything other than disappointed when it was revealed to be nothing more than a made-for-television prequel to the new season. But hey, after a year and a half long hiatus since 24 was last on the air, fans will probably just be happy to see Jack Bauer kicking ass again. And with season 6 referred to by many as one of the show's worst to date, this 2-hour special event is a clever way to give the series a clean slate.
Blu-ray? No.Notable Extras: Extended Edition "Creator's Cut" featuring over ten minutes of never-before-seen footage (not shown in the television broadcast version), "Making Of" documentary, "Children of War" featurette, Cast/Crew Commentary, "24" Season 6 in Four Minutes featurette, Season 7 Sneak Peek – First 16 minutes of the premiere episode.
BEST PRICE
Target
Best Buy
Circuit City
Fry's
$15.99
$17.99
$14.99
Amazon – $15.99
EXCLUSIVE DEAL:What? 3-Disc ($22.99) includes: digital copy, behind the scenes footage and Rocco DeLuca music video.Where? Best Buy.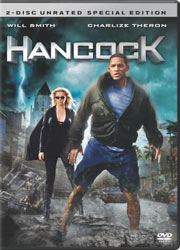 HANCOCK(Available as single-disc rated, single-disc unrated and 2-Disc Unrated Edition)
By far the most disappointing movie I've seen all year, Hancock fails just about every rule of filmmaking when it comes to delivering a cohesive narrative, likely due to constant script rewrites and studio meddling. The premise itself is very intriguing, and for the film's first half, it works. But at about the halfway point, a completely random and arbitrary plot twist is thrown into play, and from that point onward the film continues its downward spiral of ridiculousness and irrelevance until finally concluding with a half-assed attempt at a dramatic and emotional climax. Not even Will Smith's charisma could save this poorly-executed twist on the superhero genre.
Blu-ray? Yes.Notable Extras: The single disc versions include the following featurettes: 'Superhumans: The Making of Hancock', 'Seeing the Future', 'Building a Better Hero', 'Bumps and Bruises', and 'Mere Mortals: Behind the Scenes with Dirty Pete'. The 2-Disc Unrated Edition includes (among the aforementioned featurettes) a digital copy of the film and two additional featurettes ('Home Life', and 'Suiting Up').
BEST PRICE*
Target
Best Buy
Circuit City
Fry's
$15.99
$14.99
Amazon – $15.99
*Does not include 2-Disc Edition, which costs $22.99 at each of the listed stores (including Amazon).
EXCLUSIVE DEAL:What? Exclusive deluxe ($22.99) has pop-up packaging and collectible lithograph from film.Where? Target.EXCLUSIVE DEAL:What? Exclusive Steelbook for 2-Disc Edition ($22.99).Where? Best Buy.EXCLUSIVE DEAL:What? 3-Disc Limited Edition ($22.99) includes bonus disc "How to be Super: The Users Guide to Hancock".Where? Circuit City.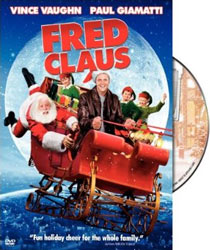 FRED CLAUS
I've heard nothing but negative things about Fred Claus, which is a real shame considering how promising its premise is. With Vince Vaughn and Paul Giamatti in the leading roles and Wedding Crashers director David Dobkin in the director's chair, I can only imagine the possibilities had this been an R-rated twist on the Christmas film genre (a la Bad Santa) instead of merely being a PG family-friendly entry in it. Just imagine it: weeks before Christmas, everything was going great for Santa... until his alcoholic, sex-addicted brother Fred Claus showed up to ruin it all. What do you think? Would you pay to see that?
Blu-ray? Yes.Notable Extras: Director commentary and 25 minutes of deleted scenes.
BEST PRICE
Target
Best Buy
Circuit City
Fry's
$16.99
$17.99
$14.99
Amazon – $17.49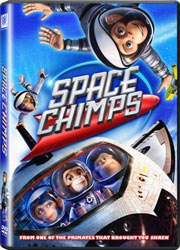 SPACE CHIMPS
In a year where we have Wall-E, Bolt, Kung Fu Panda, and Horton Hears a Who!, there's just no room for such an utterly forgettable and dated-feeling animated family film as Space Chimps. Why bother wasting your time?
Blu-ray? Yes.Notable Extras: "Fox Movie Channel Presents: Casting Session" featurette.
BEST PRICE
Target
Best Buy
Circuit City
Fry's
$16.99
$19.99
$15.99
Amazon – $19.99
EXCLUSIVE DEAL:What? Save $5 when you buy both Space Chimps and Meet Dave.Where? Circuit City.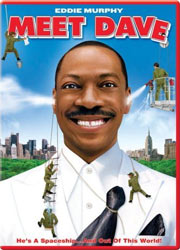 MEET DAVE
Excluding Dreamgirls and voice work, here's every film Eddie Murphy has done since the beginning of 2000: Nutty Professor II: The Klumps, Dr. Dolittle 2, Showtime, The Adventures of Pluto Nash, I Spy, Daddy Day Care, The Haunted Mansion, and Norbit. After all that, there's no reason anyone should be surprised by the awfulness of Meet Dave, his latest entry in the "OH GOD PLEASE KILL ME NO I MEAN IT I CAN'T KEEP WATCHING I WAN'T TO DIE SO MUCH RIGHT NOW" genre.
Blu-ray? Yes.Notable Extras: Crew Confessions and a gag reel.
BEST PRICE
Target
Best Buy
Circuit City
Fry's
$19.99
$15.99
Amazon – $19.99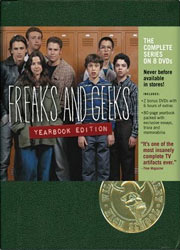 FREAKS & GEEKS (YEARBOOK EDITION)
Talk about a slap to the face for dedicated fans of the show. This DVD set originally came out in 2004 (along with the regular version of the complete series) as a Limited Edition that you could only buy online, with only 25,000 copies in print. It eventually sold out at the beginning of 2007. The fact that it retailed around $170 was ludicrous but somewhat justified by the DVD's status as a collector's item. Now though, Shout Factory is re-releasing the set without the "Limited Edition" label, and for the exact same price no less. That's close to three times as much as you have to pay for the regular edition, and the only differences are the 40-page yearbook packaging and two extra discs of bonus material (which admittedly aren't much better than what's available on the previous 6 discs).
Blu-ray? No.Notable Extras: The first 6 discs are the same as the regular edition, so all those special features are included. The extra two discs include: Museum of Television & Radio Panel, Table Read, Deleted Scenes, Original Cast Auditions, Raw Footage, Mr. Rosso Live In Concert, Photo Galleries, NBC Promos, and Behind the Scenes footage.
BEST PRICE
Target
Best Buy
Circuit City
Fry's
N/A
$119.99
$109.99
N/A
Amazon – $119.99
Other noteworthy DVDs available this week...Bottle Rocket (Criterion Collection) – A Colbert Christmas: The Greatest Gift of All! – Spy Who Came in from the Cold (Criterion Collection) – Beverly Hills 90210 (Season 6)Discuss: What are you planning to rent or buy this week?

NOTE: Some deals may be in-store only."Black Friday" Sales: You can view the "Black Friday" deals for Best Buy, Circuit City and Target over HERE. Scans of the ads can be downloaded in either .zip or .pdf formats.

$29.99 – The Simpsons (Season 11), The Office (Season 4), and more...

$74.99 – The OC (Complete Series)$99.99 – Sex and the City (Complete Series)$24.99 – 007: James Bond – Ultimate Edition (Volumes 1 – 4)$3.99 – Lock Stock and Two Smoking Barrels, Reign Over Me, Jarhead, Breach, Underworld, Revolver, The Break-Up, Robots, and more...$6.99 – Michael Clayton, The Kingdom, Bee Movie, Hairspray, Knocked Up, Blood Diamond, We Own the Night, Semi-Pro, Balls of Fury, The Golden Compass, and more...

$6.99 – I Am Legend (2-Disc Special Edition), The Departed (2-Disc Special Edition), 300 (2-Disc Special Edition), Ocean's Thirteen, Michael Clayton, The Golden Compass, Hairspray, The Brave One, and more...$12.99 – Oz (Seasons 1 – 6), The Venture Bros. (Seasons 1 – 2), Robot Chicken (Seasons 1 – 2), and more...$2.99 – Borat, Road to Perdition, Catch Me if You Can, Tomb Raider, The Omen, The Talented Mr. Ripley, What Dreams May Come, Prime, Undercover Brother, The Manchurian Candidate, Planet of the Apes, Changing Lanes, Red Dragon, Be Cool, Coneheads, Johnny Dangerously, 48 Hrs., Tears of Endearment, Baseketball, Friday the 13th, Amistad, Rules of Engagement, The Ring, The Saint, Serpico, Joy Ride, Enemy at the Gates, The Truman Show, Kiss the Girls, and much more...