Box Office: Twilight Dips 41% Saturday For $70.5M Weekend; Quantum Edges Bolt For #2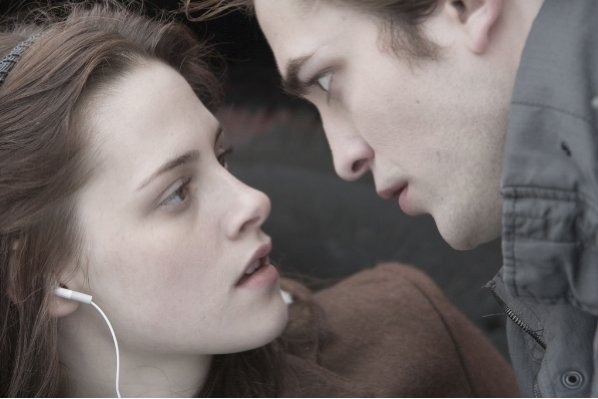 Twilight (Summit), based on the wildly popular Stephenie Meyer series of novels, has blown past even the most optimistic industry expectations with an estimated $70.55M opening weekend. The movie, which had teen girls lined up Thursday at midnight and generated an estimated $7.5M by sunrise on Friday, finished its first day with about $35.7M. But the movie has proved to be hyper-frontloaded, down 41% on Saturday for about $21M, followed by a possible 34% dip today for $13.9M. (My published projection Friday night was $70.58M.)
Meanwhile, the film just missed becoming the all-time #1 opening for a vampire movie.
ALL-TIME TOP 10 OPENINGS FOR A VAMPIRE MOVIE
1. I Am Legend – $77.2M opening – $256.3M cume
2. Twilight – $70.55M (projected)
3. Van Helsing – $51.7M cume  – $120.1M opening
4. Interview with the Vampire – $36.3M opening – $105.2M cume
5. Blade II – $32.5M opening – $82.3M cume
6. Bram Stoker's Dracula – $30.5M opening – $82.5M cume
7. Underworld: Evolution – $26.8M opening – $62.3M cume
8. Underworld – $21.7M opening – $51.9M cume
9. Blade – $17M opening – $70M cume
10. Blade: Trinity – $16M opening – $52.4M cume
For Meyer, a Mormon housewife who lives in Phoenix, this triumph makes her America's answer to Harry Potter author J.K. Rowling. She has never seen an R-rated movie or had a drop of alcohol (although she told Time Magazine that she occasional has a little caffeine when she sneaks a Cherry Coke), and Twilight preaches the romance of abstinence. Parents mortified by the casual sex and loose morality of TV hits like Gossip Girl and MTV's The Hills are thrilled by this celebration of chastity.
Summit has made official the well-promoted secret that sequels are on the way. The next 2 books in the series – 2006's New Moon (2006) and last year's Eclipse – will be shot back-to-back with director Catherine Hardwicke and stars Kristen Stewart and Robert Pattinson returning.
Hardwicke, who made a huge critical splash with 2003's thirteen ($4.6M domestic) now has the biggest opening ever for a movie directed by a woman. Twilight represents a major rebound for her after a pair of disappointments – the addictively bad Lords of Dogtown ($11.2M domestic), adapted from the excellent Stacey Peralta documentary Dogtown and Z-Boys, and a misguided 2006 birth-of-Christ drama The Nativity Story ($37.6M domestic).
Stewart, who started her career playing Jodie Foster's interesting tomboy daughter in 2002's Panic Room ($96.3M domestic), could be a full-fledged movie star. Prior to her role as Bella Swan, she had a heartfelt supporting turn in Sean Penn's Into the Wild ($18.3M domestic) and has given a solid performance in current arthouse hit What Just Happened (Magnolia) from Oscar winning director Barry Levinson (about $1M domestic so far). Pattinson is the biggest winner from Twilight and its upcoming sequels. His only role of note has been Cedric Diggory in 2 Harry Potter films, Goblet of Fire and Order of the Phoenix, but now he is likely to be one of the hottest teen idols in the world.
My hunch is that this vampire yarn will not have very long legs. Exit surveys do not show that Twilight's appeal has expanded much beyond the Females Under 25 quadrant. I am anticipating a Wednesday-thru-Sunday Thanksgiving weekend gross of about $36M for a 10-day cume of about $114M. I expect that this movie will "run out of ticket-buyers" at a faster-than-normal pace, but still should finish at about $140M domestic.
At #2 for the weekend is the re-booted James Bond Quantum of Solace (Sony), although it was down about 60% from opening weekend. Daniel Craig's 2nd Bond outing managed $27.4M for the frame for a new 10-day cume of $109.4M. Solace is still ahead of the pace of 2006's Casino Royale, which had banked $94M at the same point in its run.
Overseas, Bond added another $40.6M over the weekend, debuting in both Australia and Spain. The the worldwide total to-date is $418M, and the picture could ultimately reach $675M, which would represent a 12% improvement on Casino Royale.
Bolt from Walt Disney Studios, the other new, wide release this weekend, got off to a sluggish start. Despite about 900 engagements in Disney Digital 3D, Pixar star John Lasseter as executive producer, the voices of John Travolta and Hannah Montana herself Miley Cyrus and aggressive marketing across all of the Disney platforms, including Radio Disney and The Disney Channel, Bolt finished the frame with only $27M, well below industry expectations.
Disney has had great success with Pixar titles in the past decade, but the company's own animation studios have not had a break-out blockbuster since 1999's Tarzan. Bolt will not be a return to that level of success, but, it is poised to perform very well over the Thanksgiving holiday period. Next Friday-thru-Sunday, it will likely match its opening weekend gross, and for 5-days, Wednesday-thru-Sunday, it should ring up about $36M in domestic sales. That would mean that by the Monday after Thanksgiving, it will have banked a more-than-respectable $67.5M. Still, this picture will probably top out with $110M-$115M domestic.
Madagascar: Escape 2 Africa (Dreamworks/Paramount) is proving to be less durable-than-expected, down about 54% this weekend to an estimated $16M and a new cume of $137.4M. Two weeks ago, I fully expected Mad 2 to be the all-time biggest non-Shrek film from Dreamworks Animation, but I now think it will fall short of Kung Fu Panda's $215.4M domestic. $195M-$200M seems more likely.
The very funny Role Models (Univeral) continues to surprise adding another $7.2M for a 5th-place finish. A new domestic cume of $48M guarantees that we will see more from the twisted comic mind of David Wain.
Also showing up in the top 10 this weekend was The Boy in the Striped Pajamas (Miramax) at #9 with $1.67M on just 406 screens, representing a $4,121 Per Theatre Average. Reviews are generally positive (64% Fresh on Rotten Tomatoes), and writer/director Mark Herman's adaptation of the John Boyne novel proves that we may never run out of compelling stories about the Holocaust.
STUDIO 3-DAY ESTIMATES
1. NEW – Twilight (Summit) – $70.55M, $20,646 PTA, $70.58M cume
2. Quantum of Solace (Sony) – $27.4M, $7,924 PTA, $109.4M cume
2. NEW – Bolt (Disney) – $27M, $7,395 PTA, $27M cume
4. Madagascar: Escape 2 Africa (Dreamworks/Paramount) – $16M, $3,993 PTA, $137.4M cume
5. Role Models (Universal) – $7.22M, $2,645 PTA, $48M cume
7. Changeling (Univeral) – $2.64M, $1,520 PTA, $31.6M cume
6. High School Musical 3: Senior Year (Disney) – $2M, $850 PTA, $86.8M cume
8. Zack & Miri Make a Porno (Weinstein) – $1.7M, $1,393 PTA, $29.3M cume
9. The Boy in the Striped Pajamas (Miramax) – $1.67M, $4,121 PTA, $2.6M cume
10 The Secret Life of Bees (Fox Searchlight) – $1.27M, $1,164 PTA, $35.6M cume
11. Slumdog Millionaire (Fox Searchlight) – $994,000, $31,063 PTA, $1.6M
12. Soul Men (MGM) – $930,000, $1,143 PTA, $10.9M cume