Box Office Tracking: Twilight Could Suck $65 Million From Moviegoers This Weekend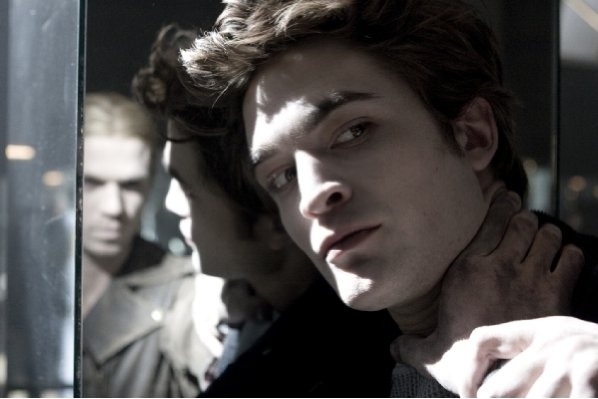 A housewife in suburban Phoenix is responsible for the movie that will dominate America's multiplexes this weekend. Twilight (Summit) is a phenomenon in industry tracking and advance sales, and two separate competing studio sources are telling me that they expect the film adaptation of Bella and Edward's forbidden romance to top $60 million in its opening three days.
It's not really proportional to compare Twilight author Stephenie Meyer to Harry Potter author J.K.  Rowling, especially since Meyer's success might not have been possible without Rowling before her. Both authors are moms who had never written anything prior to selling millions of novels with series that are widely read by teen and 'tweens. Meyer herself, however, does not believe that the Twilight saga could have become a sensation if Potter had never happened. Prior to Harry Potter, kids didn't read 500-page novels, grown-ups didn't read books targeted at kids, and publishers and booksellers didn't necessarily know how to market and sell novels like this.
One thing that Meyer and Rowling have in common is that readers actually want to, and try to, live in the worlds that they have created. Twilight fans are absolutely obsessed. Like Potter fans, they read everything they can online, speculate in chat rooms, theorize on message boards, dress up like their favorite characters, show up at bookstores at midnight and hang on every written or spoken word of their series' creator.
The four Twilight novels — Twilight (2005), New Moon (2006), Eclipse (2007) and Breaking Dawn (2008) — have combined to sell more than 25 million copies. They skew a bit older than Harry Potter. Harry was 11 in the first Potter book, while lead Bella is 17 (her vampire love Edward is in his '90s, but he's a vampire, so he hasn't actually aged since he was 17). There is a certain Twilight "hysteria" out there, and, for a while, I wondered if this was going to be "Vampires on a Plane," as in Snakes on a Plane, the Sam Jackson thriller from 2006 that had the internet buzzing, but still only managed a $13.8 million opening weekend.
It now seems clear, however, that Twilight is more than just a Web-based frenzy. It has caught many industry people by surprise. Last week, competing studio execs were saying it might reach $40 million. On Monday, I was told it might get to $50 million or more. Today, the consensus is $60 million-plus.
Industry tracking indicates that Females Under 25 will make up the core audience for Twilight, but Females 25 Plus, including moms, have "Definite Interest" in seeing it. It's not entirely surprising, considering that there is even a website called TwilightMoms.com. Interestingly, although there aren'[t many Males Under 25 who name Twilight as their "First Choice" in tracking data, an industry insider tells me that the "Definitely Not Interested" score with young males isn't through the roof. If Twilight is not especially objectionable to teenage guys, then they are more likely to be dragged to see it by girlfriends and dates this weekend.
Twilight is almost certain to be the all-time second-biggest opening for a vampire movie in box office history.
ALL-TIME TOP 10 OPENINGS FOR VAMPIRE MOVIES
1. I Am Legend — $77.2 million opening, $256.3 million cume
2. Twilight — $64.3 million (Projected)
3. Van Helsing — $51.7 million cume, $120.1 million opening
4. Interview with the Vampire — $36.3 million opening, $105.2 million cume
5. Blade II — $32.5M opening, $82.3 million cume
6. Bram Stoker's Dracula — $30.5 million opening, $82.5 million cume
7. Underworld: Evolution — $26.8 million opening, $62.3 million cume
8. Underworld — $21.7 million opening, $51.9 million cume
9. Blade — $17 million opening, $70 million cume
10. Blade: Trinity — $16 million opening, $52.4 million cume
But this is not really a vampire movie. It is equal parts teen romance, vampire mystique and modern metaphor about high school sexuality. It is Romeo and Juliet meets Ann Rice, crossed with John Hughes. We are in somewhat uncharted territory after opening weekend. How will this movie play? Can it reach a significantly broader audience than its core teenage girl following?
As a guide, we might be able to use High School Musical 3: Senior Year (Disney), which I expect to grab a possible $3.23 million this weekend. By the time HSM3 finishes its domestic run, it will have likely banked about $93 million. That means that its opening weekend of $42 million will represent about 46 percent of its total gross. If you apply that same formula to Twilight, using a $64.3 million opening, then you get a potential $140 million domestic. Twilight fans will probably dislike the comparison between the Bella-Edward saga and HSM3, but it may be the movie that comes closest to duplicating the demographics.
It is fascinating that author Meyer, who is a Latter-day Saint and has never tried alcohol or seen an R-rated movie, will be the toast of Hollywood this weekend. Twilight is "squeaky clean," promoting pre-marital abstinence as opposed to teenage fumbling in the back seats of cars. Parents who shake their heads at the crassness of Gossip Girl and the new version of Beverly Hills 90210 may find the romantic restraint and chivalry-before-all-else mentality of Twilight both refreshing and morally sound.
Twilight director Catherine Hardwicke, who made a huge critical splash with 2003 release thirteen ($4.6 million domestic), which may be the most challenging and truthful film about being a teenager made in the last decade, is a big winner again. She had followed up her dark Holly Hunter-Evan Rachel Wood drama with the addictively bad Lords of Dogtown ($11.2 million domestic), adapted from the excellent Stacey Peralta documentary Dogtown and Z-Boys, and a misguided 2006 birth-of-Christ drama The Nativity Story ($37.6 million domestic). Now she will be among the most influential female directors in Hollywood.
Kristen Stewart, who started her career playing Jodie Foster's daughter in 2002's Panic Room ($96.3 million domestic), is on her way to a nice career run after playing Bella in Twilight and its guaranteed future sequels. Anyone who saw her supporting turn in Sean Penn's Into the Wild ($18.3 million domestic) last year knows that she is a real actress, and she has followed up with a solid performance in current arthouse hit What Just Happened? (about $1 million domestic so far).
Perhaps the biggest winner from the project is previously unknown Robert Pattinson, who is floating through the prerelease promotion accompanied by an almost constant soundtrack of screaming girls. He played doomed Cedric Diggory in the Harry Potter films  , but other than that, his resume is very thin. His smoldering performance as Edward Cullen will put him on casting lists all over town, and he will be up for all of the kinds of roles that Orlando Bloom would have been first choice for a decade ago.
The other major wide release this weekend is Bolt, from Walt Disney Animation Studios, which will have as many as 800 engagements in Disney Digital 3D. This is a very smart property in a lot of ways, and the reviews are coming in decidedly positive (89 percent Fresh on Rotten Tomatoes as of Wednesday night). The executive producer of this movie is John Lasseter the writer/director of Pixar hits like Toy Story, Toy Story 2, A Bug's Life and Cars. That's important, because Disney's non-Pixar animated movies have struggled of late.
The most recent glory days for Disney animation started in 1989 with the now-classic The Little Mermaid ($111.5 million domestic) and peaked with 1994's The Lion King ($328.5 million domestic). The era also included excellent movies like Beauty and the Beast ($171.3 million domestic), Aladdin ($217.3 million domestic), Pocahontas ($141.5 million domestic) and Mulan ($120.6 million domestic). The company seemed to come off the rails right after 1999's Tarzan, which scored a huge $171 million U.S. gross.
Since 2000, Disney's variously named animation department has reeled off 15 films with an average opening weekend take of only $12.3 million, and an average domestic gross of just $73.3 million.
Meet the Robinsons (2007) — $25.1 million opening, $97.8 million cume
The Wild (2006) — $9.6 million opening, $37.3 million cume
Chicken Little (2005) — $40 million opening, $135.3 million cume
Home on the Range (2004) — $13.8 million opening, $50 million cume
Brother Bear (2003) — $292,000 opening, $85.3 million cume
Piglet's Big Movie (2003) — $6 million opening, $23.1 million cume
The Jungle Book 2 (2003) — $5.2 million opening, $47.4 million cume
Lilo & Stitch (2002) — $35.2 million opening, $145.7 million cume
Treasure Planet (2002) — $2 million opening, $38.1 million cume
Return to Never Land (2002) — $11.8 million opening, $48.4 million cume
Recess: School's Out (2001) — $6.1 million opening, $35.3 million cume
Atlantis: The Lost Empire (2001) — $329,000 opening, $84 million cume
Dinosaur (2000) — $38.8 million opening, $137.7 million cume
The Tigger Movie (2000) — $19.5 million opening, $45.5 million cume
The Emperor's New Groove (2000) — $9.8 million opening, $89.3 million cume
With the Academy Award-winning Lasseter as a guiding force, Disney Animation will almost certainly get back on track, and Bolt is the start of that. With John Travolta and Miley Cyrus as featured voices, a sustained marketing push across all of the Disney platforms — including The Disney Channel and Radio Disney — and the addition of the 3D component, this movie is going to work. Industry types tell me that the number will be on the high end of the $30 million range, but I think that Bolt could grab as much as $12 million on opening day, and has a legit shot at topping $40 million for the weekend, which would be the best opening for a non-Pixar Disney animated movie since Tarzan.
Quantum of Solace (Sony) will be No. 3 for the weekend, down a possible 56 perent or so from opening weekend for something right around $30 million. Madagascar: Escape 2 Africa (Dreamworks/Paramount) may dip 47 percent for about $18.6 million in its third weekend. And Universal's Role Models, from writer/director David Wain, will likely round out the Top 5 with about $5.5 million.
FINAL PREDICTIONS FOR THE WEEKEND OF NOVEMBER 21-23
1. NEW Twilight (Sony) — $64.3 million
2. NEW Bolt (Disney) — $40.2 million
3. Quantum of Solace (Sony) — $29.77 million
4. Madagascar: Escape 2 Africa (DreamWorks/Paramount) — $18.6 million
5. Role Models (Universal) — $5.54 million
6. High School Musical 3: Senior Year (Disney) — $3.23 million
7. Changeling (Universal) — $2.61 million
8. Zack and Miri Make a Porno (Weinstein) — $1.69 million
9. The Secret Life of Bees (Fox Searchlight) — $1.33 million
10. Soul Men (MGM) — $1.23 million