This Week In DVD: Wall-E, Tropic Thunder, And More
We may receive a commission on purchases made from links.
This Week in DVD is a column that compiles all the latest info regarding new DVD releases, sales, and exclusive deals from stores including Target, Best Buy, Circuit City, and Fry's.
Please don't take the commentary on the movies and TV shows too seriously, as they're meant not to be reviews but rather previews that include the general thoughts and ramblings of a twice-committed DVD addict. The categories represent solely the author's intentions towards the DVDs at hand, and are in no way meant to be a reflection on what he thinks other people should rent or buy. So if he ends up putting a movie you like in the "Skip it" section without having seen it, please keep in mind that the time you could spend leaving a spiteful but ultimately futile comment could instead be used for more pleasant things in life. Like buying DVDs.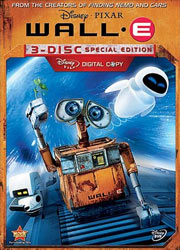 WALL-E(Available as single-disc and 3-Disc Special Edition + Digital Copy)
The last five Pixar films in a row have either won or been nominated for Best Animated Feature at the Academy Awards, and just about every single one of their productions has earned near universal praise amongst critics and audiences. At this point, what else is there possibly left to laud when it comes to the latest Pixar film? You already know the movie's amazing, and in all likelihood, you're probably planning on buying it. Wall-E is one of their best yet, creating one of the most lovable characters in cinema and placing him in a gorgeously animated world filled with fun, magic, excitement, and just about every other word that might make fellow males stare blankly at me and question my sexuality.
Blu-ray? Yes.Notable Extras: The 1-disc will include commentary with director Andrew Stanton, deleted scenes, featurettes ('Animation Sound Design: Building Worlds from the Sound Up', 'Sneak Peek: WALL-E's Tour of the Universe'), and a new Burn-E animated short. The 3-disc will add to this additional deleted scenes, 3 featurettes ('The Pixar Story by Leslie Iwerks', 'BnL Shorts', 'Wall-E's Treasures and Trinkets'), a Lots of Bots storybook, additional "making of" featurettes, Bot Files and a digital copy of the film.
BEST PRICE*
Target
Best Buy
Circuit City
Fry's
$15.99
$14.99
Amazon – $14.99
*Does not include 3-Disc Edition, which costs $29.99 at Target and Best Buy, $27.99 at Circuit City, and $22.99 at Amazon.
EXCLUSIVE DEAL:What? Standard, deluxe and Blu-ray editions include free code. Enter code online and a free tree seedling will be delivered to your home. [Editor's Note: WTF]Where? Target.EXCLUSIVE DEAL:What? Free Wall-E Puzzle Cube.Where? Best Buy.
TROPIC THUNDER(Available as single-disc and 2-Disc Unrated Director's Cut)
Hate on the guy all you want, Ben Stiller clearly has talent. Maybe this is evident more so behind the camera than in front of it, but either way, he managed to make one of 2008's best comedies, and he was even funny in it. Of course, Robert Downey Jr. was above and beyond the main highlight of the film, followed in close second by the hilarious self-parodying performances by Tom Cruise and Matthew McConaughey. Really, the only person who ends up being mostly wasted is Jack Black. The rest of the movie more than makes up for him though, unloading scene after scene of gut-busting satire and subversive gags. The movie's ridiculous, no doubt, but it's also downright hysterical, and easily worthy of a purchase.
Blu-ray? Yes.Notable Extras: 2-Disc extras include commentary with Ben Stiller, Jack Black and Robert Downey Jr., featurettes ('Blowing Shit Up', 'The Hot LZ', '7 Cast of Tropic Thunder'), a make-up test with Tom Cruise, Full Mags, MTV Movie Awards – Tropic Thunder, a Rain of Mandess trailer, and a DreamWorks Public Service Announcement.
BEST PRICE*
Target
Best Buy
Circuit City
Fry's
$16.99
$14.99
$15.99
$14.99
Amazon – $14.99
*Does not include 2-Disc Edition, which costs $22.99 at each of the listed stores (including Amazon).
EXCLUSIVE DEAL:What? Exclusive Patch.Where? Target.EXCLUSIVE DEAL:What? Free exclusive T-shirt with purchase of Blu-ray version.Where? Best Buy.EXCLUSIVE DEAL:What? Exclusive behind-the-scenes material on the 2-disc or Blu-ray.Where? Circuit City.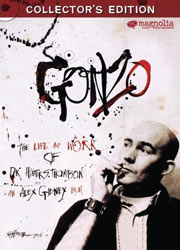 GONZO: THE LIFE AND WORK OF DR. HUNTER S. THOMPSON
As someone who's a fan of Hunter S. Thompson's work on a very basic level (i.e., I've read Fear and Loathing in Las Vegas), I'm definitely looking forward to finding out more about his contributions to literature/journalism, and hopefully getting some insight into what exactly made this bizarre individual tick. I've heard this documentary acts more as an introduction to the writer than an extensive psychological evaluation (which is apparently something many fans of his were hoping for), but for what I'm looking for, I'm sure this will do just fine; particularly when you have as talented a filmmaker as Alex Gibney (Enron: The Smartest Guys in the Room, Taxi to the Dark Side) helming the project.
Blu-ray? No.Notable Extras: Director commentary, deleted scenes, extended interviews, The Gonzo Tapes – Audio Excerpts, Wayward And Weary: A Tribute To Hunter S. Thompson, Live Acoustic Performance by Tift Merritt, Drawings By Ralph Steadman, and Hunter's Guns.
BEST PRICE
Target
Best Buy
Circuit City
Fry's
N/A
$22.99
$19.99
$24.99
Amazon – $18.99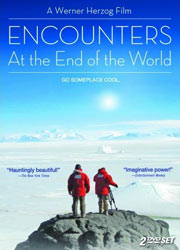 ENCOUNTERS AT THE END OF THE WORLD
Exploring the beauty both above and below the ice in Antarctica (as well as the dedicated people who work there), acclaimed filmmaker Werner Herzog (Rescue Dawn, Grizzly Man) has made a documentary that, if nothing else, is certain to provide a solid hours worth of breathtakingly beautiful real-world visuals. I'm sure it has a lot more to offer than just that though, as the reviews have been extremely positive, and c'mon, this is Werner Herzog we're talking about here.
Blu-ray? Yes.Notable Extras: Commentary by director Werner Herzog, featurettes ('Under the Ice', 'Over the Ice', 'South Pole Exorcism', 'Seals and Men'), Dive Locker Interview: Herzog talks with Rob Robbins and Henry Kaiser, and a Werner Herzog interview by Jonathan Demme.
BEST PRICE
Target
Best Buy
Circuit City
Fry's
$19.99
N/A
Amazon – $19.99
PRICELESS
Since Amélie, I haven't really seen the lovely Audrey Tatou in anything that impressed me too much. Dirty Pretty Things was fairly interesting, and Russian Dolls was entertaining enough, but as of now I still find myself trying to recover from her personality-less role in The Da Vinci Code. Priceless looks to be a remedy to this, allowing her to shine as an excitement-hungry high class gal who hooks up with a low-paid hotel employee after mistaking him for a wealthy guest. Think of it as a classic French farce version of Breakfast at Tiffany's.
Blu-ray? Yes.Notable Extras: None.
BEST PRICE
Target
Best Buy
Circuit City
Fry's
N/A
$14.99
$19.99
Amazon – $25.99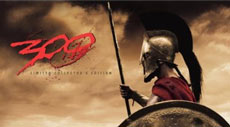 300 (LIMITED COLLECTOR'S EDITION)
As slick and beautiful as this set is, there's really no reason to buy it if you already own the 2-Disc Special Edition of the film. If you're considering the upgrade, I'd recommend waiting until the Blu-ray version comes out in 2009. I'm also confused as to why they didn't think to include the original graphic novel, since that seems like an essential part of any 300 set. What it does come with though is a 52-page hardcover art book with a personal message from director Zack Snyder, a lucite display with motion film image, six collectible photo cards, and a digital copy of the film. All nice stuff to look at, but there's practically nothing here of substance. Some could argue that also goes for the film itself.
Blu-ray? No.Notable Extras: A third disc with a new documentary ('Legend Filtered Through History, Graphic Novel and Film'), and the same extras as the 2-Disc Special Edition: Audio Commentary, Deleted Scenes, 300 Spartans – Fact or Fiction?, Who Were The Spartans: The Warriors of 300, Frank Miller Tapes, and Webisodes.
BEST PRICE
Target
Best Buy
Circuit City
Fry's
N/A
$34.99
$49.98
$39.99
Amazon – $34.99
EXCLUSIVE DEAL:What? Free graphic novel on-pack. [Editor's Note: Now THAT'S what I'm talking about!]Where? Best Buy.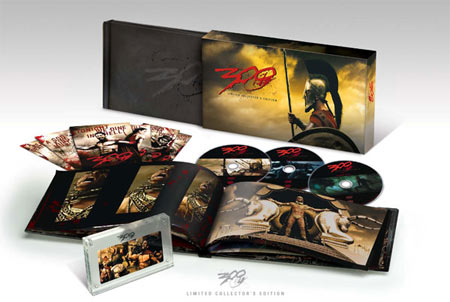 Other noteworthy DVDs available this week...The Sisterhood of the Traveling Pants 2 – Mister Lonely – Bones (Season 3) – Doctor Who (Series Four) – The Complete Monty Pythons Flying Circus (Collector's Edition Megaset) – Charmed (The Complete Series) – Jeff Dunham's Very Special Christmas SpecialDiscuss: What are you planning to rent or buy this week?

NOTE: Some deals may be in-store only.

Exclusive: Free $5 Target GiftCard with purchase of Bones (Season 3).$14.98 – It's Always Sunny in Philadelphia (Seasons 1 – 3), Nip/Tuck (Seasons 1 – 4)$12.98 – The Simpsons (Seasons 1 – 9), Family Guy (Vol. 1 – 3), Friends (Seasons 1 – 10)

$14.99 – Venture Bros. (Seasons 1 – 2), Aqua Teen Hunger Force (Vol. 1 – 4), Robot Chicken (Seasons 1 – 2), Metalocalypse (Season 1), Smallville (Seasons 1 – 6), That '70s Show (Seasons 1 – 8), Nip/Tuck (Seasons 1 – 4)$6.99 – Batman Begins (Two-Disc Deluxe Edition), Troy (2-Disc Special Edition), Fight Club, Little Miss Sunshine, Pan's Labyrinth, Letters from Iwo Jima, Memento, Old School, Green Street Hooligans, Before Sunset, Zoolander, Harold & Kumar Go to White Castle, Nacho Libre, Closer, Hitch, House of Flying Daggers, Stripes (Extended Cut), Underworld: Evolution, Chaplin, The Illusionist, and much more...

$6.49 – Airplane ("Don't Call Me Shirley" Edition), Ferris Bueller's Day Off (Bueller... Bueller... Edition), School of Rock, Zoolander, A Series of Unfortunate Events, South Park: Bigger Longer and Uncut, Team America, Planes Trains and Automobiles, Super Troopers, The Girl Next Door, Varsity Blues, Clueless ("Whatever" Edition), Pretty in Pink (Everything's Ducky Edition), and more...