Dan Fogler Is Sam Kinison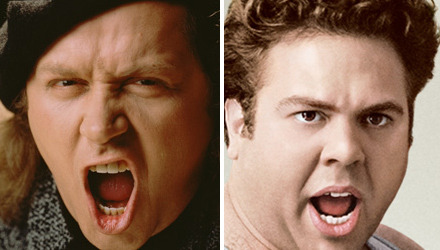 HBO has announced that Evan Almighty director Tom Shadyac will helm television movie about comic Sam Kinison. And who will play the great manic comic? Dan Fogler. You probably know him as the annoying fat guy they hire when they can't afford Jack Black or Jonah Hill. That said, he has an uncanny resemblance to a young Kinison. The film will be based on Brother Sam: The Short, Spectacular Life of Sam Kinison, a memoir written by Sam's brother and manager Bill Kinison. The official description for the book reads:
"A brother recalls the excessive and flamboyant life of the late comedian who died in an April 1992 car crash, portraying Kinison's checkered early years, his road to fame and fortune, and his personal struggles."
Shari Springer Berman and Robert Pulcini, the writer/directors of American Splendor, have penned the teleplay adaptation. I would have much rather seen Berman and Pulcini direct. Shadyac was responsible for the launch of Jim Carrey's movie career (Ace Ventura, Liar Liar), but hasn't produced a good movie in the last decade. Years ago, Howard Stern in talks to develop a film based on comic Kinison's life, but for one reason or another, it  never gained momentum.
source: Variety