Sammo Hung To Star In Kevin Monroe's War Monkeys
gangsta chimp image (c) www.mattcioffi.com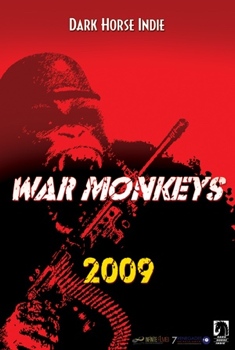 TMNT director Kevin Monroe has signed on to direct War Monkeys, and Sammo Hung is in talks to star for Dark Horse Indie. The sci-fi horror comedy tells the story of two slacker janitors who get trapped in an underground research facility (think Area 51) during the Christmas holiday, after accidentally unleashing military-trained research monkeys.
Monroe explained to Sci-Fi that it is "almost like a modern-day Abbott and Costello movie", comparing the plot to Aliens and later saying that the screenplay is "sort of like if Tarantino wrote Gremlins". What?! Munrow plans to shoot the film using a mix of live trained rhesus monkeys, puppets and some CG. Monroe tells THR, "Monkeys, guns, explosions. As a genre freak, I couldn't ask for anything more."
Sounds like it could either be a lot of fun or just plain stupid. The talent involved sounds much better than the idea itself. Monroe will start work on War Monkeys after he finishes Dead of Night, his big screen adaptation of the Italian comic-book series Dylan Dog, which stars Brandon Routh.