Box Office Tracking: Quantum Of Solace Aims For $60M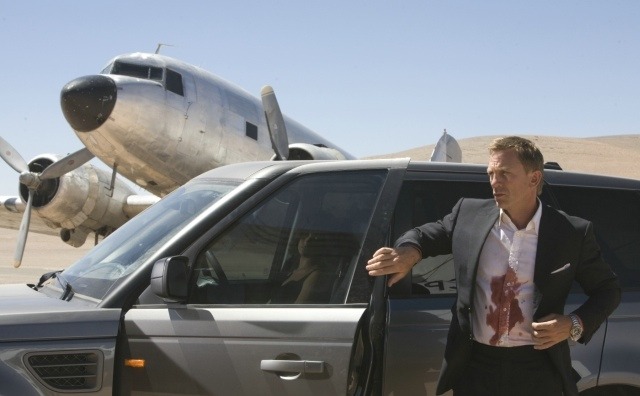 Reboot: to start film franchise over again, ignoring everything that has happened in previous films; often includes a distinct change in tone.
Back in 2003, when Warner Bros began discussing a new version of Batman, the concept of rebooting a film franchise didn't really exist. As director Christopher Nolan tried to decided who would assume "the cape," he couldn't have realized that he would be revolutionizing the way major studios approach their most lucrative franchises.
Interestingly, I came across the early list of Batman reboot hopefuls, and it included Cillian Murphy from 28 Days Later who wound up playing villain Scarecrow in Batman Begins, Dawson's Creek star Joshua Jackson, Henry Cavill (I Captured the Castle, Showtime's The Tudors) and Eion Bailey from HBO's Band of Brothers and more recently from E/R on NBC. It is amazing how fortunes are made in the movie business. Jackson, Cavill or Bailey would be household names right now if their meetings with Nolan would have gone more swimmingly.
With Christian Bale in the title role, Nolan began "The Reboot Revolution." Batman Begins is brilliant, taking the opportunity to start over by placing Bruce Wayne in a gritty Gotham City. Gone are the fanciful, stylized villains and gimmicks that began piling up in Tim Burton's original 1989 feature and culminating with the ridiculous 1997 Joel Shumacher-directed Batman & Robin, featuring George Clooney as Batman, Arnold Schwarzenegger as Mr. Freeze and Uma Thurman as vegetative villain Poison Ivy. It was a joke, and Clooney has been cracking wise about it ever since. Batman Begins went on to gross $205M domestic, and Nolan's follow-up, The Dark Knight, successfully enhanced the franchise exponentially to the tune of over $525M domestic.
Not all reboots work. Bryan Singer's 2006 Superman Returns was a critical failure and commercial disappointment ($200M domestic), and now Warner Bros will essentially take a "mulligan," rebooting again. In August, WB President Jeff Robinov confirmed a new reboot with the Wall Street Journal saying that they will try "going dark to the extent that the characters allow it."
Sony's decision to reboot the Bond franchise was a bit more unorthodox. Whereas Batman and Superman were dormant, the 007 franchise was riding high with 2002's Die Another Day, starring Pierce Brosnan, the most successful Bond yet with over $167M domestic.
Screenwriters Neal Purvis and Robert Wade, and then, later, Oscar winner Paul Haggis (Crash) faithfully adapted Ian Fleming's 1953 novel Casino Royale. Brosnan had fulfilled his contractual commitment (3 films with an option for the 4th, which became Die Another Day), and in 2005, the actor could see the writing on the wall and "stepped down" from future 007 films.
All of this happened while Batman Begins was being developed, but before its June 2005 release. Once Batman scored big, Sony was all-in for a darker Bond character, as Fleming originally intended, and they signed off on the script that put him in a very cruel, realistic world. Daniel Craig formally accepted the Bond "crown" at an October 2005 press conference and Martin Campbell signed on to direct.
Daniel Craig's Bond is closest in spirit to Sean Connery's version, and this 007 has almost nothing to do with the campy Roger Moore take or the more lightweight Brosnan approach. From the beginning of Casino Royale, we know that this is a real man on his first mission with the MI6. Technically, Bond dies in this movie before being revived, using a one-shot defibrillator, and he falls in love with a woman who ultimately dies in his arms. That's a far cry from "shaken-not-stirred" and the jokey sexual double entendres of Bonds-gone-by.
Now, this new Bond – he loves, he bleeds and he can even be killed (theoretically) – is looking for revenge for the death of the woman he loved....or, a Quantum of Solace. For my money, 2006's Casino Royale is the best Bond movie ever, and, most importantly for Sony, this rebooted secret agent is spot-on for what is working in the marketplace. Dark worked for Batman, especially The Dark Knight, and I believe that this film is headed for the commercial "sweet-spot" of this holiday movie-going season. I am predicting a $60M opening weekend, but anything over $50M will send this one into the box office stratosphere. I believe that Quantum of Solace will be the first film in the Bond franchise to surpass $200M domestic, and its to-date international grosses speak for themselves.
Needless to say, rebooting can be very good for the movie business.
Solace is the only wide release this week, so I expect a tremendous hold for Madagascar: Escape 2 Africa (Dreamworks/Paramount), maybe dipping as little as 35%, for an excellent $40M second weekend. Universal's David Wain-directed Role Models will be a strong #3 with a possible $10.7M, representing only a 44% dip from opening weekend. Clint Eastwood's Changeling (Universal) is a likely 4th, continuing to play well with Females 25 Plus, potentially adding $5.3M, and High School Musical 3: Senior Year (Disney) is likely to round out the top 5 with $4.8M or so.
FINAL PREDICTIONS FOR THE WEEKEND OF NOVEMBER 14
1. NEW – Quantum of Solace (Sony) – $60M
2. Madagascar: Escape 2 Africa (Dreamworks/Paramount) – $40M
3. Role Models (Universal) – $10.7M
4. Changeling (Universal) – $5.3M
5. High School Musical 3: Senior Year (Disney) – $4.8M
6. Zack & Miri Make a Porno (Weinstein) – $4.2M
7. Soul Men (MGM) – $2.6M
8. The Secret Life of Bees (Fox Searchlight) – $2.3M
9. Saw V (Lionsgate) – $2M
10. Eagle Eye (Dreamworks/Paramount) – $1.9M