Yes Man Movie Trailer #2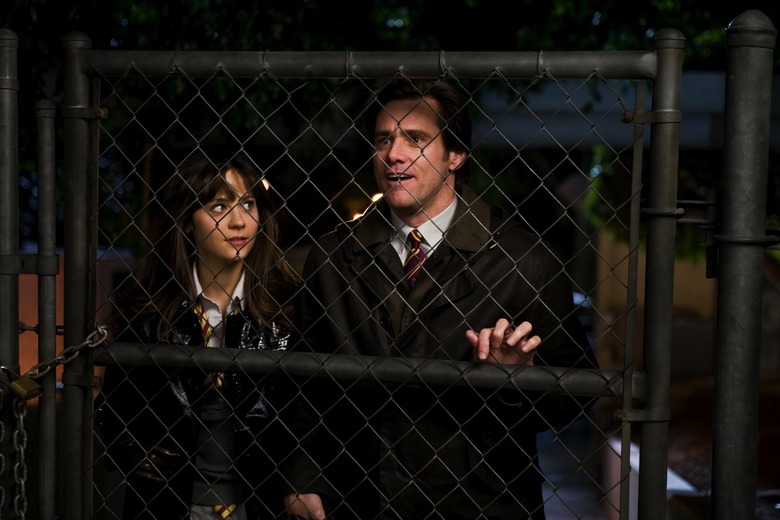 Warner Bros has released the second full trailer for Jim Carrey's new comedy Yes Man. This seems like a comedy that would have been made ten years ago, and that's not a compliment. It's all high concept and not many laughs. And it doesn't help that Jim Carrey hasn't made a truly funny film in the last decade. At this point I'd rather see him make more movies like Eternal Sunshine, The Truman Show, Man on the Moon and even The Majestic. Zooey Deschanel is the main love interest but appears in the trailer for only a few seconds. Watch the trailer after the jump. Leave your thoughts in the comments below.
[flv:http://bitcast-a.bitgravity.com/slashfilm/trailers/yesmantrailer2.flv 470 200]
Watch the trailer in High Definition on Yahoo. Yes Man hits theaters on December 19th 2008.
Plot Synopsis: Directed by Peyton Reed, who was responsible for Bring It On and The Break-up, Jim Carrey stars as Carl Allen, a man who signs up for a self-help program based on one simple principle: say yes to everything and anything. At first, unleashing the power of "yes" transforms Carl's life in amazing and unexpected ways, but he soon discovers that opening up his life to endless possibilities can have its drawbacks. The movie also stars Zooey Deschanel, Bradley Cooper, Rhys Darby, John Michael Higgins, Danny Masterson, and Terence Stamp.