Smokin' Aces Prequel Greenlit... Again?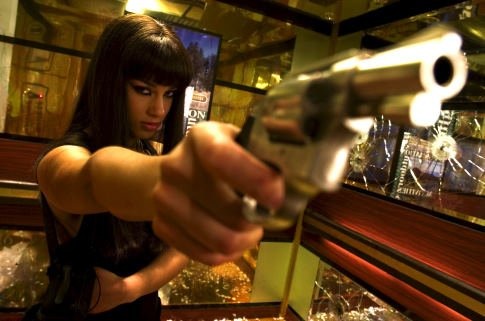 We initially reported back in May 2007 that Joe Carnahan was working on a direct-to-DVD prequel for Smokin' Aces, but little was heard about that project since then. I assume something fell through with that initial offer, because it seems that the prequel is go again. Carnahan writes on his blog:
Finally, some actual 'Smokin Aces' news. Universal has officially greenlit the
prequel and we are underway. Cameos will abound. Trust me.
Carnahan originally wanted to base this prequel on the Tremor Brothers, a group of sociopaths who wreaked havoc throughout the original film. From our earlier article:
"Universal wants to move ahead with a direct-to-video prequel of 'Smokin' and asked me if I wanted to Godfather the thing and make sure we did a really cool story," Carnahan reveals. "The DVD numbers 'Smokin' Aces' has done are astounding and they want to strike while the iron is hot. Whatever reluctance I have is alleviated by the fact that we can really do this balls out, hardcore prequel and not be constrained by ratings or any other puritanical MPAA bullsh*t. That I love."
I'm still unsure if this project remains a DVD prequel, and my excitement for it is definitely tempered if it still is. Carnahan raises a good point about MPAA ratings however—he'll certainly have less headache this time around when it comes his love of brutal violence if it's just a DVD release. Historically, direct-to-DVD releases haven't really been that successful in terms of quality or financial success, but maybe Carnahan can crack this code.
I love Joe Carnahan, primarily for his kick ass BMW film, Ticker, but I had some serious issues with Smokin' Aces. While the film had one excellent shootout, it was otherwise extraordinarily uneven—with some seriously cheesy dramatic elements and a surprisingly slow pace. I'm not sure about you folks, but judging from the film's trailer I was expecting something with a vibe more along the lines of Snatch. But despite my feelings towards the original film, I'll gladly watch a prequel hoping it lives up to my initial expectations.
Discuss: How do you feel about a Smokin' Aces prequel, especially one going straight to DVD?