Confirmed: Joaquin Phoenix Giving Up Acting To Pursue Music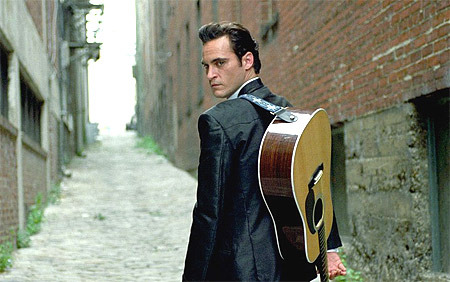 We heard rumors last week that 34-year old Joaquin Phoenix might be retiring from film but the fact that E!'s reporter didn't take him seriously caused him to walk off and prevented him from elaborating further (check out this vid for the entire interaction). Phoenix was understandably peeved, but now the AP reports that this past Saturday night, at the premiere of his latest film,Two Lovers (directed by James Gray), Joaquin Phoenix officially announced the end of his movie career in order to pursue music. Phoenix showed up with the words "Good" and "Bye!" etched into his hands (check out the AP article for the pic) and said:
It's like greener pastures, you know what I mean? And so, I'm just going to try and like, I'll just be doing the other thing. ... Hopefully, I will emotionally impact you with that, as well.
My reaction to this is not so much "Awwww," or "This is a tragedy!" as much as "Huh?" Phoenix has consistently turned in good performances throughout his entire career, with star-making turns in the Academy-Award-nominated Walk the Line as well as the box office success Signs. But my personal favorite is his role in Gladiator, as the angsty, incestuous, adolescent-like Commodus. Almost without fail, Phoenix's roles always portrayed him as a small person in a big world, battling with forces beyond his control, as he did in films like Clay Pigeons and To Die For.
Although his recent work in films like Ladder 49 or We Own the Night were nothing to write home about, they were still competent and it never occurred to me that he would suddenly and unexpectedly give up a career that showed a lot of promise. It should be noted that Phoenix won a Grammy for his work on Walk the Line, a film for which he learned how to play guitar and sing. As a musician myself, I was actually quite impressed, not only with his technical skill, but with his proficiency at imitation in that film. Perhaps it's not as much an end to a movie career as it is the beginning of a musical one? Let me know what you think in the comments.
Discuss: Are you sorry to see Phoenix leave the world of film? Are you excited to see what Phoenix might be able to bring to the world as a musician or a music video director?