Friday Box Office: Zack And Miri Make A Box Office Miss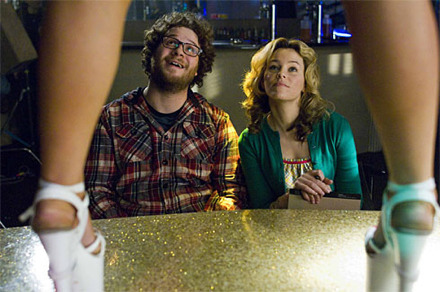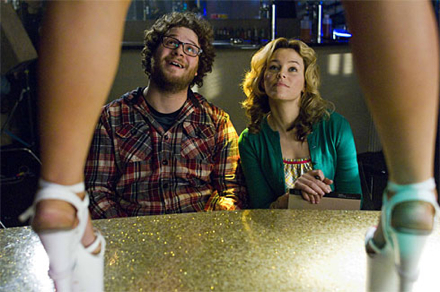 The Wildcats will likely win a 2nd consecutive weekend at the box office, but the songs that the kids from East High are singing aren't nearly as catchy as we thought they would be. High School Musical 3: Senior Year (Disney) only added about $1.9M on Friday (4th for the day), and that may mean a disappointing $9.5M for the 3-day.
The lesson here is that 13-year old girls prefer "trick or treating" to Troy (Zac Effron's Troy Bolton character). That is to be expected, but even with tweens pouring into multiplexes Saturday and Sunday, HSM3 still MAY not crack double-digits, diving a disastrous 77% from opening weekend. That would make it the 15th-worst 2nd weekend drop in history on par with the tween-fueled 2003 bomb From Justin to Kelly, starring first season American Idol contestants Kelly Clarkson and Justin Guarini.
In the above paragraph, I wrote the word "may" in ALL CAPS. That's because High School Musical 3 has been a tough movie to predict and project. In the interest of complete transparency, last Friday night I released a darn-near correct opening day number of $16.5M (it wound up being $16.9M), but my weekend projection was $55M. Instead, the film was fantastically front-loaded and only reached $42M. So, I feel that it is my responsibility to place some sort of asterisk near everything I write about Kenny Ortega's cable-to-big screen musical. If HSM3 falls at the rate I suggest this weekend, I feel safe in saying that this film will finish in the $75M-$80M domestic range.
That is a huge come-down from the possible $150M domestic I speculated about last Friday night, but the first movie for the gang at East High was budgeted at a lean $30M, so this is still a huge windfall for Disney. Given that High School Musical 1 and 2 have already generated an estimated $2 billion in operating revenue for Disney in the last couple of years, this is all icing.
If my number holds, and HSM3 has a 10-day cume of about $56.2M on Monday morning, it will mean that the movie generated 30% of its total sales on opening day! That may be the new benchmark for a front-loaded movie.
The Friday winner was holdover Saw V (Lionsgate), which scared up a Halloween total of $3.3M in ticket sales. My calculations point toward a $9.1M weekend. Keep in mind that the annual door-to-door candy-grab will have taken a big bite out of all younger skewing movies and that will lead to larger-than-normal "internal multiples" (for the non-junkies, the "internal multiple" is the number that you multiply the Friday gross by to arrive at the total weekend number). A 70% 2nd weekend dip for Jigsaw and his standard movie mayhem will be the biggest drop for the franchise, surpassing the 67% fall of last October's Saw IV. Still, Saw V is a highly-profitable venture for Lionsgate with a 10-day cume of $44.8M and a likely $60M domestic.
The Clint Eastwood-directed Changeling (Universal) expanded to 1,850 locations on Friday, and despite mediocre reviews (52% Fresh on Rotten Tomatoes), it is meeting with some success. I have seen the movie and consider it to be well below Eastwood's recent spectacular batting average, but Angelina Jolie was enough of a draw to sell $2.25M in Friday tickets (3rd for the day), and with a healthy 25 Plus audience over the weekend, this one could reach $9M, enough for a 3rd place finish.
I am a huge Eastwood fan, but Changeling was a big disappointment. Jolie's performance is overwrought, and I can "see all the strings", the usually-good Jeffrey Donovan has an odd 1930's speech pattern while Amy Ryan (an Oscar nominee for Gone Baby Gone) plays it with a present-day feel and John Malkovich is at his affected best (too much at times). It is a hard-to-watch 2 1/2 hours, and I find it dubious to suggest that this one will have much of an awards season run. The average Eastwood fan will walk out of Changeling saying, "Bring on Gran Torino."
The shocker of the weekend is the full-scale rejection of Zack & Miri Make a Porno (Weinstein) starring Seth Rogen and directed by Kevin Smith (Clerks). Tracking suggested that low teens was possible for this crude R-rated comedy, but the movie will only finish #2 on Friday with $2.3M, and, even with a friendly "internal multiplier," I have a hard time forecasting anything higher than $6.9M, which would mean a disappointing #4 finish. That will make it the worst opening of Rogen's meteoric comedy career, trailing blockbusters like Superbad ( $33M opening – $121.4M cume), Knocked Up ($30.7M opening – $148.7M cume), You, Me & Dupree ($21.5M opening – $75.6M cume), The 40-Year-Old Virgin ($21.4M opening – $109.4M cume) and August's Pineapple Express ($23.2M opening – $87.3M cume). On the bright side for Weinstein Company, I really like the trailer for The Reader, starring Ralph Fiennes and Kate Winslett, and it has, at the very least, an Oscar "sheen." This could be just the good news that Bob and Harvey need at year's end.
Freestyle Releasing has pulled off a nifty upside surprise with its wide release of The Haunting of Molly Hartley. With Gossip Girl's Chace Crawford as the likely drawing card, the cheapie horror flick scared up $1.5M on Friday and will probably crack the Top 5 with about $4.3M.
The hard-to-market Warner Bros action-comedy RockNRolla, from Madonna's ex Guy Ritchie, has failed to expand well despite above average reviews (58% Fresh on Rotten Tomatoes). This cockney crime caper generated only about $500,000 on Friday at 826 locations (a Per Theatre Average of just $605), and it will stumble to just $1.55M for the weekend (an $1,877 PTA).
EXCLUSIVE FANTASY MOGULS EARLY FRIDAY ESTIMATES
1. Saw V (Lionsgate) – $3.3M, $1,070 PTA, $39M cume
2. NEW – Zack & Miri Make A Porno (Weinstein) – $2.3M, $841 PTA, $2.3M cume
3. Changeling (Universal) – $2.25M, $1,216 PTA, $32.92M cume
4. High School Musical 3: Senior Year (Disney) – $1.9M, $524 PTA, $48.61M cume
5. NEW – The Haunting of Molly Hartley (Freestyle) – $1.5M, $566 PTA, $1.5M cume
6. The Secret Life of Bees (Fox Searchlight) – $1.1M, $683 PTA, $22.38M cume
7. Pride and Glory (Warner Bros) – $1M, $387 PTA, $9.35M cume
8. Beverly Hills Chihuahua (Disney) – $950,000, $316 PTA, $80.26M cume
9. Max Payne (Fox) – $900,000, $351 PTA, $32.75M cume
10. W. (Lionsgate) 890,000, $494 PTA, $20.83M cume
*RockNRolla (Warner Bros) – $500,000, $605 PTA, $1.12M cume
EXCLUSIVE FANTASY MOGULS EARLY 3-DAY ESTIMATES
1. High School Musical 3: Senior Year (Disney) – $9.5M, $2,620 PTA, $56.21M cume
2. Saw V (Lionsgate) – $9.1M, $2,951 PTA, $44.82M cume
3. Changeling (Universal) – $9M, $4,865 PTA, $9.67M cume
4. NEW – Zack & Miri Make A Porno (Weinstein) – $6.9M, $2,523 PTA, $6.9M cume
5. NEW – The Haunting of Molly Hartley (Freestyle) – $4.3M, $1,621 PTA, $4.3M cume
6. The Secret Life of Bees (Fox Searchlight) – $3.9M, $2,424PTA, $25.2M cume
7. Beverly Hills Chihuahua (Disney) – $3.8M, $1,265 PTA, $83.1M cume
8. Max Payne (Fox) – $3.15M, $1,229 PTA, $35M cume
9. Pride and Glory (Warner Bros) – $3M, $1,161 PTA, $11.35M cume
10. W. (Lionsgate) – $2.93M, $1,629 PTA, $22.88M cume
*RockNRolla (Warner Bros) – $1.55M, $1,877 PTA, $2.17M cume