Box Office Tracking: Can Zack And Miri Top HSM3? Probably Not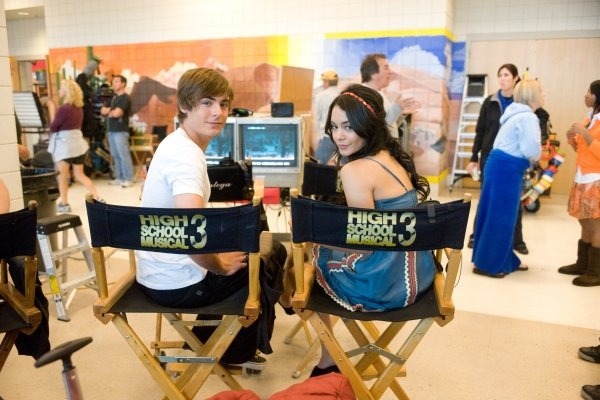 High School Musical 3: Senior Year (Disney) is likely to win a second consecutive weekend, but there is a great deal of mystery about how this Kenny Ortega-directed sensation will play out. There were lots of questions going into opening weekend. The thinking was that teens would show up in big numbers Friday night and then Saturday's business would increase because Moms would bring carloads of tween girls to America's multiplexes. Instead, the big screen debut of the gang from East High generated 40% of its opening weekend business on Friday, resulting in a 10% Saturday dip.
I spoke to an exec at a competing studio today, and they suggested that High School Musical 3 is a little like Sex and the City, the estrogen-fueled May release from Warner Bros.. Carrie Bradshaw and friends started their meteoric run with a $57M 3-day, but it generated 46% of that business on opening day. "HSM is very female and very front-loaded," is that insider's description, and that's hard to deny. A staggering percentage of the movie's opening weekend audience was girls under 18.
How many of those tween girls will return to see heartthrob Zac Effron again? Can the Disney film adaptation move from tween phenomenon to broad-based family film? Those remain open questions. Given that Disney's Hannah Montana/Miley Cyrus: Best of Both Worlds opened with $31.1M in February and dropped to a $10.29M 2nd weekend, it's fair to expect a big drop for HSM3 in the upcoming frame, although maybe not quite as steep. I am calling for a possible $17.65M, which would represent a 58% drop (compared to 67% for Hannah Montana). As for a total domestic take for the first big screen installment of HSM, $110M-$120M now seems like the ceiling.
Weinstein's Zack & Miri Make a Porno starring Seth Rogen and Elizabeth Banks will probably finish #2 for the weekend with something in the $11M-$14M range. This R-rated comedy, in the Judd Apatow mold, has a chance to be the all time biggest opening for director Kevin Smith, topping the $11M start for Jay & Silent Bob Strikes Back, but it will be the weakest opening in Rogen's young career, trailing blockbusters like Superbad ( $33M opening – $121.4M cume), Knocked Up ($30.7M opening – $148.7M cume), You, Me & Dupree ($21.5M opening – $75.6M cume), The 40-Year-Old Virgin ($21.4M opening – $109.4M cume) and August's Pineapple Express ($23.2M opening – $87.3M cume).
The first of 2 Clint Eastwood-directed Oscar caliber films Changeling (Universal) will expand this Friday after a meteoric platform start. This past weekend, the Angelina Jolie period thriller grabbed $32,600 per screen at 15 locations, which is spectacular. It will roll out to 1,800 or so playdates this weekend, and its Per Theatre Average could approach $6,000. I am forecasting an estimated $10.6M and a strong 3rd place finish for this picture, which will likely earn Angelina Jolie a Best Actress nod at both the Golden Globes and Oscars despite mediocre reviews (only 52% Fresh on Rotten Tomatoes).
Saw V (Lionsgate) will have a big Friday thanks to Halloween, but a 65% drop is inescapable for Jigsaw in his most recent go-round. The bloody sequel could reach a $10.3M 3-day for a new 10-day cume of just over $46M. Beverly Hills Chihuaua (Disney) will likely round out the Top 5 adding another $4.5M, pushing Chloe the chihuahua's Mexican adventure to over $83M by Monday morning.
The underwhelming platform start for RockNRolla (Warner Bros) doesn't bode well for its weekend expanion to 800+ locations. The Guy Ritchie-directed gangster comedy managed a $20,600 PTA on 7 screens for its October 12 opening weekend, but its Per Theatre Average dipped to just $6,100 at 22 locations in its 2nd frame and $5,400 on 19 screens last weekend. There is not much appetite for this one on a wider basis, and I am expecting no more than $4M and a possible #7 finish.
The other wide release is The Haunting of Molly Hartley being rolled out by Freestyle Releasing on approximately 2,250 screens. The big name in this one isn't Haley Bennett who plays Molly Hartley. The draw is Chase Crawford from TV's teen hit Gossip Girl, but this is still a non-starter. My hunch is that Haunting will only scare up $3.8M despite opening on Halloween weekend.
FINAL PREDICTIONS FOR THE WEEKEND OF OCTOBER 31
1. High School Musical 3: Senior Year (Disney) – $17.65M
2. NEW – Zack & Miri Make a Porno (Weinstein) – $13.25M
3. Changeling (Universal) – $10.6M
4. Saw V (Lionsgate) – $10.3M
5. Beverly Hills Chihuahua (Disney) – $4.5M
6. The Secret Life of Bees (Fox Searchlight) – $4.1M
7. RockNRolla (Warner Bros) – $4M
8. NEW – The Haunting of Molly Hartley (Freestyle) – $3.8M
9. Eagle Eye (Dreamworks/Paramount) – $3.3M
10. Pride & Glory (Warner Bros) – $3M
11. W. (Lionsgate) – $2.6M
12. Body of Lies (Warner Bros) – $2.2M