This Week In DVD: Journey To The Center Of The Earth, MST3K, Hell Ride, And More
We may receive a commission on purchases made from links.
This Week in DVD is a column that compiles all the latest info regarding new DVD releases, sales, and exclusive deals from stores including Target, Best Buy, Circuit City, and Fry's.Please don't take the commentary on the movies and TV shows too seriously, as they're meant not to be reviews but rather previews that include the general thoughts and ramblings of a twice-committed DVD addict. In regards to movies and shows the author hasn't seen, the DVD release is placed in its respective category based on critic and audience response.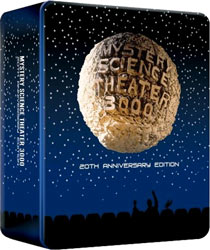 MYSTERY SCIENCE THEATER 3000 (20TH ANNIVERSARY EDITION)
Complete with awesome tin packaging, 4 lobby cards and a figurine of Crow T. Robot, this MST3K 20th Anniversary set is a must-have for any fans of the series. The 4 previously unreleased episodes it houses are First Spaceship on Venus (an underrated gem), Laserblast (the last episode before Comedy Central dropped the show and it moved to the Sci-Fi channel), Werewolf (a personal favorite of mine – "It's a WAHR-WILF!"), and Future War (the most recently made film to be featured on MST3K). Overall, an excellent collection of episodes, and a worthwhile set for fans to salivate over.
Blu-ray? No.Notable Extras: Three-part "The Oral History of MST3K" feature, 2008 Comic-Con MST3K Reunion Panel, original film trailers, "Variations On A Theme Song" (featuring all six versions of the theme song).
BEST PRICE
Target
Best Buy
Circuit City
Fry's
N/A
$49.99
$69.99
N/A
Amazon – $48.99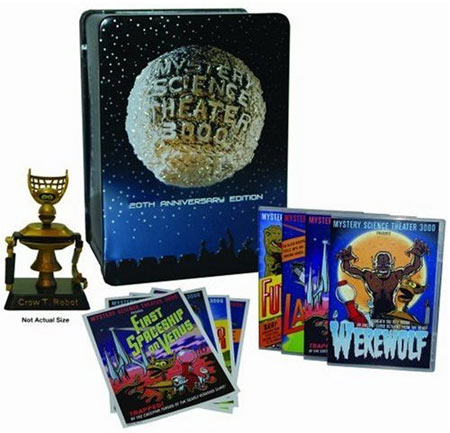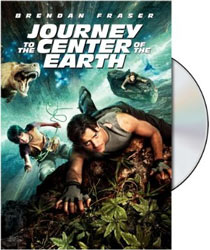 JOURNEY TO THE CENTER OF THE EARTH(Includes both 2-D versions and 3-D with glasses)
Being that this is the type of 3D movie where the entire point of the film is to showcase the 3D (I can only assume the filmmaking process consisted of people constantly asking, "OK, what else can we thrust towards the audience?"), this is probably a movie that's better suited for the big screen than home viewing. This fact is only enhanced when you take into consideration that the 4 pairs of 3-D glasses that come on-pack with the DVD are the annoying red/blue kind, which admittedly is to be expected. Apparently the movie's a fun ride regardless, so I'm willing to give it a shot...even if it means suffering a mild headache in the process.
Blu-ray? Yes.Notable Extras: An audio commentary, featurettes ('A World within Our World', 'Being Josh', 'How to Make Dinosaur Drool'), and two interactive games.
BEST PRICE
Target
Best Buy
Circuit City
Fry's
$16.99
$15.99
$14.99
Amazon – $15.99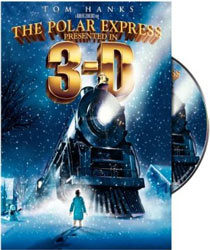 THE POLAR EXPRESS: 3-D(Includes both 2-D versions and 3-D with glasses)
Despite being available on DVD for three years now, this is the first time The Polar Express has been made available on DVD in its intended 3-D format. Once again, we strike the same problems as those listed above for Journey to the Center of the Earth, but I'm sure those who liked the movie will be glad to have the extra viewing option. I, meanwhile, will stay as far away from the DVD as possible, as I have enough nightmares due to those creepy-looking doll children without needing to be reminded what they look like in three dimensions.
Blu-ray? Yes.Notable Extras: A Smokey and Steamer Song not seen in theaters, featurettes ('You Look Familiar: The Many Polar Faces of Tom Hanks', 'A Genuine Ticket to Ride', 'True Inspirations: Profiling Author Chris Van Allsburg', 'Believe: Josh Groban Performance and Behind the Scenes'), and motion captured sessions.
BEST PRICE
Target
Best Buy
Circuit City
Fry's
$14.99
$17.99
N/A
Amazon – $15.99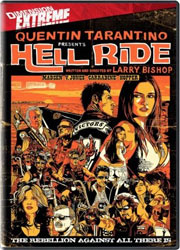 HELL RIDE
Based on the incredibly harsh reviews of the film, I can't tell whether this grindhouse-style exploitative throwback to biker flicks of the '60s is incredibly effective in what it's trying to emulate or not effective at all. When it comes to B-movies, I've noticed critics are much more willing to praise something when they feel like they're in on the joke, but if you tone down the camp and play things straight, they're not quite as generous. Suppose I'll have to check out Hell Ride for myself before I know whether or not that's the case for the film. And hey, even if turns out to be lousy, at least it's got bikes, boobs and guns. With a combo like that, it's gotta at least be somewhat entertaining, right?
Blu-ray? Yes.Notable Extras: An audio commentary and featurettes ('The Making of Hell Ride', 'The Babes of Hell Ride', 'The Guys of Hell Ride', 'The Choppers of Hell Ride', 'Michael Madsen's Video Diaries').
BEST PRICE
Target
Best Buy
Circuit City
Fry's
N/A
$14.99
$12.99
Amazon – $12.99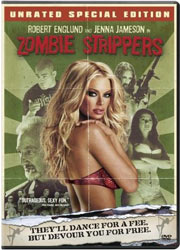 ZOMBIE STRIPPERS
Never one to shy away from a film with the words "zombie" and "stripper" in the title, everything I've seen regarding the intentionally campy 'B' horror/comedy Zombie Strippers looks to amount to one thing and one thing only: fun times. Obviously it won't appeal to everyone, but the only way I can see anybody justifying the film as a disappointment is if it fails to deliver on the two things promised by its title; those of course being, boobs and gore.
Blu-ray? Yes.Notable Extras: a commentary with Director Jay Lee, Jenna Jameson, Robert Englund & Joey Medina, deleted scenes with optional commentary, 2 featurettes (The Champagne Room: Behind the Scenes of Zombie Strippers, The Dressing Room: How to Glam a Zombie), and a digital copy of the film. The unrated edition will include some additional exclusive deleted scenes
BEST PRICE
Target
Best Buy
Circuit City
Fry's
N/A
$19.99
Amazon – $19.99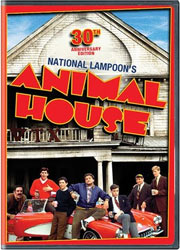 ANIMAL HOUSE (30TH ANNIVERSARY EDITION)
Screw you, Universal. There is nothing special about this 30th Anniversary Edition what-so-ever. It's literally the exact same DVD as the previously released "Double Secret Probation Edition," except with two Scene It? Games and a different cover. Animal House is a classic, no doubt, but don't even consider double-dipping on this blatant cash grab. If you don't yet own the film, however, you may want to take a look at the Gift Set below.
Blu-ray? No.Notable Extras: Where Are They Now? A Delta Alumni Update featurette, The Yearbook: An Animal House Reunion and two Scene It?: Games.
BEST PRICE
Target
Best Buy
Circuit City
Fry's
N/A
$14.99
Amazon – $13.99
This Gift Set ($23.99) of the DVD is slightly more deserving of a purchase, packed in a commemorative fraternity house box and including the 98-minute documentary "National Lampoon's Animal House: The Inside Story" and a Collectible Faber College Yearbook...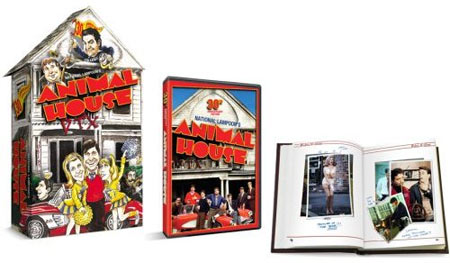 Other noteworthy DVDs available this week...Kit Kittredge: An American Girl – Baraka (2-Disc Special Edition) – Elite Squad – Dead Space: Downfall – The L-Word (Season 5) – Newsradio (The Complete Series) – The Little Rascals (The Complete Collection) – The Flintstones (The Complete Series) – Abbott and Costello (The Complete Universal Pictures Collection) – The 4400 (The Complete Series) – Poultrygeist (3-Disc Collector's Edition) – Tinker BellDiscuss: What are you planning to rent or buy this week?

NOTE: Some deals may be in-store only.

$19.99 – Dexter (Season 2)$24.99 – It's Always Sunny in Philadelphia (Season 3)$29.99 – South Park (Season 11), The Office (Season 4), 30 Rock (Season 2)$31.99 – The Simpsons (Season 11)$34.99 – The Shield (Season 6)$44.99 – The Wire (Season 5)

$3.99 – Cast Away, My Cousin Vinny, The Girl Next Door, and more...