Four Photos From Angels & Demons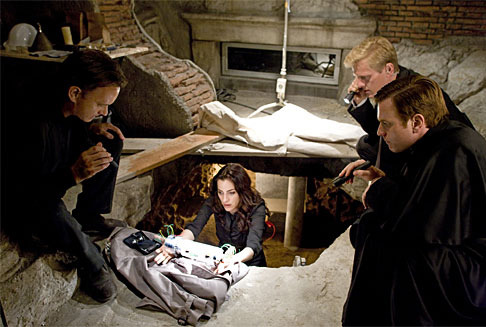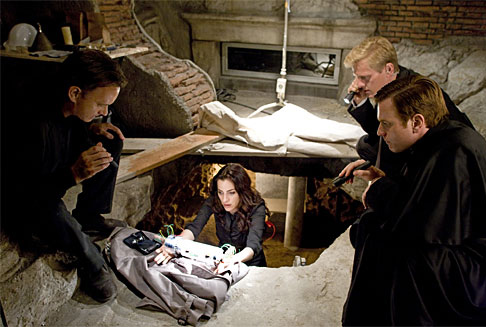 Sony has provided USA Today with the first four official photos from Ron Howard's Da Vinci Code follow-up Angels & Demons. The photo above shows Robert Langdon (Tom Hanks, left), Vittoria Vetra (Ayelet Zurer), Chartrand (Thure Lindhart) and Carlo Ventrasca (Ewan McGregor) examining the clues.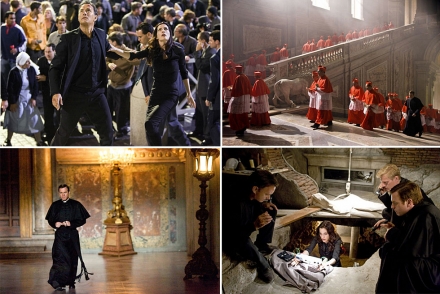 The first photo shows Tom Hanks as Robert Langdon, and Israeli actress Ayelet Zurer as Vittoria Vetra, running around the Vatican square. The third photo shows Ewan McGregor as Carlo Ventresca, the faithful servant to the church during the papal conclave in Vatican City.
A few things we took away from the article:
Exteriors were shot in Rome on the quick, but elaborate sets were built to replicate the Vatican and other churches in Los Angeles because the Church didn't approve the on location shooting.
Producer Brian Grazer promises that Angels & Demons will be less stagey, and feature less less speeches, a common complaint of The Da Vinci Code. Grazer says: "When he speaks, he's in motion."
Grazer also claims that Tom Hanks "looks fantastic" in a scene where the star swims in Speedos. Grazer says: "He's going to add 10 years to his career with that scene alone, just watch."