Friday Box Office: High School Musical 3 Hits Huge With $16.5M, $55M Weekend Likely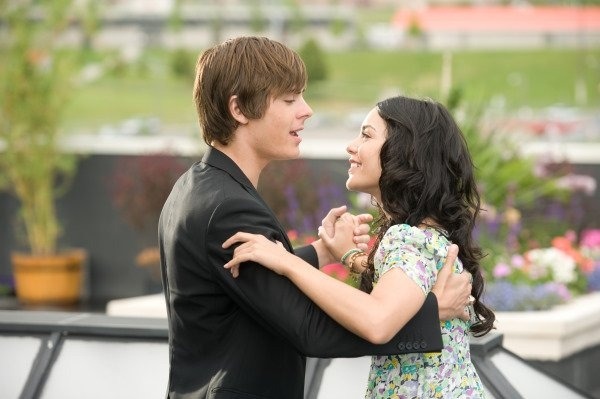 "Go Wildcats!" That's the cheer at Disney as the High School Musical franchise has effortlessly leapt to the big screen, like a perfectly choreographed Kenny Ortega dance move, with a spectacular $16.5M Friday. High School Musical 3 (Disney) is headed for a $55M 3-day weekend. Some had this picture sailing a bit higher, but, make no mistake. This is huge. The HSM franchise is essentially a license for Disney to print money.
There is no way that Disney could have known what it had when the original High School Musical debuted on The Disney Channel on January 20, 2006. For the uninitiated, it's basically The Breakfast Club meets Busby Berkely. The setting is the imaginary East High, where all the kids are good looking, cliques dissolve into song-and-dance numbers, and the breathtakingly earnest and impossibly good-hearted tone may be exceeded only by the wattage of Troy Bolton's smile.
Troy Bolton is, of course, played by Zac Effron, without question the biggest teen heartthrob on the planet at this moment. Grown-ups probably know him from his role as Link Larkin in Adam Shankman's hit film adaptation of Hairspray last summer. Effron received a reported $3.2M for HSM3 and co-star Vanessa Hudgens (the beautiful transfer student Gabriella Marquez) scored a nifty $1.75M. Ashley Tisdale (the slightly villainous Sharpay Evans) also made a 7-figure paydays for this certain $150M blockbuster, but the total budget was a lean $30M.
Operating revenue. That's what the High School Musical franchise is all about. The original HSM debuted on the Disney Channel in 2006 with 7.7M viewers, and its soundtrack became the #1 selling US album of 2006. Then came its even bigger Disney TV sequel, High School Musical 2, which grabbed an opening night TV audience of 17.3M and spawned the #1 album in both the US and the world for 2007. Then there is merchandising six-ways-to-Sunday with bestselling novelizations not to mention apparel, backpacks, bedspreads and on and on.
And don't forget the millions upon millions of DVD units of HSM and HSM2 that have been snatched up since 2006. In the first fiscal quarter of 2007, thanks to the DVD release of the original High School Musical, Disney reported a double-digit percentage increase in operating revenue. Laura Martin, an analyst from Soleil – Media Metrics, told CNN that the first HSM generated $1B, as in billion, in operating revenue for Disney. Figure that HSM2, which required no major budget increase, was even more successful, and Disney has likely already seen over $2B straight to its bottom line.
It is very safe to project that High School Musical 3 will get to the $150M range in domestic box office, that the soundtrack will debut at #1 and get to at least quadruple platinum, and, ultimately, millions of DVDs will be sold. With Zac Effron reportedly talking about at least an $8M salary for a potential HSM4, it will be interesting to see how Disney moves the franchise forward. All new kids at East High? How about College Musical with Troy and Gabriella and the gang? This is, without question, Disney's "golden goose," so this will not be the end of HSM.
Finishing a strong #2 for the day and the weekend is the latest installment of Saw from Lionsgate. This twistedly-original franchise has been the driving force behind the so-called "torture porn" genre. Although often imitated, this is the "gold standard" for this sort of bloody gore, and Saw V has delivered an excellent $12.3M on its opening day, and it will likely finish at $29M or so. This is only slightly down from the last 3 Saw outings.
2004 – Saw – $18.2M opening – $55.1M cume
2005 – Saw II – $31.72M opening – $87M cume
2006 – Saw III – $33.6M opening – $80.2M cume
2007 – Saw IV – $31.7M opening – $63.3M cume
The creepy sadist known as Jigsaw, the character at the center of the Saw franchise, will soon make movie history, overtaking Freddy Krueger to become the all-time #3 movie franchise killer. (Technically, Jigsaw is dead, and others have picked up where he left off. I don't want to get hate mail from "torture porn" purists.)
All-Time Top 5 Franchise Killers – Cumulative Domestic Box Office
1. Hannibal Lecter – 5 movies – $425.3M
2. Jason (Friday the Thirteenth) – 11 movies – $315.6M
3. Freddy Krueger (Nightmare On Elm Street) – 8 movies – $307.4M
4. Jigsaw (Saw) – 4 movies – $285.8M
5. Michael Myers (Halloween) – 9 movies – $275.1M
The video game adaptation Max Payne (Fox) appears to be down 57% from opening weekend but will still manage a 3rd place finish. The Mark Wahlberg vehicle added $2.6M on its 2nd Friday and will finish the 3-day with an estimated $7.6M for a 10-day cume of just under $30M. Beverly Hills Chihuahua (Disney) will likely be #4, grabbing $1.9M on Friday (5th for the day) then riding weekend matinees to about $7.3M. By Monday morning, Chloe the chihuahua will have banked just over $78.5M domestic.
EARLY FRIDAY ESTIMATES
1. NEW – High School Musical 3: Senior Year (Disney) – $16.5M, $4,554 PTA, $16.5M cume
2. NEW – Saw V (Lionsgate) – $12.3M, $4,020 PTA, $12.3M cume
3. Max Payne (Fox) – $2.6M, $769 PTA, $24.66M cume
4. NEW – Pride and Glory (Warner Bros) – $2.2M, $851 PTA, $2.2M cume
5. Beverly Hills Chihuahua (Disney) – $1.9M, $596 PTA, $73.18M cume
6. The Secret Life of Bees (Fox Searchlight) – $1.83M, $1,123 PTA, $15.1M cume
7. W. (Lionsgate) – $1.79M, $873 PTA, $15.2M cume
8. Eagle Eye (Dreamworks/Paramount) – $1.7M, $665 PTA, $84.55M cume
9. Body of Lies (Warner Bros) – $1.38M, $643 PTA, $28.2M cume
10. Quarantine (Sony) – $1.05M, $471 PTA, $27.27M cume
EARLY 3-DAY ESTIMATES
1. NEW – High School Musical 3: Senior Year (Disney) – $55M, $15,181 PTA, $55M cume
2. NEW – Saw V (Lionsgate) – $29M, $9,477 PTA, $29M cume
3. Max Payne (Fox) – $7.6M, $2,248 PTA, $29.66M cume
4. Beverly Hills Chihuahua (Disney) – $7.3M, $2,288 PTA, $78.52M cume
5. NEW – Pride and Glory (Warner Bros) – $6.3M, $2,437 PTA, $6.3M cume
6. Eagle Eye (Dreamworks/Paramount) – $5.7M, $2,228 PTA, $88.55M cume
7. The Secret Life of Bees (Fox Searchlight) – $5.6M, $3,436 PTA, $18.87M cume
8. W. (Lionsgate) – $5.54M, $2,707 PTA, $18.96M cume
9. Body of Lies (Warner Bros) – $4.35M, $2,026 PTA, $31.17M cume
10. Quarantine (Sony) – $3.25M, $1,461 PTA, $29.47M cume