This Week In DVD: The Incredible Hulk, The Strangers, Family Guy (Vol. 6), And More
We may receive a commission on purchases made from links.
This Week in DVD is a column that compiles all the latest info regarding new DVD releases, sales, and exclusive deals from stores including Target, Best Buy, Circuit City, and Fry's.
Please don't take the commentary on the movies/TV shows too seriously, as they're meant not to be reviews but rather previews that include the general thoughts and ramblings of a twice-committed DVD addict. In regards to movies/shows the author hasn't seen, the DVD release is placed in its respective category based on the consensus reaction of audiences and critics.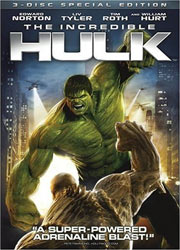 THE INCREDIBLE HULK
(Available as single-disc and 3-Disc Special Editions)
Any movie that's single greatest moment comes during a scene where a massive green dude shouts "HULK SMASH!" definitely isn't vying for any Oscar nominations (although Ang Lee may beg to differ on that one), but The Incredible Hulk provides in the way that counts most: entertainment. And while I certainly wouldn't pit it against Iron Man in a contest for the better superhero film, since the Favreau/Downey Jr. team would win hands-down, Unleashed director Louis Leterrier and Edward Norton both hold their own admirably and help make this new Hulk an excellent second addition to the Marvel series that's slowly building to the highly anticipated Avengers film.
Blu-ray? Yes.
Notable Extras: The only extra material on the single disc is a commentary (with director Louis Leterrier and Tim Roth) and deleted scenes. The 3-disc will include that, plus featurettes ('The Making of Incredible', 'Becoming The Hulk', 'Becoming The Abomination', 'Anatomy of a Hulk Out', 'From Comic Book to Screen'), additional deleted scenes, an alternate opening, and a digital copy of the film.
*Does not include 3-Disc Edition, which costs $22.99 at each of the listed stores (including Amazon).
EXCLUSIVE DEAL:
What? Exclusive Deluxe ($22.99) includes breaking wall packaging and bonus disc with additional content and digital copy.
Where? Target.
EXCLUSIVE DEAL:
What? Exclusive Lithograph.
Where? Best Buy.
EXCLUSIVE DEAL:
What? Free collectible interactive CD game card.
Where? Circuit City.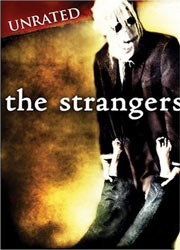 THE STRANGERS
Easily one of the bigger surprises of the year, The Strangers is a horror-lovers wet dream. It's a film that harkens back to the old school days of horror where the focus was less on plot than to scare the ever-loving crap out of you through actually building tension and suspense. (Sadly, only the "lack of plot" element of horror films seems to have been carried on to today's more recent genre efforts.) Critics haven't been as kind to the film, but seeing as how I had trouble sleeping for at least a week after watching the film (an experience I haven't had with a horror film since I was probably 13), I'd say it fully succeeded at just about everything it attempted to do. The final shot of the movie is really lame though.
Blu-ray? Yes.
Notable Extras: Deleted scenes and a featurette ('Elements of Terror').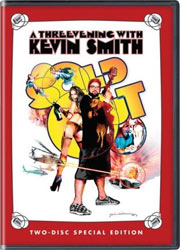 SOLD OUT: A THREEVENING WITH KEVIN SMITH
If you're a Kevin Smith fan and you haven't yet experienced his gut-bustingly hilarious stories and Q&A sessions featured in An Evening With Kevin Smith and An Evening With Kevin Smith 2: Evening Harder, be sure to do so at once as they'll show you a side to the man that you would previously only associate with some of the world's funniest stand-up comedians. I haven't been able to find much feedback on the latest entry in the series, entitled A Threevening With Kevin Smith, but being that Smith is rarely ever not on his A-game when it comes to public speaking, I can't see it not being another wonderful helping of Smith comedy goodness.
Blu-ray? No.
Notable Extras: This two-disc set comes with 4 hours of outtake footage (from the original 7 hour performance).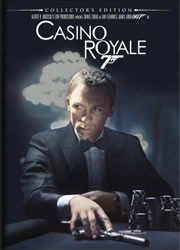 CASINO ROYALE (3-DISC COLLECTOR'S EDITION)
As much as I'd like to tell you this set isn't worth the double-dip, fans of Casino Royale (which I'd argue is the best Bond film yet) will find it hard to turn down the slick packaging and hefty offering of newly added special features, which as far as I'm concerned puts the previous 2-disc set to shame. For those who have Blu-ray, the upgrade is a no brainer, but if you're like me and have no intention of giving up on the DVD format anytime soon, you can rationalize the double dip by saying it only cost you about 5 bucks (since the film comes with movie money to Quantum of Solace, and you can pick the DVD up for as cheap as $15).
Blu-ray? Yes.
Notable Extras: All the special features from the previous 2-disc edition have made their way onto this set. New extras include two audio commentaries, deleted scenes, The Road to Casino Royale, Ian Fleming's Incredible Creation, James Bond in the Bahamas, Ian Fleming: The Secret Road to Paradise, Death in Venice, The Art of the Freerun, Catching a Plane: From Storyboard to Screen, Storyboard Sequence: Freerun Chase, and Filmmaker Profiles.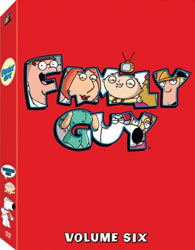 FAMILY GUY (VOL. 6)
Back in the good ol' days, when Family Guy didn't suck, it was easy to justify the unstructured and consistently random nature of the show because of how unbelievably hilarious it all was. Then the show was brought back from cancellation, and the humor had all but been lost. It suddenly became clear what an uncreative gimmick the cut-away gags were, because without any wit to accompany them, all you were left to think about is they're complete irrelevance to the episode's story (or lack thereof). Having burned through a number of episodes through seasons 5 and 6, I will admit to there being occasional moments of what made Family Guy great in its heyday (such as the particularly solid two-parter Stewie Kills Lois/Lois Kills Stewie), but it's not nearly enough to satisfy a purchase.
Blu-ray? No.
Notable Extras: Over 50 deleted scenes, commentary from series creator Seth MacFarlane, featurettes ('Family Guy 100th Episode Special', 'Family Guy Live!', 'Peter Shin Draws Lois'), and an "I'm Huge (and The Babes Go Wild)" Music Video.
EXCLUSIVE DEAL:
What? Exclusive Deluxe ($29.99) with signed script and collectible poster.
Where? Target.
EXCLUSIVE DEAL:
What? Exclusive Lithograph featuring Family Guy characters.
Where? Best Buy.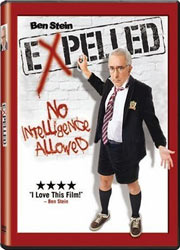 EXPELLED: NO INTELLIGENCE ALLOWED
Why would a documentary promoting intelligent design use the not-so-witty subtitle "No Intelligence Allowed"? That's just asking to be unmercifully mocked. And mocked it was, along with the rest of Ben Stein's documentary. With an 8% rating on Rotten Tomatoes (that's a 61% difference from Religulous), reviews have included such scathing comments as, "[The film] is a conspiracy-theory rant masquerading as investigative inquiry" and, "[It's] an unprincipled propaganda piece that insults believers and nonbelievers alike." [New York Times] I gotta say, I liked Ben Stein more when I knew him as simply the "Bueller... Bueller..." guy.
Blu-ray? Yes.
Notable Extras: A special message from Ben Stein, Using Intelligent Design for medical research, Bonus Music Tracks by Andy Hunter, and Expelled Super Trailer.
Other noteworthy DVDs available this week...
Casino Royale (40th Anniversary Edition) (1967) – The Stone Angel – Birds of America – According to Jim (Season 1) – A Charlie Brown Thanksgiving (Remastered Deluxe Edition) – Looney Tunes (Golden Collection, Vol. 6) – The Incredible Hulk (Season 5) – The Incredible Hulk (The Complete Series) – The Man from U.N.C.L.E. (The Complete Series) – Knight Rider (The Complete Series) – Anaconda 3: Offspring – Missing (Criterion Collection)
New James Bond DVDs available this week...
Thunderball (Two-Disc Ultimate Edition) – From Russia with Love (Two-Disc Ultimate Edition) – Dr. No (Two-Disc Ultimate Edition) – Die Another Day (Two-Disc Ultimate Edition) – Live and Let Die (Two-Disc Ultimate Edition) – Octopussy (Two-Disc Ultimate Edition) – The Living Daylights (Two-Disc Ultimate Edition) – For Your Eyes Only (Two-Disc Ultimate Edition)
Discuss: What are you planning to rent or buy this week?

NOTE: Some deals may be in-store only.

Exclusive: Steelbook Packaging on new James Bond Blu-Ray releases.
$6.99 – Halloween (25th Anniversary Edition), Hostel (Director's Cut), Hostel: Part II, Dawn of the Dead (Special Edition), Jack Brooks: Monster Slayer, 28 Weeks Later, Day of the Dead, AVP: Alien vs Predator, Donnie Darko, The Evil Dead, Evil Dead II, Shaun of the Dead, The Silence of the Lambs (2-Disc Collector's Edition), Land of the Dead, Mr. Brooks, Resident Evil: Extinction, Saw III, Vacancy, Hatchet, Hellraiser, The Hills Have Eyes 2, Hollow Man
$4.99 – 28 Days Later, The Descent, 28 Days Later, American Psycho (Collector's Edition), Zodiac, Alien, Aliens, Bug, Saw, Saw II, Friday the 13th, Identity, The Ring, The Grudge, The Grudge 2, The Hills Have Eyes, Child's Play, Christine, Jeepers Creepers, The Mothman Prophecies, Night Watch, Phantasm, Wrong Turn, Turistas, The Covenant, From Hell, The Howling, Candyman, Children of the Corn

$6.99 – Hostel (Director's Cut), Hostel: Part II, 1408, The Mist, 30 Days of Night, Vacancy, Halloween (2007), Resident Evil: Extinction, P2, Phantasm, Mr. Brooks, Bram Stoker's Dracula, Jaws (30th Anniversary Edition), King Kong, The Rundown, The Bourne Identity, Jurassic Park, Unleashed, The Transporter (Collector's Edition), Munich, The Fast and the Furious, 2 Fast 2 Furious, Behind Enemy Lines, Doom, and more...
$4.99 – The Descent, House of 1000 Corpses, The Devil's Rejects, High Tension, Silent Hill, Feast, Night of the Living Dead, Jeepers Creepers, Cujo (25th Anniversary Edition), Carrie, Fright Night, Gremlins 2, and more...

$13.99 – Indiana Jones and the Kingdom of the Crystal Skull
$3.99 – Get Shorty, When Harry Met Sally, Hoosiers, Bachelor Party, Dirty Work, Rocky III, Weekend at Bernie's