SAW Movie Marathon This Thursday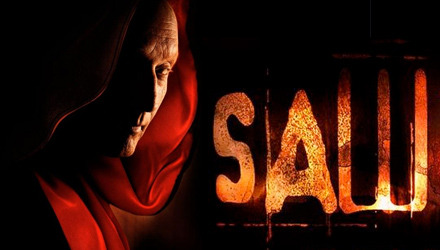 This Thursday – October 23rd, Lionsgate Films is holding SAWfest at 42 participating AMC movie theaters around the country. For only $15, moviegoers will be able to see all five SAW films on the big screen. The event will start at 4:00pm, with short intermissions between films, leading up to the midnight screening of SAW V (also included).
Five films for $15 is one hell of a deal. I'll be at the San Francisco Metreon screening along with Jon Christensen of /Gamer. I'm not sure if I'll make it through the entire thing, but we're going to try. You can see a complete listing of participating movie theaters below.
AMC "SAWFEST" PARTICIPATING THEATRES
STATE MARKET THEATRE
Arizona Phoenix AMC Mesa Grand 24
Arizona Phoenix AMC Deer Valley 30 with IMAX
California Los Angeles AMC CityWalk 19 with IMAX
California Los Angeles AMC 30 at The Block
California Los Angeles AMC Burbank 16
California Los Angeles AMC Ontario Mills 30
California Los Angeles AMC Norwalk 20
California Los Angeles AMC Del Amo 18
California San Diego AMC Mission Valley 20California San Diego AMC Palm Promenade 24California San Jose AMC Mercado 20California San Francisco AMC Metreon 16 with IMAXCalifornia San Francisco AMC Bay Street 16
Colorado Denver AMC Westminster Promenade 24
District of Columbia Washington AMC Hoffman Center 22
Florida Miami AMC Sunset Place 24
Florida Miami AMC Aventura 24
Florida Orlando AMC Loews Universal Cineplex 20
Florida Orlando AMC Pleasure Island 24
Florida Tallahassee AMC Tallahassee Mall 20
Georgia Atlanta AMC Southlake Pavilion 24
Illinois Chicago AMC Loews Streets of Woodfield 20
Illinois Chicago AMC Crestwood 18
Kansas Kansas City AMC BarryWoods 24
Maryland Baltimore AMC Loews White Marsh 16
Massachusetts Boston AMC Loews Boston Common 19
Michigan Detroit AMC Star Southfield 20
New Jersey Clifton AMC Clifton Commons 16
New Jersey New Brunswick AMC Loews New Brunswick 18
New Jersey Elizabeth AMC Loews Jersey Gardens 20
New York New York City AMC Empire 25
New York New York City AMC Loews Palisades Center 21
Ohio Cincinnati AMC Newport on the Levee 20
Ohio Columbus AMC Easton Town Center 30 with IMAX
Pennsylvania Philadelphia AMC Neshaminy 24
Pennsylvania Philadelphia AMC Loews Cherry Hill 24
Pennsylvania Pittsburgh AMC Loews Waterfront 22
Texas Dallas AMC The Parks at Arlington 18
Texas Dallas AMC Mesquite 30
Texas Houston AMC Gulf Pointe 30
Virginia Norfolk AMC Hampton 24
Washington Seattle AMC Loews Alderwood 16