Mickey Rourke And Jason Statham In 13 Tzameti Remake
What if I told you that Mickey Rourke would be teaming up with Jason Statham for a crime thriller? Sounds like a great idea, right?
What if I told you that the movie in question is the American remake of the award-winning French crime thriller 13 Tzameti? Sounds even better...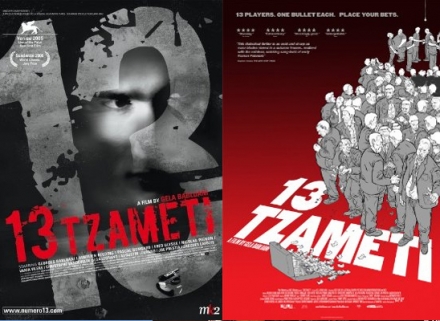 Now yould your excitement be squashed if I told you that Rourke and Statham will be joined by rapper turned actor 50 Cent (Get Rich or Die Tryin')? Argggggg....
13 will begin shooting on November 17th in and around New York City. You can read the plot synopsis for the original Gela Babluani film below:
Twenty-two-year-old Sebastien (Georges Babluani) leads an impoverished life with his immigrant family constantly struggling to support them. While repairing the roof of a neighbor's house, he overhears a conversation about an expected package that promises to make the household rich. Sensing the opportunity of a lifetime, Sebastien intercepts the package containing a series of specific instructions. Following the clues, he assumes a false identity and manages to slip through the grasp of the enclosing police as he ventures deeper and deeper into the countryside. The closer he gets to his destination and the more people he meets along the way, the less he understands about what he is looking for. Ultimately, he comes face to face with a ring of clandestine gamblers placing bets on the outcome of a multi-player, high stakes tournament of Russian roulette. Gela Babluani's directorial debut is a winner-take-all thriller, where an unfortunate young man is transformed into the thirteenth contestant in an incredibly inhuman game. 13 TZAMETI won the 2005 Venice Festival's Best First Feature Film prize and the Grand Jury Prize for World Cinema at the 2006 Sundance Festival.
source: Variety