Box Office Tracking: Max Payne Targets $20M
Note from /Film Editor Peter Sciretta: Exciting news. Box office expert Steve Mason has returned to /Film after a six month absence. Mase will be checking in a few times a week with Box Office projects and results. Below is his first column back.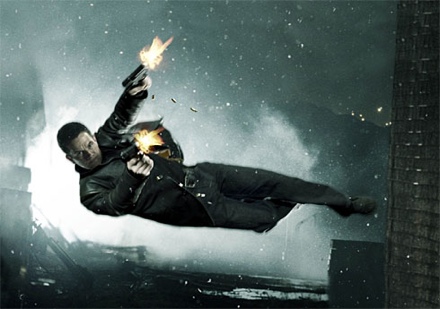 Movies based on video games do not always work, and I spoke to a pair of reputable film critics today who have seen and dislike Fox's Mark Wahlberg vehicle Max Payne (although reviews have been embargoed until opening day), but it will likely be the big winner this weekend at America's multiplexes. One of the critics went full-on snarky calling it Max Payne-ful, but industry tracking seems to point to an opening in the $18M-$21M range, and I am leaning toward something north of $20M.
That would likely make Max Payne the 7th-best 3-day start for a video game film adaptation trailing all-time #1, 2001's Lara Croft: Tomb Raider ($47.7M), and putting it on par with 2006's Silent Hil ($20.1M) and Pokemon: The Movie 2000 ($19.6M). That's far better than recent X-Box and Playstation-to-big screen attempts like last year's Hitman ($13.1M) and 2005's Doom ($15.5M).
Mark Wahberg has proved his acting chops with Boogie Nights and his Oscar nominated performance in The Departed, but his box office viability remains an open question. His last 3 movies, Shooter ($14.5M opening – $47M cume), We Own the Night ($10.8M opening – $28.5M cume) and The Happening ($30.5M opening – $64.5M cume), have all been disappointments of varying degrees, so a $20M+ opening would certainly burnish his resume.
Any Oliver Stone movie is an event. He never ceases to be controversial, relevant and, of course, political, and W. (Lionsgate) is only his 4th movie in a decade. His most recent directorial effort was 2006's World Trade Center, and it marked his all-time best opening weekend ($18.7M) and one of his top 5 domestic grosses ($70.25M). Although it seems unprecedented that a movie would be made about a sitting President, it's been done before.
A decade ago, Mike Nichols directed Primary Colors starring John Travolta as President William Jefferson Clinton and Emma Thompson as Hillary. Based on the novel by Anonymous (who we later found out was then-Newsweek political writer Joe Klein) and adapted by Elaine May, there was a lot of truth in the so-called fictional movie. Now along comes a so-called biographical film filled with, depending on who you talk to, a lot of fiction.
Reviews for W. are all over the board (58% Fresh on Rotten Tomatoes), but I suspect that marketing the movie as light and satirical as opposed to dark and derisive is very smart. I am forecasting an opening in the $9M-$12M range, and my hunch is that Josh Brolin's take on 43 will match the $12M opening of Primary Colors, which would be enough for 2nd place for the weekend.
Holdover Beverly Hills Chihuahua (Disney) will continue strongly, down a possible 41% to a still-impressive $10.25M. Eagle Eye (Dreamworks/Paramount) and the disappointing Body of Lies (Warner Bros) will battle for #4, but the 2nd-weekend of Ridley Scott's espionage thriller should prevail.
Tracking with Females 25 Plus for the adaptation of the 1960's era Sue Monk Kidd bestselling novel The Secret Life of Bees (Fox Searchlight) is healthy. Still on 1,600 or so screens, the generally well-reviewed film has a ceiling of about $6.35M and a possible 6th-place finish. That would mean a Per Theatre Average of $4,000 or so.
The news is not nearly as good for the R-rated comedy Sex Drive (Summit). With a smattering of name-brand talent, like James Marsden (X-Men, Hairspray) and Seth Green (Austin Powers, Without a Paddle), Summit has shown great confidence with this Judd Apatow-style comedy with sneaks this past weekend and a healthy marketing campaign, but it appears to be a non-starter headed for something in the $4M range.
FINAL PREDICTIONS FOR THE WEEKEND OF OCTOBER 17
1. NEW  Max Payne (Fox) – $20.3M
2. NEW  W. (Lionsgate) – $12M
3. Beverly Hills Chihuahua (Disney) – $10.25M
4. Body of Lies (Warner Bros) – $7.5M
5. Eagle Eye (Dreamworks/Paramount) – $7.25M
6. NEW – The Secret Life of Bees (Fox Searchlight) – $6.35M
7. Quarantine (Sony) – $5.72M
8. NEW – Sex Drive (Summit) – $4.1M
9. Nick & Norah's Infinite Playlist (Sony) – $3.6M
10. Nights in Rodanthe (Warner Bros) – $2.9M
11. The Express (Universal) – $2.5M
12. Apaloosa (Warner Bros) – $2.2M