IngloUrious BastErds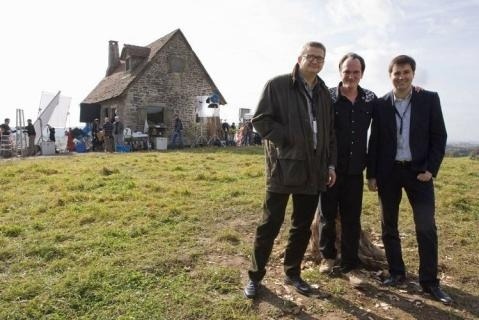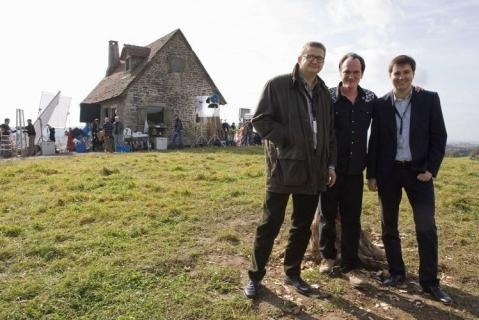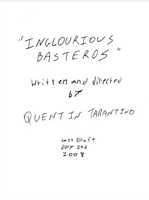 The Weinstein Co today sent out a press release announcing last week's start of production on Quentin Tarantino's upcoming WWII film Inglourious Basterds. You might notice that both words are misspelled, much like the early screenplay that got leaked onto the internet a few months back. That is the official title of the film, likely in an attempt to distinguish itself from the 1978 Enzo Castellari film which inspired Tarantino.
You can read the full press release after the jump, which features a full cast and crew listing. New additions to the cast list include: Omar Doom and Michael Bacall (from Death Proof), Julie Dreyfus (Sophie Fatale from Kill Bill), Cloris Leachman (from The Mary Tyler Moore Show), and many others. Photo above thanks to Tarantino Archives. It is also worth mentioning that an Inglourious Basterds poster has again begun to circulate the internet movie sites. It has the wrong title spelling, so I'm pretty sure it's fan created.
Quentin Tarantino's Inglourious Basterds (sic) began principal photography last week on location in Germany. The ensemble cast of Inglourious Basterds includes Brad Pitt, Diane Kruger, Mélanie Laurent, Christoph Waltz, Daniel Brühl, Eli Roth, Samm Levine, B.J. Novak, Til Schweiger, Gedeon Burkhard, Paul Rust, Michael Bacall, Omar Doom, Sylvester Groth, Julie Dreyfus, Jacky Ido, August Diehl, Martin Wuttke, Richard Sammel, Christian Berkel, Sönke Möhring, Michael Fassbender, Mike Myers, Rod Taylor, Denis Menochet and Cloris Leachman.
Inglourious Basterds reunites Tarantino with Academy Award-nominated editor Sally Menke, Academy Award-winning director of photography Bob Richardson, and production designer David Wasco. Joining Tarantino for the first time is Academy Award-nominated costume designer Anna Sheppard.
Academy Award-nominee Lawrence Bender is producing Inglourious Basterds. Erica Steinberg and Lloyd Phillips, and Bob and Harvey Weinstein are the film's executive producers. The co-producers are Charlie Woebcken, Christoph Fisser and Henning Molfenter. Pilar Savone is the associate producer.
The Weinstein Company and Universal Pictures, through its newly formed International Studio, are co-financing and co-presenting the film with TWC handling domestic distribution and Universal handling international distribution. The two companies are partners on the project.
Zehnte Babelsberg Film, a subsidiary of Studio Babelsberg AG, is producing Inglourious Basterds. The film will shoot at Studio Babelsberg as well as in Berlin, Saxony and Paris.
Inglourious Basterds begins in German-occupied France, where Shosanna Dreyfus (Mélanie Laurent) witnesses the execution of her family at the hand of Nazi Colonel Hans Landa (Christoph Waltz). Shosanna narrowly escapes and flees to Paris, where she forges a new identity as the owner and operator of a cinema.
Elsewhere in Europe, Lieutenant Aldo Raine (Brad Pitt) organizes a group of Jewish soldiers to engage in targeted acts of retribution. Known to their enemy as "The Basterds," Raine's squad joins German actress and undercover agent Bridget Von Hammersmark (Diane Kruger) on a mission to take down the leaders of The Third Reich. Fates converge under a cinema marquee, where Shosanna is poised to carry out a revenge plan of her own...
Inglourious Basterds will be released worldwide in 2009.