Two Video Clips From The Wrestler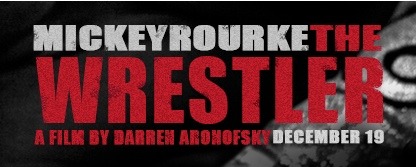 /Film reader Nick O. forwarded me these clips from Darren Aronofsky's The Wrestler. The first clip shows a scene between Mickey Rourke and Evan Rachel Wood, who play's Randy's estranged daughter. Rourke has been getting Best Actor Award Nomination buzz since the film premiered in Venice.
[flv:http://bitcast-a.bitgravity.com/slashfilm/trailers/wrestlercrying.flv 400 166]
The second clip gives you a little taste of the wrestling action. Randy "The Ram" Robinson takes on The Ayatollah (Ernest "The Cat" Miller) in a 20th anniversary rematch of their "epic" match at WrestleSalm IV in 1988. Imagine if The Iron Sheik and Macho Man were reduced to doing a rematch of the wrestling match that was the pinnacle of their career, but at a small independent fan fest show in front of only a couple hundred people. As you can imagine, both wrestlers aren't exactly on the top of their game. The footage was taken from an international television review of The Wrestler, so there is Spanish commentary over the entire clip, which of course isn't in the actual film.
[flv:http://bitcast-a.bitgravity.com/slashfilm/trailers/wrestlermatch.flv 400 166]
The Wrestler hits theaters on December 19th 2008.