Kevin Lima's Tom Thumb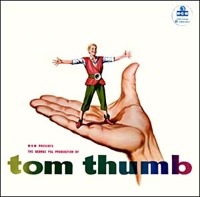 How does a big screen adaptation of Tom Thumb sound to you? Yeah, not too exciting.
What if I told you that Kevin Lima, the guy who directed Disney's Enchanted is attached? Still not sold?
What if I told you that Saving Private Ryan scribe Robert Rodat has been hired to write the script? Sounding a little better?
Tom Thumb is a traditional hero in 16th century English folklore, who would get into almost fatal situations in his parents home (such as almost being cooked to death in a bowl of pudding) before somehow ending up in King Arthur's castle. Rodat's version will stray from the traditional tale, and is said to be a completely fresh take on the character's origin story:
"An arrogant knight who's shrunk to 6 inches while assigned to protect a princess and then discovers what it means to be a real hero."
Warner Bros is setting the film up as a tentpole. This whole announcement is very curious as Lima probably had a choice of many promising projects after Enchanted. I'm not saying that Tom Thumb couldn't translate into a fun tentpole film, but it seems like an odd choice at face value. Lima is planning on filming the movie as a live-action/cg hybrid (ala Alvin and the Chipmunks), with Tom Thumb as the sole computer generated character.
source: THR, Variety