This Week In DVD: You Don't Mess With The Zohan, The Happening, 30 Rock, The Simpsons, And More
We may receive a commission on purchases made from links.
This Week in DVD is a column that compiles all the latest info regarding new DVD releases, sales, and exclusive deals from stores including Target, Best Buy, Circuit City, and Fry's.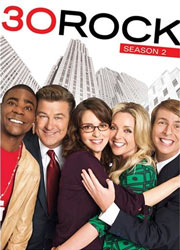 30 ROCK (SEASON 2)
I plan on one day marrying Tina Fey. I don't care that she's already married, or that she's twice as old as me, or that she's a Hollywood celebrity who I'll probably never even meet, or that she would immediately reject me even if we did meet. Things like that don't matter when you have love on your side. And when it comes to Tina Fey, what's not to love? She's beautiful, smart, funny as hell, and is the creator of a knockout sitcom that only got better during its second season. The show also features Alec Baldwin in one of his best roles, and has this energetic and goofy style that plays perfectly against its biting wit. ...On second thought, maybe I want to marry 30 Rock. Oh well, I guess I'll just have to settle for buying it. Season 2 consists of 15 episodes.
Blu-ray? No.
Notable Extras: A commentary (with Alec Baldwin, Tina Fey, Tracy Morgan and Jack McBrayer), deleted scenes, bloopers, and behind-the-scenes featurettes.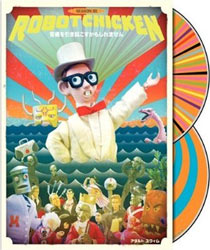 ROBOT CHICKEN (SEASON 3)
A cavalcade of '80s and '90s pop culture references and parodies, Robot Chicken offers exactly what you expect season after season and does so while making you laugh your ass off. Presented in a mix of clay-mation and distorted action figures, the show buzzes through sketches so fast that even if one doesn't exactly hit its mark, you won't have time to complain because you'll be busy snickering at the next one. It's the perfect viewing material for when you're bored and have 15 minutes to kill. Season 3 consists of 20 episodes.
Blu-ray? No.
Notable Extras: Episode commentaries on all 20 episodes, video commentary, gag reel, VFX comparison, alternate audio, deleted animatics, deleted scenes, studio tour, and video blogs.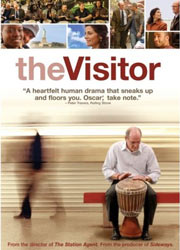 THE VISITOR
Directed by Thomas McCarthy (who's directorial debut was The Station Agent) and starring the consistently underutilized yet always recognizable Richard Jenkins, The Visitor follows a lonely professor who befriends a young couple who are illegal immigrants and have been squatting in his New York City apartment. The film received rave reviews, with the Rotten Tomatoes ranking reaching 93%, and the consensus being that the movie is a "heartfelt, humanistic drama that deftly explores identity, immigration, and other major post-9/11 issues."
Blu-ray? Yes.
Notable Extras: A commentary (with director Thomas McCarthy and star Richard Jenkins), deleted scenes, and two featurettes ('An Inside Look at The Visito', 'Playing the Djembe').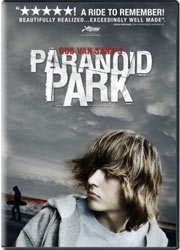 PARANOID PARK
I wish I could've seen Paranoid Park before the writing of this column, because despite the positive reviews the film has gotten (it holds a 75% on Rotten Tomatoes), it's also been repeatedly referenced as being akin to some of his previous efforts, such as Gerry, Elephant, and Last Days. Now, I realize there are plenty of people who love those movies and see them as beautifully directed displays of atmosphere and artistry, but personally, I find them to be the pinnacle of pretentious filmmaking, never intending to tell a properly rounded story and always allowing shots to drag on for far too long. Because of this, I have similar reservations about Paranoid Park, although I do have to admit being intrigued by the premise (exploring a teenage skateboarder's life after he is involved in the accidental death of a security guard).
Blu-ray? No.
Notable Extras: None.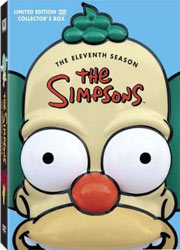 THE SIMPSONS (SEASON 11)
As a major fan of The Simpsons, I have to admit I will still be buying the show's 11th season on DVD, even though I know full well that this is where the series really began to go downhill. Thing is, even "weak" Simpsons is still better than a lot of other shows on TV, and there are enough decent episodes featured in the set to avoid making it a complete disappointment. All we can do now is wait for the rest of the lousy seasons to come out on DVD, until finally we get to the point where we're getting the DVDs for when the show started to get good again. Sadly, I think it's gonna be awhile.
Blu-ray? No.
Notable Extras: Audio commentaries, deleted scenes, an Animation Showcase, a Line From Matt Groening featurette, and a commercial.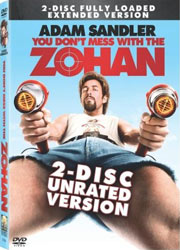 YOU DON'T MESS WITH THE ZOHAN
(Available as single disc Original Theatrical Version, single disc Extended Version and 2-Disc Extended Version)
I have a weird love-hate relationship with Adam Sandler. I like him as an actor, and thought he did great work in Punch-Drunk Love and Reign Over Me, but in general I dislike most of the comedies he does. You Don't Mess with the Zohan isn't any different, and unsurprisingly, critics were equally unfavorable toward it. Clearly though, we are not the intended audience for the film. So I'll turn to you guys: please, say what you thought of the movie in the comments. Has Sandler still got it?
Blu-ray? Yes.
Notable Extras: The two-disc edition includes a commentary with director Dennis Dugan, deleted scenes & alternate takes, and a ton of featurettes ('Laughing is Contagious', 'Disco Break', 'Shooting Baja for Tel Aviv', 'Look Who Stopped By', 'All American Redneck', 'Dugan: The Hand's on Director', 'The Stunts of Zohan', 'Dugan Espanol?', 'Zohan vs. The Phantom', 'From Guns to Scissors', 'The Robot', 'Zohan's Doubles', 'News on 3: Breaking News Reports', 'Getting Sticky').
*Does not include 2-Disc Edition, which costs $20.99 at Fry's and $22.99 at each of the other listed stores (and $23.99 at Amazon).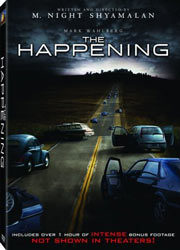 THE HAPPENING
A smorgasbord of ill-conceived ideas, unintentionally hilarious moments and eventual dreary boredom, The Happening is a spectacular failure in every way. It's a truly awful film, one which might've had a lot of promise at one point, but was quickly reduced to the expected Shyamalan trifle, further brought to the brink of awfulness courtesy of two talented actors (Mark Wahlberg and Zooey Deschanel) delivering the worst performances of their career. I blame Shyamalan for that, too.
Blu-ray? Yes.
Notable Extras: Deleted scenes (with introductions from M. Night Shyamalan), a gag reel, and behind the scenes featurettes ('The Hard Cut', 'A Day for Night', 'Elements of a Scene', 'Visions of The Happening: A Making of', 'I Hear You Whispering').
Other noteworthy DVDs available this week...
Sleeping Beauty (2-Disc Platinum Edition) – How I Met Your Mother (Season 3) – South Park: The Cult of Cartman – Psycho (Universal Legacy Series) – Vertigo (Universal Legacy Series) – Rear Window (Universal Legacy Series) – Touch Of Evil (50th Anniversary Edition) – The 7th Voyage of Sinbad (50th Anniversary Edition) – Watership Down (Deluxe Edition) – Slacker Uprising – Halloween (Three-Disc Unrated Collector's Edition) (2007) – Kill Switch – Martin (Season 5) – Joy Ride 2: Dead Ahead – Feast II: Sloppy Seconds
Discuss: What are you planning to rent or buy this week?

NOTE: Some deals may be in-store only.

Exclusive: Sleeping Beauty (2-Disc Platinum Edition) ($15.99) includes sampler DVD, which features highlights from the all-new Tinker Bell movie.
$10.00 – Office Space (Special Edition), Monty Python and the Holy Grail (Extraordinarily Deluxe 3-Disc Edition), The Kingdom, and more...

Exclusive: South Park: The Cult of Cartman ($19.99) includes free Cartman figurine.
Exclusive: Sleeping Beauty (2-Disc Platinum Edition) ($14.99) includes Sleeping Beauty alarm clock.
Exclusive: Get a FREE Buffy Exclusive Bonus Disc featuring bonus content with the purchase of any Fox Sci-Fi show on DVD.
$19.99 – Buffy the Vampire Slayer (Seasons 1 – 7), Angel (Seasons 1 – 5), Dark Angel (Seasons 1 – 2)

Exclusive: Sleeping Beauty (2-Disc Platinum Edition) ($14.99) includes free Sleeping Beauty iron-on decal.
$7.49 – Silence of the Lambs (Collector's Edition), Mr. Brooks, Live Free or Die Hard, Hitman, Death Sentence, The Hills Have Eyes, 28 Weeks Later, 28 Days Later, Donnie Darko, Click, Spanglish, Punch-Drunk Love, Anger Management, Big Daddy, Fun with Dick and Jane, Jerry Maguire, As Good As It Gets, Stripes, and more...
$3.99 – Team America, South Park: Bigger Longer & Uncut, War of the Worlds, Training Day, Any Given Sunday, For Love of the Game, Blade, Cellular, Empire, Natural Born Killers, City of Angels, Ace Ventura: Pet Detective, Ferris Bueller's Day Off (Bueller... Bueller... Edition), Airplane ("Don't Call Me Shirley" Edition), Pretty in Pink (Everything's Duckie Edition), School of Rock, Baseketball, and more...

$3.99 – Y Tu Mama Tambien, A Fish Called Wanda, Manhunter, Guys and Dolls, and more...