This Week In DVD: Iron Man, Forgetting Sarah Marshall, My Name Is Earl (Season 3), And More
We may receive a commission on purchases made from links.
This Week in DVD is a column that compiles all the latest info regarding new DVD releases, sales, and exclusive deals from stores including Target, Best Buy, Circuit City, and Fry's.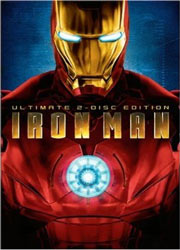 IRON MAN
(Available as single-disc and Ultimate 2-Disc Editions)
While every other comic book movie keeps on edging closer and closer into "dark and gloomy" territory, Iron Man is here to maintain that there's still some good old-fashioned fun to be had with the superheroes of the cinema world. It's not flawless by any means, but it is incredibly entertaining, in many ways even exceeding the source material. Plus, Robert Downey, Jr. is such an unconventional casting choice for a superhero that he actually ends up being one of the more interesting action heroes to come around in a very long while.
Blu-ray? Yes.
Notable Extras: Deleted/extended scenes, seven-part making of documentary ('I Am Iron Man'), six-part comic book featurette ('The Invincible Iron Man'), visual effects featurette, Robert Downey, Jr. screen test, and a scene rehearsal with director Jon Favreau and stars Robert Downey, Jr. and Jeff Bridges.
*Does not include 2-Disc Edition, which costs $22.99 at each of the listed stores (including Amazon).
EXCLUSIVE DEAL:
What? Exclusive mask packaging and additional bonus footage.
Where? Target.
EXCLUSIVE DEAL:
What? Lithograph.
Where? Best Buy.
EXCLUSIVE DEAL:
What? Limited Edition DVD Gift Set ($39.99) includes Ultimate 2-Disc Edition movie, Iron Man mask mini bust and $50 Gift Card to sideshowcollectibles.com.
Where? Best Buy.
EXCLUSIVE DEAL:
What? Access 6 free digital Iron Man comic with art by Adi Granov.
Where? Circuit City.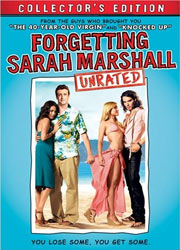 FORGETTING SARAH MARSHALL
(Available as single-disc and Three-Disc Unrated Collector's Edition)
Praise the movie gods for Judd Apatow. Not only has he revived the R-rated comedy genre with modern classics like The 40-Year-Old Virgin and Knocked Up, but he's also managed to pass off his good will to his friends, allowing for them to be recognized in ways they probably never would have otherwise. It happened first with Seth Rogen, which eventually extended beyond just acting to writing as well (Superbad, Pineapple Express and next up there's The Green Hornet). Now we have Jason Segel doing the same thing with Forgetting Sarah Marshall, in turn bringing us one of the funniest movies of the past year (and also showing he can lead a movie to boot). If that weren't enough, the DVD (in classic Apatow fashion) is full-on stacked with special features.
Blu-ray? Yes.
Notable Extras: The single disc DVD will include both theatrical and extended versions of the film, cast/crew commentaries on each version, deleted/extended/alternate scenes, a gag reel, Line-O-Rama, 'Dracula's Lament' table read, 'A Taste for Love' featurette, raw footage ('Video Chat'), full 'We've Got to Do Something' music video featured in the film, and the red band trailer. The 3-disc DVD will include all of this, plus (more) deleted/extended scenes, 'Dracula's Lament' mixed version, 'Puppet Break-Up' featurette, Sex-O-Rama, Drunk-O-Rama, 'Russell Brand: Aldous Snow' featurette, 'The Letter 'U' with Aldous Snow' featurette, raw footage, 'Crime Scene' special features (alternate scenes, 'Hunter Rush Line-o-Rama', 'Sarah's New Show: Alts'), audition footage, a 'Cinemax: The Final Cut' promotional piece, and a digital copy of the film.
*Does not include 3-Disc Edition, which costs $22.99 at each of the listed stores (excluding Amazon, where it costs $19.99).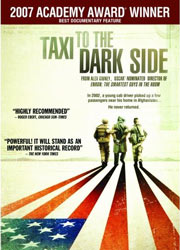 TAXI TO THE DARK SIDE
A startling and eye-opening examination on torture practices of the U.S. in Afghanistan, Iraq and Guantanamo Bay, Taxi to the Dark Side tells the story of a young, innocent taxi driver in Afghanistan who was tortured and killed in 2002. Winning the Oscar for Best Documentary in 2007 and currently holding a perfect 100% on Rotten Tomatoes, this documentary looks to be a must-see for just about everyone.
Blu-ray? No.
Notable Extras: A commentary track (with director Alex Gibney), an interview with director Alex Gibney's father, outtakes (with brief intros), and two TV interviews.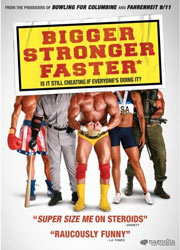 BIGGER, STRONGER, FASTER*
Lauded by critics and audiences alike as being both informative and entertaining, this documentary presents an in-depth look at the use of performance-enhancing drugs in the U.S. and acts as an indictment of the twisted American perspective that anything less than the best is not good enough. It holds a 97% on Rotten Tomatoes and an 8.0 out of 10 on IMDB.
Blu-ray? No.
Notable Extras: A behind-the-scenes featurette and deleted scenes.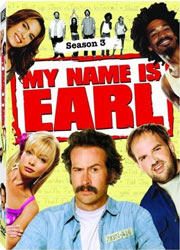 MY NAME IS EARL (SEASON 3)
As a relatively big fan of the first season of My Name is Earl (and an even bigger fan of Jason Lee), I was disappointed to find that the show's second season had started to run out of steam. Eventually, I just gave up watching it, only occasionally tuning in out of happenstance. While I may not have seen enough of season 3 to give an actual review, I can say the episodes I did catch certainly didn't offer much incentive to start watching again. My biggest complaint relates to the treatment of Earl, in that the writers seemed like they were intentionally trying to make this character's life miserable at every turn. This may just be me, but I just don't find scenarios like that funny, especially when the character hasn't done anything to deserve it. I've also heard the third season of the show suffered in more noticeable ways, specifically in regards to the writer's strike and how certain subplots felt severely rushed toward the end. If you caught the whole season, maybe you could help elaborate on this in the comments. Season 3 includes 22 episodes.
Blu-ray? No.
Notable Extras: Under The Shell: The Mr. Turtle Commentary, a 'Those Guys From Those Episodes – Creating The Characters' featurette, deleted scenes, and a gag reel.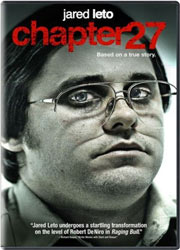 CHAPTER 27
If the scathingly negative reviews on Rotten Tomatoes are any indication, the only notable aspect of this film is Jared Leto's dedicated performance, for which he gained 67 pounds to play. The rest, meanwhile, is apparently a massive bore, attempting and failing to give some insight into the mind of the man who assassinated John Lennon without taking the time to realize that the guy wasn't interesting enough to warrant such an analysis.
Blu-ray? No.
Notable Extras: A behind-the-scenes featurette.
Other noteworthy DVDs available this week...
Can't Hardly Wait (Special Edition) – Numbers (Season 4) – Rest Stop: Don't Look Back – Pulse 2: Afterlife – An Autumn Afternoon (Criterion Collection)
Discuss: What are you planning to rent or buy this week?

NOTE: Some deals may be in-store only.

Exclusive Retail: Nick Fury: Agent of S.H.I.E.L.D. ($14.99), 1998 TV movie starring David Hasslehoff and written by David S. Goyer.
$16.99 – Curb Your Enthusiasm (Seasons 1 – 7), Everybody Loves Ramond (Season 1 – 9), Lois & Clark: The New Adventures of Superman (Seasons 1 – 4)
$19.99 – Veronica Mars (Seasons 1 – 3), Supernatural (Seasons 1 – 2)

$4.99 – The Italian Job, Collateral, Minority Report, Top Gun, The Island, Sahara, The Warriors (Ultimate Director's Cut), Clear and Present Danger, The Hunt for Red October, Patriot Games, Mission: Impossible, M:I-2, We Were Soldiers, and more...
$6.99 – The 40-Year-Old Virgin, Fast Times at Ridgemont High, Happy Gilmore, Big Daddy, Half Baked, American Pie 2, American Wedding, The Lost Boys, Smokin' Aces, Friday Night Lights, Invincible, The Goonies, Goodfellas, King Kong, Full Metal Jacket, Wedding Crashers, Stripes, The Iron Giant (Special Edition), Bridge to Terabithia, Gremlins, Chicken Run, Antz, Wallace & Gromit: The Curse of the Were Rabbit, and more...