Judd Apatow & Posse Finish Funny People Rehearsals At UCB L.A.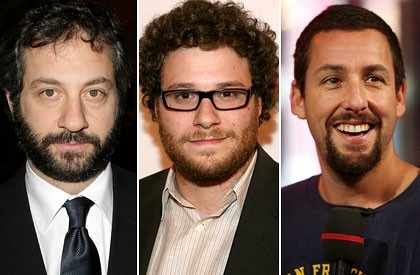 Saturday night in L.A., Adam Sandler, Seth Rogen and Jonah Hill rehearsed their stand-up acts for Judd Apatow's Funny People in front of a live audience at the Upright Citizens Brigade Theatre. Apatow was on hand to MC the event. Friend of Slashfilm, Andrew, emailed us the following report...
"For the past month, Apatow has hosted this event to test out material for his upcoming film. Apatow addressed the crowd—about 100 people—that this was the last rehearsal before the film started shooting this Monday. The lineup for the show was: Jonah Hill, Aubrey Plaza, Kevin James, Adam Sandler (he announced to the crowd that he would be playing in character for his 20-minute set), and Seth Rogen.
Throughout the show Apatow took movie pitches from the audience members.  One member of the audience pitched a road trip movie based on Sartre. The guy then said he traveled all the way from Salt Lake City to see the cast perform. Apatow quipped, 'They're going to find me dead after the show.' Hill seemed the least experienced doing stand up, but still kept the crowd entertained. One of the highlights was a joke Rogen made about farting on airplanes. Apatow also suggested Sandler do a bit that he'd already done, leaving Adam to jab, 'Some director you're going to be.' I would have liked to see Eric Bana do stand up. Otherwise, great night."
Cool. If any of you guys were in the audience, let us know below. I'm looking forward to seeing Apatow head in a more adult direction with this feature, and I wonder if it will be thematically similar to the 2002 doc Comedian, a memorable study in showbiz neuroticism.
Discuss: What's the worst stand-up comedy performance you've ever witnessed? My pick? Neil Hamburger, duh.