Confessions Of A Shopaholic Movie Trailer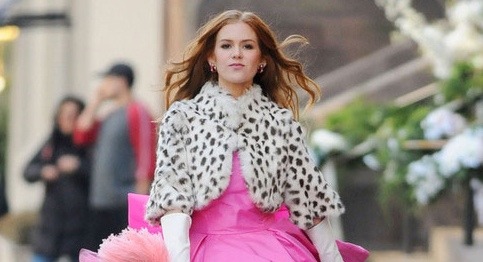 Disney has released the first trailer for the big screen adaptation of Confessions of a Shopaholic. Isla Fisher stars as Rebecca Bloomwood, "a sweet and charming New York City girl who has a tiny, little problem that is rapidly turning into a big problem: she's hopelessly addicted to shopping and drowning in a sea of debt."
"While Rebecca has dreams of working for a top fashion magazine, she can't quite get her foot in the door—that is, until she snags a job as an advice columnist for a new financial magazine published by the same company. Overnight, her column becomes hugely popular, turning her into an overnight celebrity. But when her compulsive shopping and growing debt issues threaten to destroy her love life and derail her career, she struggles to keep it all from spiraling out of control...and is ultimately forced to reevaluate what's really important in life. Isla Fisher ("Wedding Crashers") stars in the film from producer Jerry Bruckheimer and director P.J. Hogan ("My Best Friend's Wedding"), based on the best-selling series of books by British author Sophie Kinsella."
When I first heard about this project, a couple friends pitched the book at me as a "Devil Wears Prada"-like tale about shopping. Fisher has shown nothing but promise, and Prada ended up being one of those unexpected guilty pleasures. But I'm not impressed by the trailer for Shopaholic in the least. Probably because it doesn't seem like anything beyond the typical chick flick. Am I wrong? Tell me what you think in the comments below!
Confessions of a Shopaholic hits theaters on February 13th 2009.