First Look: Steven Seagal In Kill Switch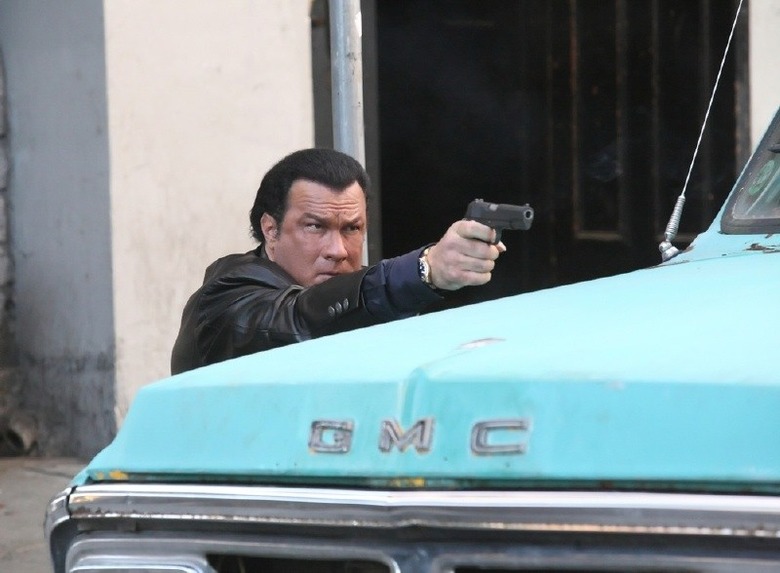 Cinematical has a lovely gallery of images for the new Steven Seagal starrer Kill Switch, including the spoilerish one above. Alas, fans hoping for a theatrical comeback from the widow's peaked wonder (and latest addition to the Geek Squad) will have to make due with an October DVD release and this angina-inducing logline...
Detective Jacob Stillwell (Steven Seagal) is one of the most celebrated homicide detectives in the country. His brutal delivery of street justice is legendary among the men and women of law enforcement. But on this latest case, he may have finally met his match Lazerus, a cunning and perversely violent killer who is on the loose and terrorizing the inner city.
America's resident Seagalogist, Vern, has already seen the film and reports that Seagal's dedication to violence is almost worrisome here (he curbs a guy's teeth on a bar). Kill Switch marks one of the last acting performances by the late Isaac Hayes, and is directed by Jeff King. Next up for Seagal is Ruslan, a straight-to-DVD release, also from King, in which he plays a Russian crime novelist sucked back into the Russian underworld to hand out more street justice and entertain repeat viewers of Kill Switch.
Discuss: ...the last Seagal movie you remember watching.