Anna Faris Drops Out Of The Linda Lovelace Biopic Inferno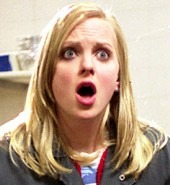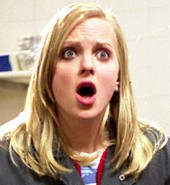 Oh noes. With The House Bunny nom'ing on close to $50 million at the box office, Anna Faris dished to MovieHole that she's dropped out of the 2009 Linda Lovelace biopic Inferno to focus on comedies. Damn you, smart business sense. Over the summer, Faris expressed enthusiasm in playing Lovelace, troubled "star" of the infamous fellatio pic, Deep Throat, who later became an anti-porn crusader and died in a car accident. "You're not going to even know who I am...I'll be in a very dark place," Faris said in June.
Inferno has experienced troubles with funding, so we expected it to be all-systems-go now that Faris is a proven mainstream draw. New lead permitting, the film will be the sophomore effort of director, Matthew Wilder, who helmed the cool-looking pseudo-Philip K. Dick flick, Your Name Here, with Bull Pullman—which still hasn't seen a domestic release. Sam Rockwell is set to co-star as one of Lovelace's abusive husbands.
Discuss: What actress would be as intriguing for the role as Faris?