The Movie Watching World Championships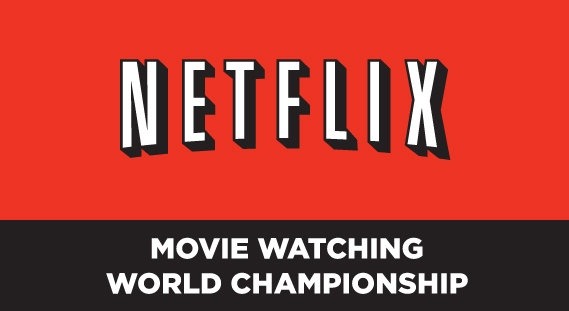 Netflix wants someone to break the movie watching world championship, and they're willing to $10,000 to do so. Netflix Movie Watching World Championship: The Quest for the Popcorn Bowl will begin on October 2nd in a plexi-glass living room in the center New York City's Times Square on October 2nd at 10:30am, and is expected to last until a new Guinness World Record, for most consecutive hours spent watching movies, is set five days later on October 7th.
Guinness World Records rules require the contestants to watch films non-stop without averting their eyes from the screen.  Competitors will be given 10 minutes between each movie, or approximately every two hours, to refresh themselves.  Eating, drinking, standing and stretching are allowed as long as eyes are on the screen.
The record to beat for watching a continuous run of movies is 120 hours and 23 minutes held by Ashish Sharma of Mathura, India.  The competitors include:
Mr. Sharma, the current world record holder.
Former three-time movie marathon record holder Claudia Wavra of Germany who will attempt to reclaim the title she lost to Mr. Sharma in June.
Suresh Joachim, a Canadian of Sri Lankan descent, who holds 32 Guinness World Records.  Mr. Joachim is an endurance champion whose records include television viewing (69 hours, 48 minutes), dancing (100 hours), radio dj-ing (120 hours), and ironing (55 hours, 5 minutes), among other disciplines.
Cheryl Jones of Portland, Ore. who was a part of the team of Netflix members who broke the Guinness World Record for continuous movie watching in 2003.
Dallas movie buff Jeff Jones who won $250,000 on the movie edition of the popular game show series "Who Wants To Be A Millionaire" in 2007.
New York-based competitive eating champion, Crazy Legs Conti, who also happens to be a cinephile with a penchant for '80s films, will join the ranks of endurance enthusiasts for a shot at the title.