xXx: The Return Of Xander Cage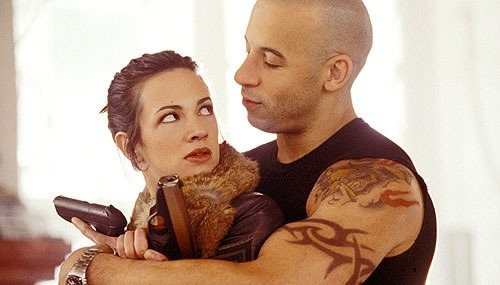 This past month Vin Diesel was dropping hints that he would be interested in returning for a third film in the xXx franchise. And now Variety is reporting that Sony is in talks with the star to reprise his role as Xander Cage, an extreme athlete turned government super agent. Hack director Rob Cohen is also in talks to return. To give you an idea of just how much of a bad idea this actually is.... the project has a title, xXx: The Return of Xander Cage, which is five words more than the current draft of the screenplay. But a screenplay isn't important, really..
Ice Cube replaced Diesel in XXX: State of the Union, and no one noticed or cared. Apparently, Diesel wanted too much money. So either the studio has upped their offer or Diesel, who is coming off the box office bomb that was Babylon A.D., lowered his asking price. My guess is that the offer is somewhere in the lower end of the middle.
I'm actually one of the few people who believe that Diesel could be good if used right. I enjoyed his supporting performances in Boiler Room and Saving Private Ryan. But Diesel continues to take a few more steps in the wrong direction with Fast and Furious and xXx 3.