Cool Stuff: Darth Vader Bronze Statue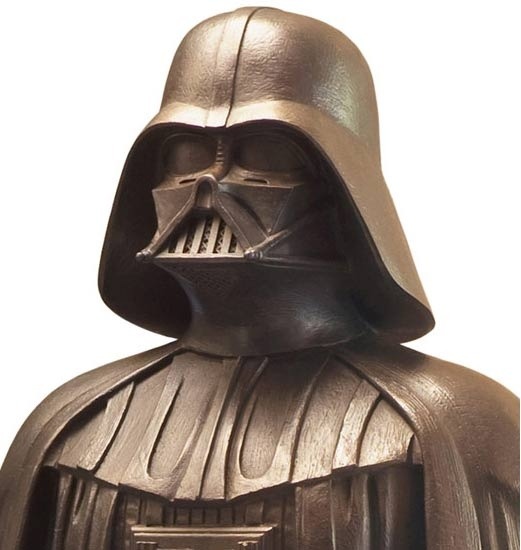 Lawrence Noble has created a 4 foot tall 150 pound Darth Vader bronze statue. The statue was created for Lucasfilm's Presidio headquarters, but a limited edition of 30 numbered statues are being made available on StarWars.com for only $18,000. Each statue was forged and assembled at a foundry close to Lucasfilm's Presidio campus, the same foundry responsible for producing several of the other bronzes adorning the parkland property the company occupies. Each bronze also received an individualized patina, making each piece a unique work of art unlike any other.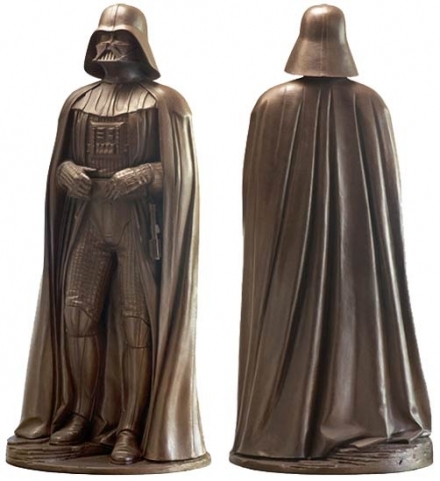 The inspiration for this Vader bronze, which was modeled after the Dark Lord's appearance in The Empire Strikes Back, ironically came from a source usually associated with the Star Wars prequels — the planet Coruscant. "For me, the idea was to do the kind of statue we would see in honor and tribute to Lord Vader on the planet of Coruscant," says Noble. "So if you were walking around the city on Coruscant and saw a statue of Darth Vader, it would hopefully be something along the lines of what we produced."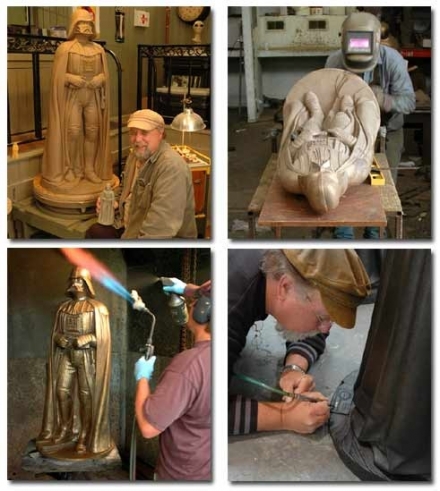 Noble admits that the greatest challenge to sculpting figures in costume is capturing the essence of the personality without the benefit of an individual's most expressive feature — the face. In Vader's case, Noble had to find other means to transmit the character of the Star Wars saga's central figure. "I tried to show a bit of the inner man, which was difficult because the inner man is behind a mask," he explains, suggesting Vader's character would need to be expressed through pose alone. "He's got a particular attitude — he's got one foot raised on a little precipice which tells the story of where he might end up. There are cracks in the precipice, and he's taking a step towards his own destiny.
"Also, while the mask is static, the hands are not," he continues. "The hands are set in an anticipation of potential movement, to be detrimental or positive." Noble explains that the hands and positioning of the feet form a vague loop, leading the eye from one to the other. From this, the viewer might discern a bit of who Vader is and where he is going. "What I tried to do was lead the viewer on a little bit of an inner journey about the man," he says.Cool Stuff is a daily feature of slashfilm.com. Know of any geekarific creations or cool products which should be featured on Cool Stuff? E-Mail us at orfilms@gmail.com.