Arnold Schwarzenegger Meets With Christian Bale. Yep, More Terminator: Salvation Rumors.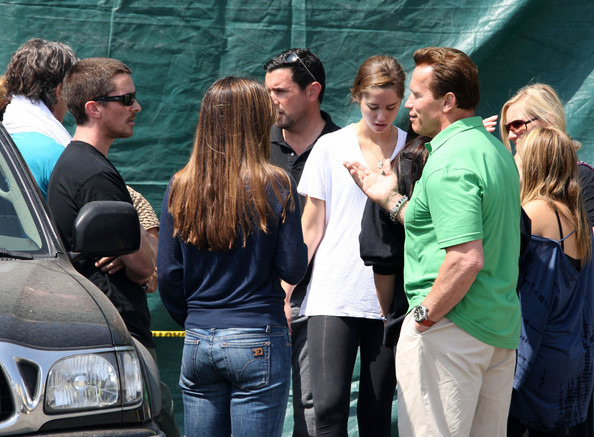 A batch of new photos have popped up at Zimbio showing Christian Bale and his wife chatting with Arnold Schwarzenegger and his wife. If you run your mouse over the image, you can hear imagined bits of the conversation, or you can watch the meet-up from a distance on YouTube. I've also included a close-up of Arnold's hand. Just Jared confirms that Arnold visited the Terminator: Salvation set. As expected, today brings further speculation about Arnold's contribution, however small, to McG's Terminator reboot. An un-vetted tipster at Latino Review had this to say...
"...I have varous contacts in WB and from what i've been told the fans are in for a treat. The premise of Arnie's involvement is to have a fully rendered digital face of Arnie replacing the recently cast Roland Kickinger (The Younger version of Arnie). It seems the Director McG will in no doubt try all he can to ensure the Governator has some sort of involvement and as a result Arnold was on set providing key ADR (Voice over) for the visual effects guys..."
The tipster goes on to compare the digital face-transplant technique to James Cameron's Avatar, so, um, we shall see. Seriously, I can't imagine how Roland Kickinger—playing the T-800—would feel about this decision, but stranger things have happened. Last month, T4 producer Moritz Borman had this to say to Wired per Arnold's involvement: "Schwarzenegger is governing California. He will not be, as a person, in the film." The consensus seems to be that Arnold will do a voice-over, but nothing is confirmed. We'll update with any developments.
Discuss: Ideally, what role would you like to see Arnold Schwarzenegger play in the first Terminator movie in McG's planned trilogy? Have you ever used the word "Governator"?