Michael Keaton Cast In Toy Story 3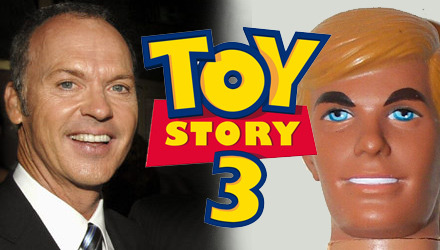 Michael Keaton will voice the role of Ken (as in Barbie's boyfriend Ken) in Toy Story 3. Jodi Benson (who voiced Barbie in the Toy Story series) revealed the news to IESB. This will be Keaton's second appearance in a Pixar film, after voicing Chick Hicks in Cars.


What We Already Know about Toy Story 3:

Toy Story 3 will be released in digital Disney 3D on June 18th 2010.
Directed by Lee Unkrich, who edited the previous films, and co-directed Toy Story 2
Tom Hanks, Tim Allen, Joan Cusack, Wallace Shawn, Don Rickles, Estelle Harris, John Ratzenberger, and Jodi Benson are confirmed to return.
The story follows the toys as they are dumped in a day-care center after Andy leaves for College.
Andrew Stanton (Finding Nemo, Wall-E) wrote the Treatment
Michael Arndt (Little Miss Sunshine) wrote the screenplay
Randy Newman will provide the scrore