Russell Crowe In Bill Hicks Biopic?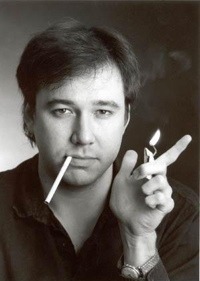 Russell Crowe revealed to the Sydney Morning Herald, that he might be playing Bill Hicks in an upcoming biopic, which is progressing from "treatment to draft stage with Kiwi writer by Mark Staufer."
Hicks was a successful stand-up/rant comedian in the late 1980's/early 1990's, once voted "Hot Standup Comic by Rolling Stone Magazine, and listed at #19 on Comedy Central's 100 Greatest Stand-Ups of All Time. Hicks battled drug and alcohol abuse before dying from pancreatic cancer at 32-years-old. Talk of a biopic began in 2004 at Paramount Pictures, but the project never got off the ground. For those who haven't experienced Hicks' comedy, check out his NSFW bit on marketing after the jump.

Thanks to FlicksNews for passing this along.