Simon Pegg NOT An Inglorious Bastard; Gets Superbad Director Instead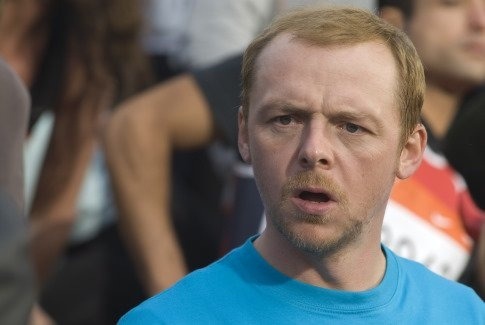 Simon Pegg won't be appearing in Quentin Tarantino's Inglorious Bastards after all. This is really a shame, because aside from Brad Pitt, he was my second favorite actor involved with the project. One thing is for sure, he would have made those scenes with Mike Myers a lot more watchable. When the story was first reported by the trades, it was reported that Pegg was "in talks" to join the cast. Usually when this information is leaked to the industry newspapers, it is close to a done deal, but every once in a while this hapens. Tarantino is rushing Bastards into production in October, and Pegg had schedule conflicts.

"Much to our mutual disappointment, I won't be appearing in QT's forthcoming Inglorious Bastards due to insurmountable scheduling difficulties. We really tried to make it work but in the end, it just was not possible without severe ramifications elsewhere," Pegg wrote on his blog. "I'm trying to remain upbeat, as Tom Selleck said 'Who the hell is Indiana Jones anyway?'"

But there is some good news. Superbad director Greg Mottola has signed on to direct Simon's next film, Paul. Written and starring Pegg and Nick Frost, the story is a road movie about two British comic book geeks that get into an adventure across America. I've also heard that Pegg and Frost will reverse their dynamic, and PEgg will actually be playing the sidekick in this one. Edgar Wright is not involved. Mottola just got done directing Adventureland, which will hit theaters next year. I'm very interested to see what a Nick and Simon comedy will look and feel like without Edgar.