TIFF: 20 Special Presentation Films Announced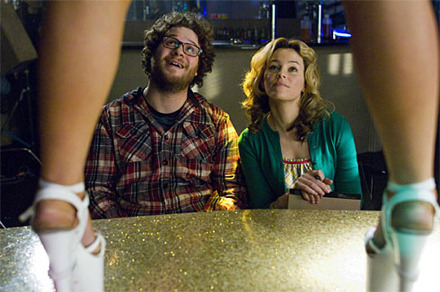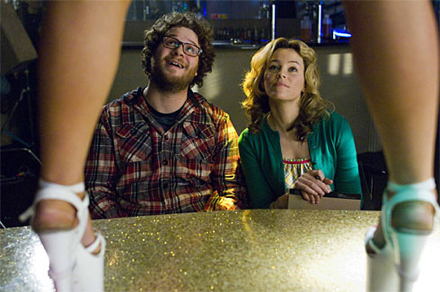 The Toronto International Film Festival has released their list of the 2008 festival's slate of twenty special presentation films. You can check out the highlights below and the rest after the jump. We'll be at the festival next month, so keep it tuned for our coverage.
The Brothers Bloom Rian Johnson, USA
World Premiere

The brothers Bloom (Adrien Brody, Mark Ruffalo) are the best con men in the world, swindling millionaires with complex scenarios of lust and intrigue. Now they've decided to take on one last con – showing a beautiful and eccentric heiress (Rachel Weisz) the time of her life with a romantic adventure that carries them around the world. The Brothers Bloom also features Rinko Kikuchi, Maximilian Schell and Robbie Coltrane.
The Wrestler Darren Aronofsky, USA
North American Premiere

Back in the late '80s, Randy "The Ram" Robinson (Mickey Rourke) was a headlining professional wrestler. Now, twenty years later, he ekes out a living performing for handfuls of die-hard wrestling fans in high-school gyms and community centres. Randy lives for the thrill of the show and the adoration of his fans; but when he suffers a heart attack after a match, he is forced into retirement. He begins to evaluate the state of his life but the allure of the spotlight and the passion for his sport threatens to pull him back inside the ring. Directed by Darren Aronofsky (The Fountain, TIFF 2006), The Wrestler also stars Evan Rachel Wood, Marisa Tomei, Judah Friedlander and the Necro Butcher.
Me and Orson Welles Richard Linklater, United Kingdom
World Premiere

Zac Efron, Claire Danes, Ben Chaplin and Christian McKay star in this entertaining ode to Orson Welles from the director of The School of Rock (TIFF 2003) and Before Sunrise. Seventeen-year-old Richard Samuels (Efron) spends his days dreaming of the bright lights of Broadway. He gets his big break when he happens upon Orson Welles (McKay) and his fledgling Mercury Theatre company. Richard impresses Welles with an impromptu audition and lands a bit part in the Mercury's forthcoming run of Julius Caesar. With Welles's womanizing taking priority over rehearsals, chaos and calamity mark the production from the start. Before long, opening night has arrived and Richard will discover the terrible secrets of show business.


Slumdog Millionaire Danny Boyle, United Kingdom
World Premiere From acclaimed director Danny Boyle (Trainspotting, 28 Days Later) comes a story about a kid with nothing, who has everything to lose. Jamal Malik, an 18-year-old orphan from the slums of Mumbai, is just one question away from winning a staggering 20 million rupees on India's Who Wants to be A Millionaire? Arrested on suspicion of cheating, he tells the police the amazing tale of his life on the streets, and of the girl he loved and lost. But what is a kid with no interest in money doing on the show? And how does he know all the answers?Zack and Miri Make a Porno Kevin Smith, USA
World Premiere

Seth Rogen and Elizabeth Banks star in this bawdy tale of love and friendship from Kevin Smith. Lifelong friends and roommates Zack (Rogen) and Miri (Banks) are facing hard times and a mountain of debt. When the electricity and plumbing get cut off, the two seize upon the idea of making a homegrown porno movie for some quick cash, enlisting the help of their friends. The two vow that having sex will not ruin their friendship; but as everyone starts "doing" everyone, what started out as a friendly business proposition turns into something much more.


Che: Part One Stephen Soderbergh, USA/Spain
North American Premiere

On November 26, 1956, Fidel Castro sails to Cuba with eighty rebels. One of those rebels is Ernesto "Che" Guevara, an Argentine doctor who shares a common goal with Fidel Castro – to overthrow the corrupt dictatorship of Fulgencio Batista. Che proves indispensable as a fighter, and quickly grasps the art of guerrilla warfare. As he throws himself into the struggle, Che is embraced by his comrades and the Cuban people. Che: Part One tracks Che's rise in the Cuban Revolution, from doctor to commander to revolutionary hero.


Che: Part Two Stephen Soderbergh, USA/Spain
North American Premiere

After the Cuban Revolution, Che is at the height of his fame and power. Then he disappears, re-emerging incognito in Bolivia, where he organizes a small group of Cuban comrades and Bolivian recruits to start the great Latin American Revolution. The story of the Bolivian campaign is a tale of tenacity, sacrifice and idealism, and of guerrilla warfare that ultimately fails, bringing Che to his death. Che: Part Two explores how Che remains a symbol of idealism and heroism that lives in the hearts of people around the world.


Inju, la bête dans l'ombre Barbet Schroeder, France
North American Premiere

Barbet Schroeder directs this thriller starring Benoît Magimel (La Pianiste) as Fayard, a successful crime novelist. Invited to Japan for the release of his latest book, he encounters Tamao, a geisha who confides to him that one of her former lovers is threatening to kill her. This former lover may well be Shundei Oe, a novelist known for his extremely violent and disturbing books, and whose work Alex has studied extensively. Agreeing to help Tamao, Alex finds himself pitted against a man bent on vengeance and before long, his business trip becomes a bloody quest in which fiction becomes indistinguishable from reality.


Synecdoche, New York Charlie Kaufman, USA
North American Premiere

Worried about the transience of his life, theatre director Caden Cotard (Philip Seymour Hoffman) leaves his home behind and sets out to construct a massive artistic enterprise. Gathering an ensemble cast into a warehouse in New York City, he hopes to create a work of brutal honesty. He directs them in a celebration of the mundane, instructing each to live out their constructed lives in a growing mockup of the city outside. The years rapidly fold into each other, and Caden buries himself deeper into his masterpiece but the textured tangle of real and theatrical relationships blurs the line between the world of the play and that of Caden's own deteriorating reality. Synecdoche also stars Jennifer Jason Leigh, Catherine Keener, Dianne Wiest, Samantha Morton, Michelle Williams, Emily Watson and Hope Davis.
Genova Michael Winterbottom, United Kingdom
World Premiere

Seeking a new life after the sudden death of his wife, Joe (Colin Firth) moves his family to the Italian town of Genova, hoping for a fresh start for himself and his two daughters. His eldest daughter Kelly explores the sexy and dangerous underbelly of this mysterious city, leaving the younger Mary in a world of her own. A poignant tale of love and forgiveness, Genova is directed by Michael Winterbottom (Tristram Shandy: A Cock and Bull Story, TIFF 2005), and also stars Catherine Keener and Hope Davis.
More after the jump.
Aide-toi le ciel t'aidera François Dupeyron, France
World Premiere

In his latest film, François Dupeyron (Monsieur Ibrahim et les fleurs du Coran, TIFF 2003) again turns his attention to an underprivileged sector of society, creating a memorable figure of remarkable spirit and tenacity. Sonia (Félicité Wouassi, La Haine), the long-suffering matriarch of the Mousse family, finds her life spiraling out of control on her daughter's wedding day – her eldest son is dabbling with drugs while her husband has gambled away the money for the wedding reception. She is determined, however, that nothing will disrupt this special day.


Un Barrage Contre le Pacifique Rithy Panh, France/Cambodia/Belgium
World Premiere

Adapted from the novel of the same name by Marguerite Duras, Un Barrage Contre le Pacifique is directed by Rithy Panh (S21, La Machine de mort Khmère Rouge, TIFF 2003), who has turned to a classic work French literature to make a film about his native country. The legendary Isabelle Huppert stars as the matriarch of a small land-owning family in 1930s French Indochina (now Cambodia) who try to survive by working on rice fields located dangerously close to the ocean. Driven to fight against both nature and corrupt bureaucrats, she devises an imaginative scheme to build a dam against the sea with the help of the villagers.


Easy Virtue Stephan Elliott, UK/USA
World Premiere

Colin Firth, Jessica Biel, Kristin Scott Thomas and Ben Barnes star in an adaptation by Stephan Elliott (Priscilla, Queen of the Desert) of Noel Coward's wickedly witty play. A young Englishman (John Whittaker), falls madly in love with an older woman – Larita is sexy, glamorous and American. They marry impetuously. When they return to John's family home, his mother Veronica has an instant allergic reaction to her new daughter-in-law but Larita finds an unlikely ally in John's father.


Is There Anybody There? John Crowley, United Kingdom
World Premiere

From the director of Boy A, comes a wise and charming story of an unlikely friendship between a scruffy former magician and a little boy with a morbid streak. Ten year-old Edward (Bill Milner) has become increasingly obsessed with death and the afterlife since his parents turned their house into a retirement home. Edward's is a lonely and peculiar existence – until he meets Clarence (Michael Caine) who introduces him to wonders in the here-and-now.


Last Stop 174 Bruno Barreto, Brazil
World Premiere

Director Bruno Barreto expands on the true event at the centre of José Padilha and Felipe Lacerda's hard-hitting documentary Bus 174 (TIFF 2003), telling the story of how a child grows up to become a hostage-taker. Young Sandro lives in the slums of Rio de Janeiro where corruption and violence are the norm. Orphaned, alienated and fearing for his life, Sandro falls into a life of crime from which he may find it impossible to escape.


Management Stephen Belber, USA
World Premiere
Management is a romantic comedy that chronicles a chance meeting between Mike Cranshaw (Steve Zahn) and Sue Claussen (Jennifer Aniston). When Sue checks into the roadside motel owned by Mike's parents in Arizona, what starts with a bottle of wine "compliments of management" soon evolves into a multi-layered, cross-country journey of two people looking for a sense of purpose. Mike, an aimless dreamer, bets it all on a trip to Sue's workplace in Maryland – only to find that she has no place for him in her carefully ordered life. Buttoned down and obsessed with making a difference in the world, Sue goes back to her yogurt mogul ex-boyfriend Jango (Woody Harrelson), who promises her a chance to head his charity operations. But having found something worth fighting for, Mike pits his hopes against Sue's practicality, and the two embark on a twisted, bumpy, freeing journey to discover that their place in the world just might be together.

A Woman in Berlin Max Färberböck, Germany/Poland
World Premiere

Adapted from the international bestseller based on a true story, A Woman in Berlin is directed by Golden Globe nominee Max Färberböck (Aimée & Jaguar). In April 1945, the Red Army invades Berlin; among the chaos, a group of women fall victim to rape in a half-destroyed house. One of them is a former journalist and photographer. In desperation, she decides to find an officer who can protect her. A relationship develops with a Russian officer; soon, what began as an act of self-preservation becomes a complicated and forbidden affair.


A Perfect Day Ferzan Ozpetek, Italy
International Premiere

One year after their separation, the violence that defined Emma and Antonio's marriage returns with ferocious consequences. Meanwhile, Antonio's boss, MP Fioravanti, tries frantically to salvage his political career, unaware that he is destroying his personal life by pushing his young wife to desert him, having already alienated his only son. An adaptation of the novel by Melania Mazzucco, A Perfect Day juxtaposes competing stories of disintegration and personal ruin as a group of characters challenge the cards they have been dealt and try to regain control of their lives – even if it means performing an unspeakable act of betrayal against those they love the most.


Séraphine Martin Provost, France/Belgium
International Premiere

Based on a true story, Séraphine delves into the relationship between naive painter Séraphine Louis (1864-1942) and art collector Wilhelm Uhde. In a little town north of Paris, Séraphine works as a maid for Madame Duphot, who rents an apartment to German art critic and dealer Wilhelm Uhde, an enthusiastic advocate of modern and primitive artists. In her spare time, Séraphine paints, with anything she can find – wine, mud, a mixture of fruits and flowers. When Wilhelm comes across one of her paintings, he is instantly mesmerized and insists that Séraphine show him the rest of her work. So begins a nurturing relationship that will expose Séraphine's work to the world. But as Séraphine paints her most inspired canvas, the power of her work leads her into the realms of madness.


35 Rhums Claire Denis, France
North American Premiere

The celebrated French filmmaker Claire Denis returns with 35 Rhums, exploring the working underclass of French society. Lionel, a widower, has raised his daughter Josephine on his own. They lead a quiet, comfortable life together, devoted to one another. Their relationship, however, starts to change when Jo befriends a young man and Lionel entertains the attention of a middle-aged woman. Before long, father and daughter find themselves forced to reconcile the past.


The Burning Plain Guillermo Arriaga, USA
North American Premiere

Charlize Theron and Kim Basinger star in Academy Award™-nominee Guillermo Arriaga's directorial debut, a romantic mystery about a one woman's emotional journey to uncover the secret of a past love. Theron plays Sylvia, a beautiful restaurant manager whose cool demeanor masks the sexually charged storm within. When a stranger confronts her with her mysterious past, Sylvia is launched into a journey through space and time that inextricably connects her to three disparate characters, all grappling with their own romantic destinies. Basinger stars as the housewife whose affair puts them all on a collision course with the explosive power of forbidden love.
Flash of Genius Marc Abraham, USA
Canadian Premiere

Based on the true story of college professor and part-time inventor Robert Kearns' (Greg Kinnear) long battle with the American automobile industry, Flash of Genius tells the tale of one man whose fight to receive recognition for his ingenuity would come at a heavy price. But this determined engineer refused to be silenced, and he took on the corporate titans in a battle that nobody thought he could win. And while paying the toll for refusing to compromise his dignity, this everyday David tried the unthinkable: to bring Goliath to his knees. Flash of Genius also stars Lauren Graham, Dermot Mulroney and Alan Alda.


Faubourg 36 Christophe Barratier, France

A dazzling musical from the director of Les Choristes (TIFF 2004), Faubourg 36 is set between December 1935 and July 1936 in a working-class neighbourhood on the northeastern edge of Paris. The springtime election of a left-wing government brings wild new hopes, yet also sees the rise of extremist ideas. Three unemployed stage workers decide to produce a "hit show "and occupy the music hall where they formally worked. The stage is set for a short-lived but wonderful adventure.