Iron Man DVD Details Revealed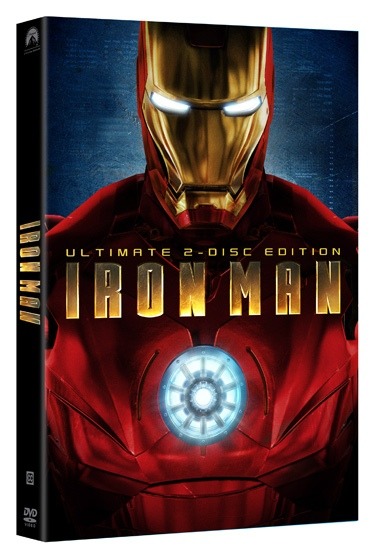 Paramount has just announced the details for the September 30th DVD/Blu-ray release of Iron Man. The film will be released in a single disc, 2-Disc Ultimate Edition and Blu-Ray Ultimate Edition. Since no one reading this cares about the stupid standard one disc release, let me tell you about the Ultimate Edition and Blu-Ray Disc releases.

The 2-Disc Ultimate Edition will contain 11 deleted scenes (Convoy Ambush, Craps Table with Tony & Rhodey, Tony & Rhodey on Stark Jet and Military Ceremony, Rhodey Saves Iron Man on Freeway, Rooftop Battle, Obadiah Addresses Scientists, Pepper Discovers Tony as Iron Man, Tony Begins Mark II, Dubai Party, Tony Comes Home, Rhodey and General Gabriel), 15 featurettes ("The Journey Begins", "The Suit that Makes The Iron Man", "Walk of Destruction", "Grounded In Reality", "Beneath the Armor", "It's All In The Details", "A Good Story, Well Told", "Origins", "Friends & Foe", "The Definitive Iron Man", "Demon in a Bottle", "Extremis and Beyond", "Ultimate Iron Man", "Wired: The Visual Effects of Iron Man", "The Actor's Process"), The Iron Man: Armored Adventures Trailer, Robert Downey Jr.'s Screen Test, The hillarious fake news report "Wildly Popular Iron Man Trailer to be Adapted into Full Length Film" from The Onion, a Still Gallery with 175 images (does anyone really look at those?), and a Stan Lee Easter Egg (do they really announce an easter egg in the pre-release advertising? Doesn't that ruin the whole idea of an easter egg?).
The Blu-Ray Ultimate Edition will have all the features of the 2-Disc DVD release, as well as 5.1 Dolby TrueHD, Four Iron Man movie trailers, and an Iron Man I.Q. BD Live feature.
source: THR