Shane Black Has Written Lethal Weapon 5. Mel Gibson And Danny Glover In Talks?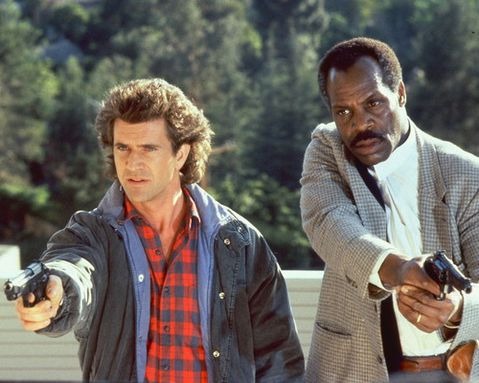 UPDATE: The same industry website has clarified the original story, saying...
**We are now hearing that Shane Black may have only handed in a detailed treatment to Joel Silver and that they are taking two old scripts and mashing them together to make LETHAL WEAPON 5... Also hearing that Silver is after Columbus Short for a role**
Right now, Mel Gibson and Danny Glover are rolling around in separate beds half-asleep mumbling, "We're too old for this shit." Let's hope their co-stars Chris Rock, Joe Pesci and Jet Li are mumbling the exact same sentence tomorrow when they're fully awake. It's being reported by TrackingB that legendary screenwriter, Shane Black, has written a script for Lethal Weapon 5 and handed it over to his friend, the franchise's producer Joel Silver. Moreover, the guys pictured above are said to be interested in reprising their roles as LAPD badges Martin Riggs and Roger Murtaugh. Coming Soon posted the following logline...
This time, homicidal Riggs (Mel Gibson) is about to retire, but pulls Murtaugh (Danny Glover) out of retirement to solve one final case, before they both officially head off into the sunset.
No further info was made available. Some readers will take issue with the adjective "legendary" used above but seeing that Black's influence on the action genre, which dates back to 1987's Lethal Weapon, remains obvious with this weekend's Pineapple Express, why? From my standpoint, Seth Rogen's pot vehicle would have been the action-comedy masterpiece some feel it is (CHUD says Oscar-bait no less!?) with Black's involvement. For example: imagine memorable, superior one-liners rather than Axl Rose lyrics yelled mid-brawl in 2008. A bloodied Danny McBride meets The Last Boy Scout? Now, that's a neverending breakfast conversation I'd pay to see three times.
The fourth Lethal Weapon film was released 10 years ago and managed to gross $128 million domestically. One could forsee Richard Donner returning as the director, since he helmed the prior four pictures and has a film on the burner entitled Sam and George with Gibson.
Discuss: Would you see a fifth Lethal Weapon with the original team? Either way, do you expect Shane Black's involvement to make for a better sequel than Live Free or Die Hard, or Beverly Hills Cop: Ratner Vision?