Cool Stuff: Tyler Stout's Hellride Poster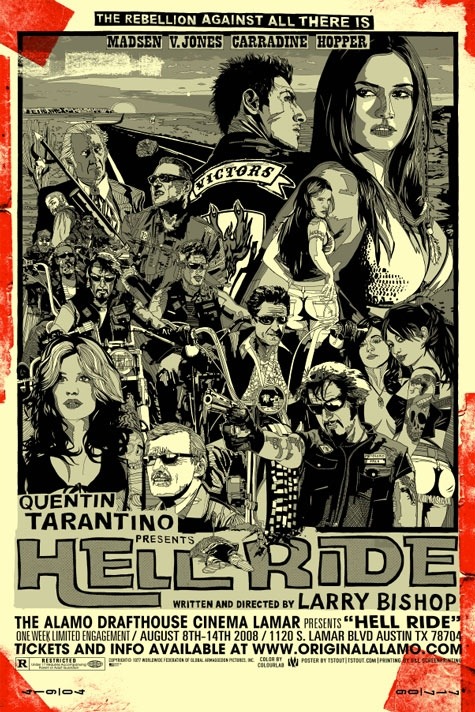 We've been writing about artist Tyler Stout since we first discovered his "Remember the Alamo" poster at the Alamo Drafthouse. The Austin based artist frequently provides kick ass posters for the Alamo's special events, most of which we have featured on /Film.
Stout has finally hit the big time, his poster for Hellride was actually made into the theatrical one-sheet which might be hanging in a theater near you. Apparently Tarantino and crew contacted Stout before production even began to help impress investors and raise funding. Of course, Stout recreated the posting using the actors likenesses and that is the final one sheet you see today.
I'll admit, I'm not a huge fan of the flick. I'm just not a biker movie type of guy. But the poster is very cool, especially the variant version which was printed exclusively for the Alamo Drafthouse. Measuring 24x36, this 4 color silk screened print is printed on 100 lb artist paper by D and L screenprinting. Available in Regular (limited to 200 copies) and ultra-limited metallic Variant (limited to only 14 copies)! Get it before it sells out. Tyler's prints always go fast.