Vivendi To Release David Zucker's An American Carol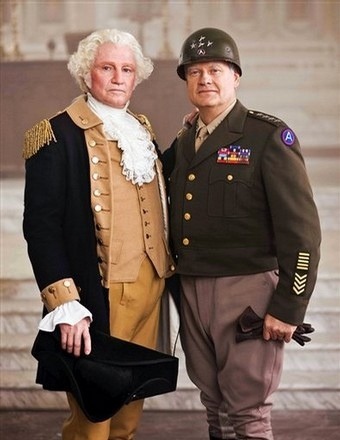 Vivendi Entertainment picked up the U.S. rights to David Zucker's new comedy An American Carol. Imagine for a moment, a retelling of A Christmas Carol, but instead of Ebenezer Scrooge, we have a cynical, anti-American documentary filmmaker unsubtlely named Michael Malone, who sets out on a crusade to abolish the July Fourth holiday with his film Die You American Pigs. On the fourth of July, he is visited by three ghosts who tey to show him the meaning of Independence, instead of Christmas. If you were a Hollywood studio executive, and heard this pitch, would you greenlight the film?

Zucker is known as the mastermind behind Airplane! and the Naked Gun films, but also the last two Scary Movie films. Chris Farley's brother Kevin Farley stars as the filmmaker, alongside Kelsey Grammer seen above as General Patton, next to Jon Voight as General Washington. Also, Leslie Nielsen as himself, Bill O' Reilly as himself, Dennis Hopper, and James Woods. Call me a liberal, but this just sounds lame.
source: Variety