Harold And Kumar 3 Announced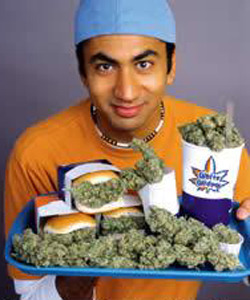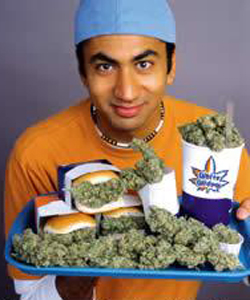 While Harold and Kumar Escape From Guantanamo Bay had it moments, ultimately Slashfilm was let down, graphing it as a 4.5/10 (and later a 3.5/10 for the inclusion of a 311 song in 2008). The profitable sequel hits DVD on Tuesday and today Harold and Kumar 3 was given the greenlight for John Hurwitz and Hayden Schlossberg, the writer/directors of the previous film, who also penned the funnier White Castle.
Kal Penn and John Cho have an option for a third film, and unless they've upgraded to heroin, we expect them to bong it up and crash yet another Bottlomless Party on screen—but this time, I dunno, make it count. Diving into the Slashfilm archives, last March rumors circulated that a Neil Patrick Harris spin-off was also a possibility. Six cameos I would like to see in a third film: Brad Pitt's Floyd from True Romance, Arrowhead Bernie from Weekend at Bernie's 2, a bloodshot Smokey the Bear, Andy Dick selling Xanax to children in a Buffalo Wild Wings parking lot, Corey Haim's trailer, and the cross-joint from Pineapple Express.Discuss: Who should cameo in Harold and Kumar 3? In all seriousness, should they title this film, Harold and Kumar: What's the Point? If not, what should the subtitle be? Would you rather see an NPH spin-off?