Comic Con: Dexter Season 3 Previewed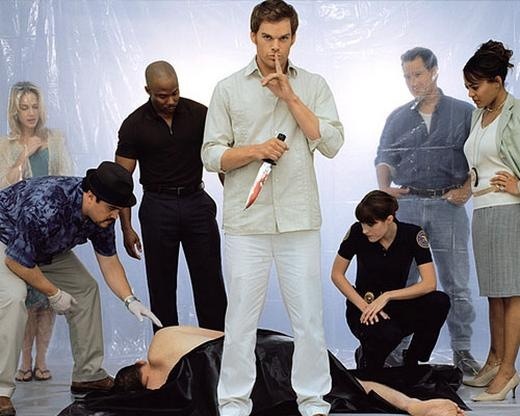 I find one of the best shows on television today is Showtime's serial killer drama Dexter. When I heard Comic-Con was going to have a panel featuring Dexter's cast and crew, I just had to be in attendance. After waiting over an hour just to sit in the back of an auditorium, I was able to view the newest trailer for the third season.
The trailer started off with Dexter getting up in the morning, brushing his teeth, taking a shower...everything that everybody normally does when the get up first get up from bed. As it showed clips of him doing this, Michael C. Hall doing one of his chilling voiceovers said "life is a ritual, hurtful, and controlling". We see quick clips with familiar characters and also one new face for this series. Jimmy Smit, of CSI-Miami fame, will be joining Miami-Dade Police Department. And this time, instead of working in the law enforcement, he'll be a rookie hard-nose District Attorney, put in the position to clean up the crime-ridden streets. Probably not the best thing for our favorite killer.
As the trailer went on, I started to notice that Dexter might have done the unthinkable, kill a innocent person. It had a voice over of Dexter talking about how he gave in to one of his impulses and not following "Harry's Code". He then went on to say something very disturbing, "If I still cared what Harry thought, I'd feel bad". The trailer ended soon after that. But not after the words "The student becomes the master."
The lights came up and the actors in attendance were ready to speak. The line-up included Michael C. Hall and Juile Bentz (Rita). The major point of focus is how Dexter will grow into himself. Meaning, Dexter will have almost forgotten what Harry taught him, and how he's creating his own life and rules. Because of the void, Dexter starts to build a relationship with the new DA. They even compared it to a big brother type friendship.
At the end of the panel, they discussed how Dexter's sister Deb would finally have a "real" relationship but with a twist, it won't be anyone we'll ever expect (please god, not Dexter). They also promised that the first episode was going to have such a HUGE twist, it would be like "throwing a pebble on a mountain, then a avalanche falling down and it can't be stopped". Yeah, I think he basically said it was going to be life changing.
Dexter Season 3 will air September 28th on Showtime.