/Film British Gossip Endorsement: Tom Cruise Should Make Top Gun 2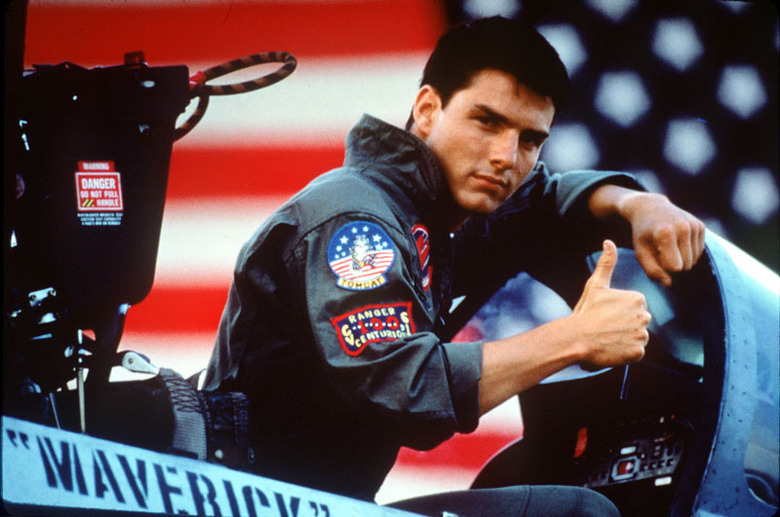 Across the Atlantic, The Sun—a tabloid that our commenters loudly detest—has decided to blow on the sails of the Internet and report that Top Gun 2 is in the works. Apparently, a script-outline is out to Tom Cruise and if he approves by recreating the image above, get ready to rock like it's 1986.
As we witnessed with Crystall Skull, revisiting the '80s can conjure spilling a bunch of pills on a bathroom floor, but I think this would be a really smart move for Cruise. If this guy was a Transformer, he'd still be a fighter jet. (Slashfilm Statements Hall of Shame). Moreover, Mission: Impossible is beat. Cruise will never play up the "team" aspect required to make that franchise work/make sense. He's too big and too perfect a star. Valkyrie? Edwin A. Salt. Stop with the reconnaissance. Next month, his work in Tropic Thunder will be crowdsurfed across the globe and have the press blah blahing about the direction his career should go (Answer: if you listen to me, up). Until then, let us grab a milkcrate: the two highlights of his recent career are 1) his website, seriously, Neo-Tokyo, eat your heart out and 2) the scene where he talks shit and tosses around a baseball in War of the Worlds before the aliens make a thunder storm.
Tom Cruise, upside down, screaming in an airplane, killin' it or chasin' 'tang: that is what we (and our world of wars) want to see. I want American flags flowing under the credits. And Val Kilmer might be too old to play Diamond Dave in The Dirt, but The Iceman can be chunky. He needs to be there. Tony Scott? Sure. Bring it. Top Gun 2, we're throwing a couple pennies in the wishing well for this...
"The idea is Maverick is at the Top Gun school as an instructor — and this time it is he who has to deal with a cocky new female pilot."
Discuss: Feel the heat. Somebody give him $200 million. Ebert, he's going to borrow your thumbs. We're there. Wow, only 2 comments. It's a party.