SnagFilms Is (Kind Of) Like Hulu For Documentaries, Launches Today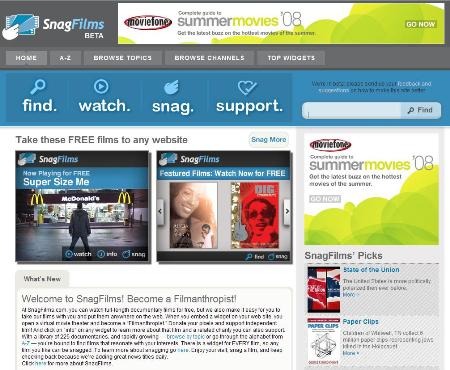 It's a hard knock life for us documentary lovers out there. First of all, with a few rare exceptions (e.g. March of the Penguins, An Inconvenient Truth, etc.) most documentaries don't play at the local multiplex, making them difficult to access if you live in a remote area. Furthermore, even if you do find a theater playing your documentary of choice, it's usually hard to convince friends to go with you and fork over $10 to see a series of talking heads for 90 minutes (although I could tell you a good story about how I convinced a woman to see The Fog of War with me while it was still in theaters. Hint: It involved eggs, bacon, and a bet gone horribly wrong).
Enter SnagFilms, a site that offers full-length documentaries that you can embed, or "snag," to any number of social media sites, including Blogger, Facebook, MySpace, WordPress, etc. The site is ad-supported, meaning that when you watch a documentary, commercials will occasionally interrupt your viewing. However, there are a few things that make SnagFilms cooler than a video-sharing site like Hulu. First of all, the site primarily supports independent filmmakers, and shares 50% of advertising revenue with them. More importantly, whenever you watch a movie, next to the viewing window are links to director-chosen charities that are related to the documentary currently playing, giving you the opportunity to donate.
Currently, the site still is still in beta, and indeed there are a few limitations, technical and otherwise. The embedded windows don't actually play a movie, but instead open up a new window with the movie inside. Switching between film chapters was not an easy (or possible) experience when I tried using the site on both Firefox and Opera. But by far, the most significant hindrance to mainstream popularity is the site's current selection of films. With a catalog of only 250 films, the site probably only has a few that most viewers will be familiar with. The current catalog ranges from legitimate hits like Super Size Me all the way to The Medici: Godfathers of the Renaissance. Still, for anyone who hasn't seen a film like Paper Clips, there is no now more excuse for you: it's completely free and easily accessible. But while there will be quality viewing for those who dare try and check out films completely unknown to them, you probably won't be able to find many of the more well-known documentaries of recent years...yet.
Despite these problems, the site shows a lot of promise, and how hard can you complain about a site that's free, that tries to make documentaries more widely available, and that tries to fight for good causes? For hardcore documentary lovers, I would say give SnagFilms quick look now, and check back in a few weeks/months for what will hopefully be an improved user interface and for what I assume will be expanded catalog of films.