German Rumor: Keanu Reeves Teaming With Wachowski Brothers For Plastic Man?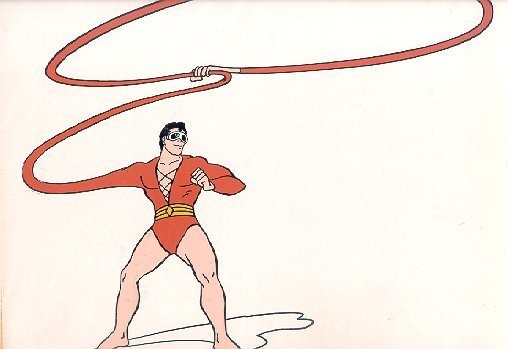 So, for the record, we pay no mind to Script Girl's buxom scoops, but if a rumor allegedly originates via radio in Berlin, we'll throw out a "might be true" lasso. Nurse Ratched, are you there? However, the following equation: Keanu Reeves + Wachowski Brothers + Plastic Man has a probable ring to it. Back in the '90s, the Wachowskis wrote a script based on Plastic Man, the "golden age" comic book character (and later fringe Justice League member) and shopped it around town. You can read their old draft here. Post-Matrix, the brothers have harbored the project as a viable option. Now, a tipster tells CHUD that their producer pal, Joel Silver, gave an update on German radio...
"[The tipster] claims that Silver says that Keanu Reeves will be playing Eels O'Brien (the real name of Plastic Man). Apparently this is the start of a new love period between Reeves and the Wachowskis, as Silver (via tipster) said that the brothers want to work with him on all their future projects."
With their protege, James McTeigue, helming Ninja Assassin (which Silver was discussing apparently), Larry and Andy Wachowski haven't chosen a project to follow-up Speed Racer, one of this summer's rare belly flops. Obviously, a superhero film with Reeves would be a safe bet in today's marketplace...albeit one centered on an eccentric character with lower pop culture visibility than Ant-Man?
Plastic Man originated in the '40s. He was but a mortal goon until chemicals leaked into a bullet wound and enabled his body to stretch like rubber. Via Wikipedia...
"Plastic Man can stretch his limbs and body to superhuman shapes, lengths and sizes, with flexibility and coordination extraordinarily beyond the natural limits of the human body. He can become entirely flat so that he can slip under a door, use his fingers to pick conventional locks, pose as inanimate objects such as vehicles or pieces of furniture, and disguise himself by changing the shape of his face. There is no known limit to how far he can stretch his body.
Also...
"He once disguised himself as Batman's utility belt."
Well then, I think it's safe to say that Plastic Man's fate hangs on the success of The Dark Knight. So, remember, Plastic Man is counting on you this weekend. Until then, if this rumor develops or gets vaporized, we'll update accordingly.
Discuss: Keanu Reeves and The Wachowskis and Plastic Man. Would you see it? Also, please explain how Plastic Man's powers differ from Mr. Fantastic/Reed Richards (shoddy franchise films don't count yet)? He's more sardonic?