Robert Downey Jr. Cast As Guy Ritchie's Sherlock Holmes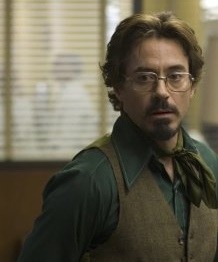 Last week it was announced that Sacha Baron Cohen has been cast as Holmes, and Will Ferrell as Watson, in a comedic take on Sherlock Holmes for producer Judd Apatow. But many wondered what this would mean for Guy Ritchie's serious take on the property, which was announced in June? Well it turns out that Ritchie's movie is racing to go into production before the Apatow's film. And with that, the actor to play Sherlock Holmes has been announced...
Robert Downey Jr.
That's right, Variety confirms that Iron Man himself has committed to the project, which is set to begin production in October. Anthony Peckham's script is based on a mixture of Sir Arthur Conan Doyle's classic tales and the Lionel Wigram comic book adaptation. Ritchie turned in a polish of the latest draft.
Discuss: Who do you think will turn in a better performance as Sherlock Holmes: Robert Downey Jr or Sacha Baron Cohen?